Mar 25, 2011 — by Eric Brown — from the LinuxDevices Archive — views
Google said it will delay the release of open source code for its tablet-oriented Android 3.0 "Honeycomb" OS due to concerns that developers will try to port it to smartphones and other devices prematurely. The revelation, which has already riled up the open source community, might be a tacit admission that Honeycomb was released too soon.
If Research in Motion wants to run Honeycomb apps on the PlayBook tablet, instead of the Android 2.3 apps that it announced support for yesterday, the company will likely not be able to do so for some time short of signing a licensing agreement with Google. On Mar. 24, Google's Andy Rubin told Bloomberg Businessweek that Google will delay the open source public release of the tablet-oriented Android 3.0 "for the foreseeable future."
Our sister publication eWEEK also received confirmation from Google that it is delaying the release of the source code for Honeycomb to the public. The company told eWEEK it has more refining of the OS to do before it can deliver the code for use in phones and other gadgets.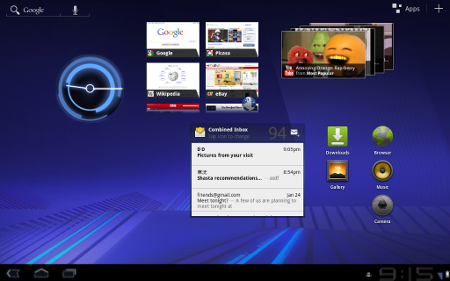 Android 3.0 main screen
Google usually waits only a few days or weeks between the release of the first device running a particular Android build and the open source release of the code to non-licensees. While the Android 2.2 ("Froyo") release, for example, came
almost three months
after Froyo was announced, it arrived only a few days after it made its debut appearance in the
Motorola Droid 2
.
With Honeycomb, an SDK was released to registered Android developers shortly after the Xoom appeared in late February, but that's not the same as releasing full source code.
The delay revelation — already drawing the ire of open source bloggers — will have its biggest impact on smaller device makers that do not have the money or desire to buy into a full Google license for the technology. The delay also appears to be a tacit admission that Google released the Honeycomb code prematurely.

Indeed, while eWEEK and others have found relatively few problems in running Android 3.0 on the flagship Motorola Xoom (right), some have encountered a rougher ride, full of bugs and alleged design flaws.
Rubin, vice-president for engineering at Google, and the head of its Android group, told Bloomberg Businessweek the issue was a quality issue more than a shift in policy. "Android is an open-source project. We have not changed our strategy," Rubin was quoted as saying.
"To make our schedule to ship the tablet, we made some design tradeoffs," Rubin told the publication. "We didn't want to think about what it would take for the same software to run on phones. It would have required a lot of additional resources and extended our schedule beyond what we thought was reasonable. So we took a shortcut."
Releasing the code now, Rubin was quoted as saying, would run the risk of "creating a really bad user experience. We have no idea if it will even work on phones." Rubin would not say when the Honeycomb code would eventually be released, but said, "the team is hard at work looking at what it takes to get this running on other devices."
While some in the tech community have applauded the delay as a positive sign that Google is finally letting Android grow out of its open source adolescence and putting its man pants on to better contest Apple in the tablet market, others see Google as further betraying its avowed open source principles.
Christopher Dawson who identifies himself as a "big Android fan" in a ZDNet blog, suggests that Google should let developers decide whether the code is stable enough or appropriate for their use cases. Otherwise, he writes, Google may end up killing the open source goose that laid the golden Android egg.
"Tablets are actually quite a bit more interesting in terms of potential use cases than phones, but those interesting use cases will require specialized software and interfaces," writes Dawson. "No open source, no brilliant new medical device, no drastically improved e-reader, no new approach to the legal pad, no whatever that requires developers to take a deeper dive than merely creating an App."
Dawson goes on to conclude, "if Google's [open source] principles go away, I might as well fully buy into the Mac ecosystem. Or, perish the thought, jump on the WebOS bandwagon (tiny little bandwagon that it is)."
---
This article was originally published on LinuxDevices.com and has been donated to the open source community by QuinStreet Inc. Please visit LinuxToday.com for up-to-date news and articles about Linux and open source.