Jan 5, 2012 — by LinuxDevices Staff — from the LinuxDevices Archive — 15 views
Google is switching its Google TV platform from the Intel Atom to a new dual-core ARMv7 processor from Marvell. The dual-core, 1.2GHz Armada 1500 HD Media system on chip (SoC) — featuring a Qdeo video subsystem capable of processing 3D HD video streams — will be built into Marvell's Foresight Platform reference design for Google TV, according to the chipmaker.
Marvell is fueling the next generation of Google's Google TV platform with an ARM-based smart TV reference platform based on a new Armada 1500 HD Media system on chip (SoC). The semiconductor maker will formally introduce the processor at the 2012 Consumers Electronics Show next week.
The chipmaker told eWEEK its Foresight Platform, powered by the Armada 1500 (pictured at right), will appear on smart TVs, set-top boxes, STBs, and Blu-ray players this year. Google confirmed it is working with Marvell in a statement.
The dual-core Armada 1500 provides processing power on par with PCs to support web browsing, Flash, and other multimedia software, Marvell claims (see farther below for more technical details).
Intel's Atom CE4100 SoC powered the first Google TV systems, including the Logitech Revue companion box and Sony Internet TVs and Blu-ray players. Google TV systems enable users to search across both TV and web content, as well as access Netflix, YouTube, and other applications from their TVs.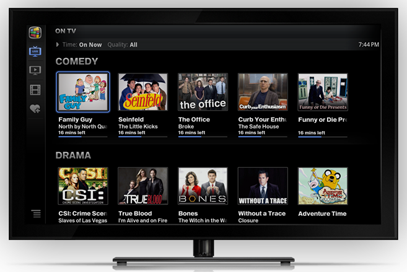 Google TV 2.0
However, Google TV systems failed to sell well, and
Logitech ceased making its Revue boxes
in November. Recognizing an opportunity, Marvell stepped in with its Foresight Platform and Armada 1500. The SoC, which uses Marvell's Qdeo video processing software for providing better 3D video and graphics, is baked into Google TV systems launching at CES next week.
Mario Queiroz, vice president of product management at Google TV, stated, "The Google and Marvell teams have been working closely together to bring our combined software and chipset technologies to market to grow the Google TV ecosystem of manufacturers and devices. Marvell-powered Google TV solutions will enable powerful products to be brought to market at attractive prices."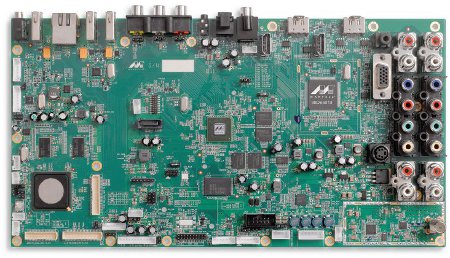 Marvell's Foresight Platform board will drive future Google TVs
(Click to enlarge)
It's unclear yet what those prices will be, but lower-cost Google TV systems will be crucial to the success of the platform. The Revue costs $299 at launch, was later dropped to $249, and finally ended up at $99.
Sony and other TV makers — such as Samsung and Vizio — are reportedly still on board with Google TV. These set makers may well launch Google TV products powered by Marvell chips this year.
The combination of the latest Marvell processors with Google's current Android 3.1 Honeycomb build for Google TV 2.0 could provide a potent, one-two punch for consumers. The Honeycomb-flavored Google TV 2.0 platform includes access to Google's Android Market, featuring dozens of apps for the TV screen.
The new Marvell Google TV systems can't come too soon for Google, which is expected to face competition in the web TV space from Apple. Moreover, Microsoft's Xbox 360 gaming platform has added voice search capabilities and other features that make it more compelling as a general purpose web TV product.
Marvell Armada 1500
Marvell's Armada 1500 is a follow-on to its earlier Armada 1000 processor, as well as its more recently introduced, dual-core, 1GHz Armada 618.
The chipmaker is not only an ARM processor licensee, but also an architecture licensee, enabling it to spin its own ARM SoC designs instead of modifying Cortex-A8 or Cortex-A9 designs. As a result, it's hard to say exactly where the 1.2GHz, dual-core Armada 1500 fits in with the competition, though it appears to be on par with Cortex-A9 SoCs.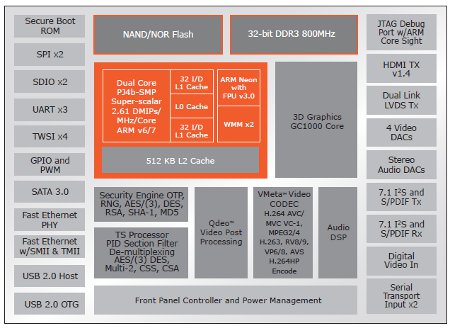 Armada 1500 block diagram
(Click to enlarge)
The Armada 1500 contains Marvell's highest-performing ARM v6/7-compatible SMP-enabled, super-scalar CPU, says Marvell. The SoC offers more than 6000 Dhrystone MIPS of processing power, as well as a floating point unit (FPU v3.0), 512KB of L2 cache, and WMMX2 support, claims the company.
The Armada 1500 also integrates a 3D graphics core, as well as Marvell's Qdeo video processing subsystem, enabling HD and 3D video, says the company. Qdeo features are said to include scaling, noise reduction, de-interlacing, low bit-rate internet video enhancement, and FRC and color/contrast enhancement.
The media subsystem also includes an audio DSP and a "VMeta" multi-format video decoder/encoder/transcoder that can decode up to two simultaneous 1080p streams. VMeta will be particularly useful for Google TV, says Marvell.
In addition, the Armada 1500 is said to provide a dedicated secure chip that supports various DRM schemes and 4Kbit, one-time-programmable memory. The chip also implements multiple crypto accelerators, says the company.
The Armada 1500 supports 32-bit DDR3 800MHz memory, as well as NAND and NOR flash, says Marvell. Integrated peripherals are said to include USB, Ethernet, HDMI, SATA, and SDIO (see block diagram above for details).
The processor is available with a software development kit (SDK) that supports "high-end Android-based and low-end Linux-based solutions," says the company.
Marvell's Foresight Platform
The Foresight Platform can be used as a reference design for Google TV device OEMs, and features an energy efficient design and "advanced cell-phone like power management," says Marvell. The reference board includes the Armada 1500, backed up by 1GB of DDR3 memory and 4GB of NAND flash. There's also a TV tuner, touchscreen support, and a Wi-Fi/Bluetooth connectivity chip.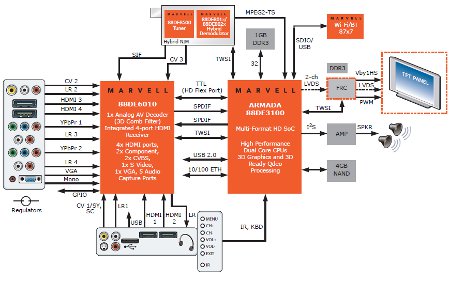 Foresight Platform block diagram
(Click to enlarge)
Four HDMI 1.4 ports are supplied, with one of the input ports supporting an audio return channel to enable "one cable" connectivity with home theater receivers, says the company. The platform is also said to feature legacy TV inputs such as RF terrestrial/cable, composite video, component video, and VGA. In addition multiple stereo audio inputs and outputs are available, according to Marvell.
The Foresight Platform includes a DTV reference design PCB, as well as ATSC/QAM/NTSC middleware, and network applications including Google TV, Netflix, YouTube, and Picasa apps, says Marvell. A customizable reference user interface and documentation are also said to be part of the package.
Availability
No pricing or availability information was made available for the new Google TV devices, Marvell's Armada 1500 processor, or the Foresight Platform. However, more details should emerge at CES in Las Vegas next week, and more information on both the processor and the Foresight platform is available at Marvell's Armada 1500 page.
Clint Boulton is a writer for eWEEK. Eric Brown also contributed to the story.
---
This article was originally published on LinuxDevices.com and has been donated to the open source community by QuinStreet Inc. Please visit LinuxToday.com for up-to-date news and articles about Linux and open source.