Sep 23, 2010 — by Eric Brown — from the LinuxDevices Archive — 4 views
Marvell announced a 1.5GHz, tri-core member of its Armada system-on-chip family. Aimed at smartphones and tablets, the Armada 628 combines two 1.5GHz ARM v7 cores with a specialized 624MHz system management core that reduces power consumption, adding six media processing engines that are claimed to deliver dual 1080p streams of 3D video plus "advanced 3D gaming performance."
Marvell tosses out a number of "first" claims for the Armada 628, including calling it, somewhat questionably, "the world's first commercially available heterogeneous, multi-core, applications processor." (Here, the key appears to be the word "heterogeneous," as in the heterogeneous multiprocessing claim the company makes for the processor.)
Judging from what little information the company has provided on the system-on-chip (SoC), however, the tri-core Armada 168 does appear to be something of a breakthrough, or at the very least, unique.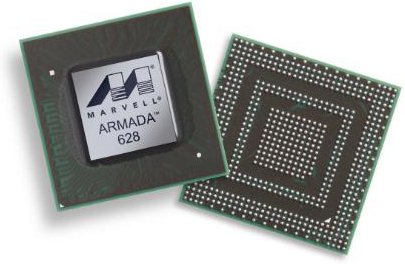 Marvell Armada 628
What particularly caught our attention was the claim that the SoC delivers dual-stream, multi-format 1080p 3D video at 30 frames per second. In addition, the Armada 628 is touted as providing exceptional 3D graphics performance, with four unified shaders for 200 million triangles per second 3D performance.
The Armada 628 supports Android, Linux, RIM OS (BlackBerry), and Windows Mobile, says the company.
A "hybrid muscle car"
The Armada 628's tri-core design helps it support "ultra-low-power, long battery life smartphones and tablets," says Marvell The SoC supports 10 hours of 1080p HD video or 140 hours of music per charge, claims the company.
The processor is described as something of a "hybrid muscle car," integrating two 1.5GHz symmetric multiprocessing cores and a third 624MHz core optimized for ultra low-power. The latter is said to be designed for routine user tasks, acting as a system management processor that monitors and dynamically scales power and performance to reduce power consumption.
Marvell did not reveal the specific type of ARMv7 core used, but we imagine it is a variation of the Sheeva PJ4 core used on the single-core, 1GHz Armada 618 announced in February. This is also suggested by the company's claim of "easy software porting" from existing Armada designs. (See farther below for more on Marvell's Armada processors.)
The Armada 628 provides "3GHz of raw computational horsepower," claims the company. Once again, Marvell's hyperbole appears to have gotten the better of it. As we found with Motorola's alleged 2GHz Android smartphone, which appears to actually be a dual 1GHz Cortex-A9 core Nvidia Tegra 2, having two 1GHz cores is not equivalent to a 2GHz processor. In the same way, dual 1.5GHz cores don't quite add up to a 3GHz chip.
Still, 1.5GHz is faster than any commercially available ARM SoC we know of, although a number of 28nm Cortex-A9 based SoCs that match or exceed that will likely arrive next year. These will be closely followed by SoCs that will run the newly announced multicore ARM Cortex-A15 core, said to be clockable to 2.5GHz.
Multimedia and security engines
Combining two 1.5GHz cores that can offload housekeeping chores to the 624MHz system management chip should result in some exceptionally speedy devices — especially when coupled with the Armada 628's six processing engines. These are said to accelerate 3D graphics, 1080p video encode and decode, ultra high fidelity audio, digital photo processing, and cryptography, says Marvell. The company separately mentions an integrated image signal processor (ISP), which may be the same as the photo processing engine.
The 3D engine supports "immersive" — yes, still the buzz word du jour — game play experience, while the video engine supports dual stream 1080p streams that, it's said, may be combined for a 3D video experience. Built-in multimedia features include WMMX2 and NEON acceleration, and there's a pipelined VFPv3 floating point engine, Marvell says.
Multimedia support includes DirectX, Open GL ES 2.0, Open VG 1.1, and Adobe Flash, says the company.
The Armada 628 provides "hardware-based cache coherence," as well as a 1MB Level 2 cache, says Marvell. The processor can use either LP-DDR2 or DDR3 memory up to 533MHz, and includes a dual LCD display controller that can drive four simultaneous displays at up to 2000 x 2000 resolution, says the company.
USB 3.0, HDMI, and an EPD controller
The SoC is also notable for supporting the new USB 3.0 standard, claimed to offer up to ten times faster performance than USB 2.0. The SoC is also said to provide an HDMI interface with integrated PHY, plus UniPro, Slimbus, and SPMI interfaces. Other I/O includes MIPI (Mobile Industry Processor Interface) CSI for image sensors, as well as MIPI DSI for mobile display subsystems.
Finally, the processor features a an electrophorescent (EPD) controller based on E Ink technology for gray-scale e-reader displays. A similar EPD controller is featured in the Armada 166E.
Next up: A quad-core Armada
Marvell calls the Armada 168 the "world's first tri-core application processor," and true enough, none come to mind in this binary-minded processor universe. News to us was that Marvell claims to have already developed "the first implementation of quad-core technology for the ARM ecosystem."
Indeed, lost in the shuffle of CES last January, the company announced an unnamed four-core processor said to be based on the same architecture as the Armada 500 and 600, which would appear to make it the aforementioned Sheeva PJ4 core. The quad-core "implementation" was said to deliver gigahertz-plus processing per core, and target the "mass consumer market and high volume gaming applications."
No other details were offered, however, and it appears that none have been published since then.
Armada background
Because Marvell is not only an ARM processor licensee, but also an architecture licensee, it has the right to take ARM-designed cores and use it in SoCs of its own devising. This is precisely what the chipmaker did last year when it announced the Armada product families, employing its own, unique Sheeva designs.
Marvell's Sheeva PJ1 architecture is based on the ARMv5 instruction set, and is used in the single-core Armada 100 family and dual-core, 1.2GHz Armada 1000 family. The company's Sheeva PJ4 architecture is based on the ARMv7 instruction set (employed in the ARM Cortex-A8 core), and is used in the Armada 500 and 600 families. This includes the aforementioned 1GHz Armada 618, a processor that targets sub-$100 smartphones.
Instead of employing ARM's Neon SIMD (single instruction multiple data) instruction set, the previous Armada products have incorporated Wireless MMX2 technology, inherited from Intel when Marvell acquired the latter's XScale-based SoCs in 2006. (Here, the Armada 628 may differ, as noted above, by claiming to support NEON directly.)
The Armada SoCs additionally include Marvell's Odeo video processing technologies and can also accelerate Adobe's Flash technology, the company says. Marvell did not mention the fabrication process used for the Armada 628, but all Armada SoCs to date have been manufactured using TSMC's 55nm fabrication process.
Stated Linley Gwennap, principal analyst of The Linley Group, "Marvell's groundbreaking tri-core architecture is a unique solution to a long-time problem — how to achieve enterprise performance without breaking the limited power budget of smartphones, tablets and other mobile consumer devices."
Stated Weili Dai, Marvell co-founder, vice president, and general manager of Marvell Semiconductor's Consumer and Computing Business Unit, "Marvell has once again set the benchmark for the rest of the industry with the world's first 1.5GHz tri-core processor."
Availability
The Armada 628 is now available for sampling to customers. No web page has yet been posted, but the SoC should eventually appear on Marvell's Armada page, here.
---
This article was originally published on LinuxDevices.com and has been donated to the open source community by QuinStreet Inc. Please visit LinuxToday.com for up-to-date news and articles about Linux and open source.