Aug 16, 2010 — by Eric Brown — from the LinuxDevices Archive — 2 views
Google has vowed to fight Oracle's patent lawsuit over use of Java patents in Android, claiming that Android's Dalvik implementation is not covered. Meanwhile, Java creator James Gosling blogs that neither side in the lawsuit is without blame, but calls the suit a victory for "ego, money and power" at the expense of open software development, says eWEEK.
The day after Oracle jolted the Android community by suing Google on Aug. 12 with a patent infringement lawsuit over the illegal use of Java in its Linux-based Android operating system, Google responded by calling the suit "baseless." The company vowed to fight the lawsuit, which covers seven patents and other copyrights related to Java.
In a story Friday in our sister publication eWEEK, Clint Boulton wrote that a Google spokesperson told the publication, "We are disappointed Oracle has chosen to attack both Google and the open-source Java community with this baseless lawsuit."
The spokesperson went on to say, "The open source Java community goes beyond any one corporation and works every day to make the Web a better place. We will strongly defend open source standards and will continue to work with the industry to develop the Android platform."
Android includes Java applications running on a Java-based application framework and core libraries that run on a Dalvik virtual machine. Google appears to be preparing a defense claiming that Dalvik is not covered by the cited Java patents.
Oracle acquired thousands of Java-related patents through its $5.6 billion purchase of Sun Microsystems, later renamed Oracle America. Despite negotiations, Google did not have a licensing agreement with Sun for Java. Nevertheless, "Sun let Google slide," writes Boulton.
Oracle revived talks after acquiring Sun, but discussions broke down after the two parties couldn't agree on licensing fees, says the story.
Java creator blasts Oracle — and Google too
Two subsequent eWEEK stories by Darryl Taft report on blog post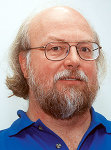 s about the lawsuit by Java creator James Gosling (pictured). The chief creator of Java, as well as a former vice president and fellow at Sun Microsystems, Gosling moved to Oracle after the Sun acquisition last summer, but resigned from the company this April.
On Friday, Gosling wrote that the suit was "not a big surprise." He added that "during the integration meetings between Sun and Oracle where we were being grilled about the patent situation between Sun and Google, we could see the Oracle lawyer's eyes sparkle." Added Gosling, "Filing patent suits was never in Sun's genetic code."
In this and a subsequent blog entry posted yesterday, Gosling took issue with Oracle's heavy-handed move, but also faulted Google for its own power-play tactics and refusal to settle with Sun.
"There are no guiltless parties with white hats in this little drama," Gosling wrote yesterday. "This skirmish isn't much about patents or principles or programming languages. The suit is far more about ego, money and power."
According to Gosling, Sun's main concerns were with the potential for Android's fragmentation, and what that might do to Java, the majority of which was open sourced by Sun in 2006. In addition, financial compensation was at issue, wrote Gosling.
"We wanted some compensation for the large amount we would be spending on engineering," Gosling wrote. "Google did have a financial model that benefited themselves (that they weren't about to share). They were partly planning on revenue from advertising, but mostly they wanted to disrupt Apple's trajectory, and Apple's expected entry into advertising."
Gosling went on to opine that Google, Apple, and Oracle have in recent years started imitating the strong arm tactics of Microsoft. These same Microsoft tactics have been vigorously protested by the same companies on behalf of the cause of open development.
By comparison with the recent moves of the "Borg wannabes," Gosling writes, Microsoft, which was successfully sued by Sun several years ago for meddling with Java, comes out looking pretty good. "It's a sad comment on the morality of large modern software companies that Microsoft, while I don't think they've gotten any better since Sun sued them, probably has the high ground," adds Gosling.
Suit may hinge on Dalvik's link to Apache Harmony
eWEEK also published some insights on the Oracle lawsuit from Al Hilwa, program director for applications development software at IDC. In an interview with the publication, Hilwa cited Dalvik's link to the Apache Harmony implementation of Java as a key issue in the case. The Dalvik JVM is based on the Apache Software Foundation Harmony implementation of Java SE, Hilwa told eWEEK.
"There has been a long-running feud about the certification of Harmony with the Test Compatibility Kit," Hilwa was quoted as saying. "It is not clear if these infringements apply to Harmony as well. Many expected Sun to raise some hay about Google's fork of the Java code to produce Dalvik but having waited for Android to be a success can be quite disruptive."
"Serious consequences" for Android?
Hilwa was further quoted as saying the Oracle lawsuit could "have serious consequences" for Android's development. "Basically it says that Oracle wants to get into the action and leverage its acquired Java assets better financially," he told eWEEK. "Google has released Android as open source under the Apache license, a type of license which permits other vendors to add code to produce their own products."
In an eWEEK interview with Damien Katz, creator of the Apache CouchDB project, the publication asked why he chose to port his database to Android. Katz responded by lauding the openness of Android, says the story.
"The reason we picked Android as our first phone platform is it's very open," Katz was quoted as saying.
Nevertheless, when Google initially announced its plans for Android and Dalvik in 2007, it rubbed several Sun engineers the wrong way, including Gosling, says the story.
In the end, it is open source developers who have the most to lose from the lawsuit, wrote Gosling.
"The freedom we were most concerned about was the freedom of software developers to run their applications on whatever OS or hardware they wanted," he wrote. "In opposition to that, the platform providers wanted the freedom to make their platforms as sticky as possible."
Availability
The eWEEK story on Google's response to Oracle's lawsuit may be found here.
James Gosling's Aug. 15 blog entry on the Oracle lawsuit against Google may be found here. The eWEEK story on Gosling's first blog post may be found here, and the longer analysis story that covers Gosling's second post should be here.
Finally, with some perfect timing, EETimes has published a short history of Java in the embedded world, here.
---
This article was originally published on LinuxDevices.com and has been donated to the open source community by QuinStreet Inc. Please visit LinuxToday.com for up-to-date news and articles about Linux and open source.