Jun 16, 2010 — by Eric Brown — from the LinuxDevices Archive — 2 views
Google's Android team will focus on user interface issues in the upcoming "Gingerbread" release of Android in an attempt to dissuade handset vendors from adding their own UI layers, writes Michael Arrington in TechCrunch. Meanwhile, Google is preparing an Android-linked iTunes competitor called Google Music, says CNET.
Citing multiple unnamed sources, Michael Arrington of TechCrunch says that Google will emphasize user interface (UI) improvements to the upcoming Gingerbread release of Android. Google intends to use the enhancements to limit the proliferation of conflicting UI layers added by handset vendors, he adds.
Now that core functions have been set in place with Android 2.2, "the user experience hasn't evolved much," writes Arrington. Yet, with Gingerbread, which could be available as early as the fourth quarter, according to some reports, UI improvements will lead the way, with a goal "to get the Android experience closer to the iPhone," writes Arrington.
Further circumstantial evidence that Google is ready for a big Android UI makeover can be found in Digital Daily's recent report that Google has hired away a key UI designer from Palm's WebOS team. Google confirmed to the publication that Matias Duarte, who led development of the WebOS UI team, has joined Google as User Experience Director for Android. The hire is a "significant loss for Palm and new owner Hewlett-Packard," says the story.
UI layers such as Motorola's MotoBlur, HTC's Sense, Samsung's TouchWiz, and Vodafone's "360," which debuted on Samsung's LiMo-compatible Vodafone 360 H1, but is now heading for Android, tend to slow down performance, argues Arrington. What's more, the UI stacks, which are often linked to "push" social networking aggregation websites, are not always much of an improvement over Android itself, he suggests.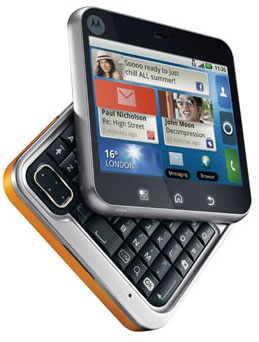 Motorola Flipout, showing MotoBlur UI
Not only do the UI layers cause fragmentation and difficulty as users move between phones, but they're even getting fragmented within themselves.
For example, when Motorola is expected to announce its new Droid X and/or Droid 2 phones on June 23, as reports now suggest, the company is rumored to offer a new version of MotoBlur called ShadowBlur or NinjaBlur. With HTC's latest phones, such as the Evo 4G the company offers what it refers to as "the latest version" of Sense, which adds new features such as a "Friend Stream" social networking aggregator.
Meanwhil

e, some UI layers like 360 and TouchWiz, are intended to work with multiple operating systems, so are not always well integrated with Android. For example, the Samsung Galaxy S (pictured) and many other Samsung Android phones use a TouchWiz UI that is also offered on Windows Mobile phones. Perhaps TouchWiz will wind up being best tailored to Samsung's own, recently announced Bada operating system (OS).
Is Android headed for a lock-down?
Arrington did not say how Google would try to block third-party UI layers, except to "make those 'skins' as pointless as possible." One presumes this would mean making the interface so insanely great that no one in their right mind would dare mess with it, but Arrington also raises the possibility of some sort of UI lockdown.
Although Arrington argues that "when you don't lock down the hardware it's very hard to make the UI perfect," he also notes the inherent conflict that Android is a "flexible operating system that is designed to handle a variety of hardware options."
If Google can figure out a way to significantly improve the interface without sacrificing too much of Android's open source nature, it may have a step up in winning the battle with Apple. On the other hand, a partially locked system is still a locked system, and that may limit Android's ability to innovate at such a rapid rate.
What's up with Gingerbread?
The only novelty we know for sure will be in Gingerbread is the Google-backed WebM, an open source project developing a royalty-free WebM media file format designed for the web. Based on the Matroska media container, WebM works together with the VP8 video codec, as well as the Vorbis audio codec.
In addition, it seems likely that the next version of Android will offer at least some version of Google TV integration. This may include the possibility of using an Android phone as a remote control for the Google TV set-tops and TVs, including the ability to mimic a Logitech Harmony Link controller in controlling A/V equipment connected to a Google TV companion box.
Major enhancements to Android 2.2 included Flash 10.1 support, faster performance. Other new features included USB tethering, WiFi hotspot support, and music streaming from a desktop PC. Also new are Android Market improvements, such as the ability to set up downloads and updates from a PC.
Google Music service points to Gingerbread music features
Another possibility for Gingerbread is a further boost to streaming music support. In fact, Google may launch an Android-linked music download and streaming service to compete with iTunes as early as this fall, writes Greg Sandoval on CNET, citing multiple music industry sources.
As backup evidence, Sandoval notes the music-related enhancements to Froyo, and promises for future improvements, as well as Google's demo of a web-based iTunes competitor at the Android 2.2 launch. In addition, he points to a TechCrunch story earlier this month (see link farther below) claiming the discovery of a Google Music logo on Google's website (since removed, of course).
Both stories cite Google's recent acquisition of Simplify Media, which offers a desktop app that offers users access to all DRM-free media on Android devices remotely. As we reported in conjunction with the Android 2.2 launch, the Simplify Media technology is being used to let Android access music libraries stored on their home PC, from which they can be streamed wherever there is an Internet connection. The technology is even said to be compatible with Apple's iTunes.
The Google Music service will compete directly with iTunes, but like Google TV, will emphasize the integration of Google Search. The service will tie digital downloads and streaming music to search results, says the CNET story. The technology will apparently be based in part on Google's short-lived Music Onebox service, which was said to enable song title searches to automatically stream matching songs via online music stores.
"A Google-backed challenge to Apple's dominance of legal online music sales would be warmly welcomed by the top labels," writes Sandoval. "They have tried for years to convince heavy hitters such as Google, Facebook, and AOL to take on iTunes."
He notes that the next two largest digital music stores — Amazon and MySpace Music — have yet to cut into Apple's huge market share. Meanwhile, the story notes that Apple is working on a web-based iTunes service that could enable users to store music and video in the cloud, and then stream the content to web-enabled devices.
Availability
The TechCrunch story on Gingerbread should be here.
The Digital Daily story on the Google hire of Matias Duarte may be found here.
The CNET story on Google Music may be found here, and the earlier TechCrunch story on Google Music should be here.
---
This article was originally published on LinuxDevices.com and has been donated to the open source community by QuinStreet Inc. Please visit LinuxToday.com for up-to-date news and articles about Linux and open source.