May 7, 2010 — by Eric Brown — from the LinuxDevices Archive — 1 views
Motorola is acquiring LiMo-linked middleware and Web 2.0 app software company Azingo, according to several reports. Several hundred India-based software engineers would be focused on lessening Motorola's dependence on Google, suggests The Register, while GigaOM speculates that Motorola is building its own OS and SFGate sees a China connection.
The acquisition rumor was reported by AndroidAndMe after someone tipped the site that an Azingo senior software engineer had updated his LinkedIn profile to show he was now working at "Motorola India Pvt Ltd (by acquisition)." This may not be proof, yet The Register subsequently reported that it had received independent confirmation from an "industry source."
The Register claims the acquisition closed in April, but it would seem more likely that the alleged deal has not yet been completed. Motorola still hadn't fessed up as of this morning, nor does the Azingo website show any indication of a switch, although it did announce the appointment of private equity advisor Mike Nevens to its board of directors today. When asked for comment by The Register, a Motorola spokesperson said only that it "remains focused on Android."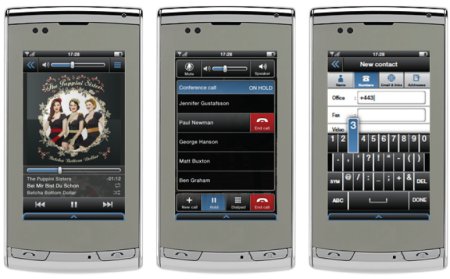 Interface examples in the LiMo-compliant Azingo Mobile 2.0
AndroidAndMe
also points to a statement made by Motorola Co-CEO Sanjay Jha in the company's recent,
mostly upbeat
earnings call that would suggest the company would use Azingo to help Mot build its own Linux-based OS. Stated Jha, "I've always felt that owning your OS is important, provided you have an ecosystem, you have all the services and you have an ability and the scale to execute on keeping that OS at the leading edge. And I continue to believe that at some point, if we have all of those attributes, that owning our own OS will be a very important thing."
Azingo unveiled

AndroidAndMe was unfamiliar with the privately held Azingo, which is not surprising considering the company's low profile over the last year, and the overshadowing of the LiMo Foundation's open platform LiMo (Linux Mobile) platform by Android. In the process of consuming the market, Android has also absorbed one of LiMo's prime members, Motorola. Last year, after having previously announced its switch to Android in October 2008, Motorola "walked off the board of the [LiMo] consortium," according to The Register.
Only a year ago, the India-based Azingo, which also has offices in Silicon Valley and Korea, looked like it could emerge as a major force in mobile software. Azingo developed one of two major application reference stacks for the second-generation LiMo R2 set of mobile phone middleware specifications, and in February 2009 at Mobile World Congress, announced that its Azingo Mobile 2.0 (pictured farther above and below, right), would be used in Vodafone's first LiMo-based phone.

Last September, Vodafone announced the phone, a Samsung-built model called the Vodafone 360 H1 (pictured at left). The H1 was followed with the scaled down 360 Samsung M1, another collaboration between Vodafone and Samsung that was once again aimed at a European audience. Neither announcement mentioned Azingo, but The Register confirms that Azingo developed the stacks, as well as Vodafone's "360" integrated push web service for social networking.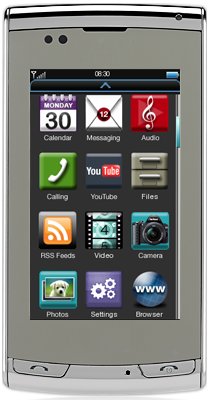 The Azingo Mobile 2.0 Linux middleware, browser stack, and SDK include a touch-enabled homescreen interface, browser, and UI toolkit based on Web 2.0 technologies. Like Android, the stack (pictured at right) features a WebKit-based browser, and it also works with Adobe Flash. (Much more on Azingo 2.0, which is still the most recent release, may be found in our earlier coverage, here.)
The other LiMo stack, by the way, was developed by Japan's Access. Its LiMo-compliant Access Linux Platform (ALP) based middleware is being used in Else, Ltd's novel, but still emerging First Else smartphone. So far, these three phones are the only major LiMo-compliant smartphones to have been announced. The rest — some 47 models all told — are feature phones from Panasonic and NEC aimed at NTT DoCoMo's Japanese market, as well as few phones shipped by Motorola before it switched over to Android.
Is Motorola going all Bada on us?
If, as Jha's recent statement suggests, Motorola is indeed going rogue with its own Linux-based mobile operating system to compete with Android, it would appear to be following a growing trend. In November Samsung surprised the industry when it announced it was developing its own mobile OS called Bada, which is capable of running on core RTOS kernels, including Linux, and ships with a Linux SDK. In February, Samsung followed up with its first Bada smartphone, the Samsung Wave (pictured below, at left). Today, Samsung released a public beta of the Bada SDK, available here.

Then last week, a number of Japanese firms that had previously been LiMo stalwarts announced they were developing an application platform for mobile phones that will be compatible with Linux, Symbian, and possibly Android. Due in 2012, phones using the unnamed OS stack will be built by Fujitsu, NEC, Panasonic, and Sharp for NTT DoCoMo's network, and will presumably run on Renesas processors.
Meanwhile, Intel and Nokia are preparing to host the release of the first MeeGo mobile Linux phones later this year, and now that HP is buying Palm, it will have its own Linux-based WebOS should it choose to pursue the smartphone market.
As SFGate points out, it does not seem to make mu

ch sense that Motorola would turn its back on Android now, considering that the Android-based Motorola Droid (pictured at right), has given it one of the biggest mobile phone successes in its history. The phone has almost single-handedly turned a mobile division heading for financial disaster into a world-beater.
Yet, as The Register notes, Motorola was "particularly miffed" by Google's decision to compete against the Droid with its own HTC-manufactured, Google-branded Nexus One. The Nexus One competes directly with Motorola's own Cliq phone on T-Mobile, and was destined to compete directly against the Droid on Verizon Wireless until Google and Verizon recently pulled the plug on the deal.
This is small solace to Motorola, however, as the Droid must now compete with the Nexus One's close cousin, built by Google partner HTC, the HTC Droid Incredible. Worse, Verizon's naming scheme reinforces the notion that the Incredible is the successor to the Motorola Droid. Among other dynamics in play here, Motorola had seemed to think it would be Google's new go-to vendor, but Google instead chose to stick with HTC to help it push out the latest greatest phones with the newest versions of Android.
If Motorola is indeed planning its own OS, Azingo will position it well for such an effort, writes GigaOM's Kevin Tofel. The presence of the highly regarded Azingo team and technology could help Motorola "quickly attract programmers that use HTML, CSS and JavaScript to develop mobile software for the Azingo platform," writes Tofel. "Such an approach is a growing trend in the mobile space — Palm does it with webOS and the Symbian Foundation recently adopted the same web standards usage for mobile app development."
Motorola's China syndrome
SFGate's Pascal-Emmanuel Gobry, meanwhile, believes it is "incredibly unlikely" that Motorola would try to compete with Google with its own OS on the open market. However, suggests Gobry, it might spin its own OS for one particular market: China. Noting Motorola's long tradition of selling phones and other consumer electronics in China, as well as Google's recent retreat from the Chinese market with its search engine, Gobry suggests that Motorola may sense an opportunity.
Google's falling out with the Chinese government over censorship and other issues, "is a problem for Motorola," writes Gobry. "It's resorted to awkward workarounds like taking Google search out of its Android phones in China and building its own Chinese app store. If Motorola wants to go strong on China, it can't rely on Google. The next logical step is to build its own OS for the phones it sells in China, and keep selling Android handsets elsewhere."
If this is true, it might also reflect a return to LiMo, as an Azingo-based OS would likely used the same underlying LiMo-compliant middleware. On the other hand, assuming the acquisition is legit, Motorola might simply be boosting its mobile application development expertise for Android and its own MotoBlur UI layer, used on the Cliq and the company's other mid-range Android phones.
Much like the Azingo-built Vodafone 360, Motorola's MotoBlur combines a UI layer with an associated push web service based on Web 2.0 technologies. And Azingo's Flash expertise could also come in handy for Android 2.2. So maybe when Motorola says it "remains focused on Android," it means it.
Availability
More information on Azingo may be found here.
The AndroidAndMe story on Motorola buying Azingo may be found here. The follow-up story in The Register should be here.
The analysis story on GigaOM may be found here, and the SFGate story should be here.
---
This article was originally published on LinuxDevices.com and has been donated to the open source community by QuinStreet Inc. Please visit LinuxToday.com for up-to-date news and articles about Linux and open source.