Feb 15, 2010 — by Eric Brown — from the LinuxDevices Archive — 12 views
Intel and Nokia are merging their open source Linux operating systems to create a MeeGo OS, designed for mobile devices ranging from handhelds to netbooks. Hosted by the Linux Foundation, MeeGo builds upon the core from the Intel-backed Moblin technology and adds Nokia's Maemo middleware elements, as well as Nokia's Qt application framework.

MeeGo blends "the best of Maemo with the best of Moblin to create an open platform for multiple processor architectures," say Intel and Nokia. The open source MeeGo builds on the capabilities of the Moblin core OS, but combines "the momentum of Maemo in the mobile industry" as well as the Qt UI toolkit from Maemo. The first MeeGo release is said to be due in the second quarter, with devices launching later in the year.
The Nokia-backed Maemo project recently adopted Qt, followed soon after by Nokia's Qt Software unit (formerly Trolltech) announcing a new Qt 4.6 version that supports both Maemo and Symbian. The addition of the cross-platform Qt extends the range of target device segments for MeeGo applications by enabling developers to write applications once and then "easily deploy them on MeeGo and across other platforms, for example, on Symbian," say the partners. Because MeeGo runs on multiple device types, consumers "can keep their favorite applications when they change devices, so they are not locked into one kind of device or those from any individual manufacturer," say Intel and Nokia.
Mobile computing devices that will run MeeGo include pocketable mobile computers, netbooks, tablets, mediaphones, connected TVs, and in-vehicle infotainment systems, say the companies. In addition, the platform will support both "Intel/Atom" and ARM architectures, according to a FAQ at the MeeGo.com (not .org) site.
To date, Moblin has supported only the Intel Atom. Maemo, meanwhile, has been tied to the ARM architecture, with specific support for Texas Instruments' Cortex-A8-based OMAP3x platform.
MeeGo-based devices and content from Nokia will be marketed at its Ovi Store alongside Symbian-based products, with Forum Nokia providing developer support, says Nokia. Intel-based MeeGo devices from other device manufacturers will be marketed at the Intel AppUpSM Center, with the Intel Atom Developer Program providing support, says Intel.
Fast progress with Intel Nokia pact
MeeGo is the somewhat surprising, but not entirely unexpected, fruit of the long-term partnership announced by Intel and Nokia last June to develop "a new class of Intel Architecture-based mobile computing device and chipset architectures." The deal also called for Intel's acquisition of a Nokia HSPA/3G modem IP license, as well as collaboration between the Moblin and Maemo mobile platforms.
Most likely, the merge between the two mobile open source OSes was planned from the start. If not, the fast rise of Android on smartphones and mobile devices, not to mention the upcoming competition in netbooks from Google's Chrome OS, may have inspired a shotgun wedding.
A story on the MeeGo announcement by Nathan Eddy, who is covering the Mobile World Congress show this week in Barcelona for our sister publication, eWEEK, reports that the partners hinted that Nokia may use Intel processors (most likely Moorestown) for some of its devices. When asked if Nokia and Intel would collaborate more closely in the future on the hardware end, perhaps resulting in Nokia phones running Intel chipsets, Nokia's EVP of devices, Kai Oistamo, declined specifics, but said it would be "natural" to take the best hardware for future devices, according to Eddy.
Don't call them smartphones
The partners do not use the terms smartphone or mobile phone in conjunction with MeeGo, but according to the MeeGo developers site, the platform supports "cellular and IP voice and data connectivity across a range of communications technologies, including WiFi, 3G, WiMax, and Bluetooth."
In addition, while the MeeGo project defines "mediaphones" as IP desktop and videoconferencing phones, under the "handhelds" category, the project starts off this way: "Next generation smartphones allow users to enjoy a rich and dynamic Internet experience, watch HD movies, and multitask like never before on a small form factor device."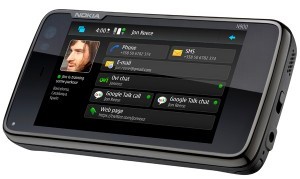 Nokia's Maemo-based N900
Perhaps sensitive about predictions that it might be abandoning the
newly open source Symbian
for its high end smartphones, the company has been careful to label its first Maemo smartphone, the
N900
(pictured above), as a mobile computing device instead of a smartphone. It seems clear, however, that the handhelds that MeeGo has in mind offer the same telephony and related features found on a high-end Android smartphones or an Apple iPhone.

LG's Moblin- and Moorestown-based GW-990
Moblin was first launched for mobile Internet devices (MIDs), but then last year was relaunched in a version 2.0 that targeted netbooks. Moblin has only recently started
shipping in consumer netbooks
. Meanwhile, a
Moblin v.2.1
, still in beta, supports both netbooks and MIDs, and includes support for new Moorestown-based telephony-enabled smartphones such as the
LG GW-990
(pictured above).
Linux Foundation plays host to MeeGo
MeeGo is being hosted by the non-profit Linux advocacy group, the Linux Foundation (LF), which has been the official steward of Moblin for about a year now, despite Intel's ongoing influence with the project. MeeGo will be run as a "fully open source project, encouraging community contributions in line with the best practices of the open source development model," says the LF.
Members of Maemo.org and Moblin.org are invited to join the project, but it was not detailed whether either of these open source projects and their platforms will continue, and if so, for how long. According to the MeeGo partners, developers can begin writing applications in Qt immediately. MeeGo source code, the build system, and the developer infrastructure, will be posted "in the coming weeks," says the MeeGo.com FAQ.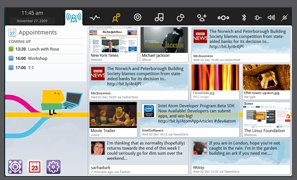 MeeGo Netbook UI example
Aside from stating that MeeGo is based on Moblin's core, the project did not detail what elements were borrowed from which platform. However, it appears that MeeGo may also be based on Moblin's UI layer, at least according to a screenshot posted on the netbook reference subsystem page (see image above). The Moblin v.2.1 UI is shown below.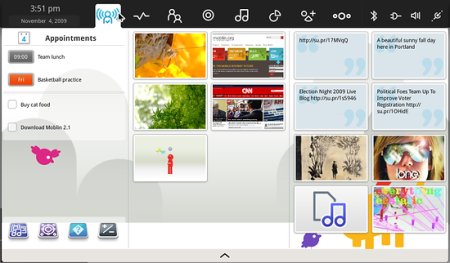 Myzone interface on Moblin v2.1 beta for netbooks and nettops
MeeGo will provide the development community with tools such as the
Qt Creator IDE
, documentation, sample code, and applications, says the MeeGo project. MeeGo's ability to mix native and web UI development allows widgets to share documents and presentations, as well as to access web content with less memory consumption, says the project.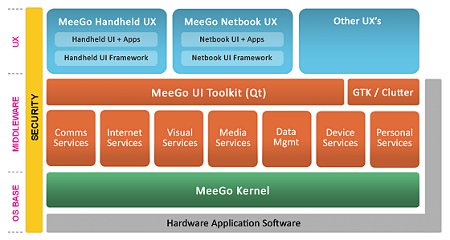 MeeGo architecture
(Click to enlarge)
The MeeGo project is working with existing upstream projects such as the Linux kernel, ofono, connman, X.org, D-Bus, tracker, GStreamer, Pulseaudio and others, says the LF. (See farther below for more details on the MeeGo architecture).
MeeGo reference platforms: from handhelds to STBs
The MeeGo site breaks down target device platforms into five main device categories, including mobile handhelds and netbooks, both of are offered in formal "UX" subsystem reference designs in the initial version (see farther below). The list also includes three categories that are not typically included in the mobile category: in-car infotainment systems, connected TVs, and desktop IP videophones ("mediaphones"):
Handhelds — As noted previously, the handheld category (also referred to as "pocketables") would appear to include telephony-enabled smartphones and small portable media players (PMPs) and PDA-like devices. These video-enabled "next-generation smartphones" are further said to "travel lighter and longer with extended battery life."
Netbooks — The MeeGo for Netbooks reference platform also embraces tablet configurations, enabling products that are "light-weight, scalable, fast-booting," as well as offering the option of a "brandable operating system." The netbook reference design includes reference user experience and applications, as well as the MeeGo core reference application and UI development framework, with multi-touch gesture support, and animation APIs, says MeeGo.
Mediaphones — This reference design covers desktop telephone and video calling platforms that also provide information services, entertainment, and an Internet access point, says the project. MeeGo will support HD videoconferencing, advanced telephony, touch UI, and integrated business applications, says the project.
In-Vehicle Infotainment (IVI) — MeeGo IVI builds on the foundation laid by Moblin IVI for system that comply with the Genivi Alliance. The MeeGo IVI software platform is designed to enable rich internet and multimedia consumer experiences for vehicles, says the project.
Connected TV — Perhaps the most surprising category for MeeGo is the "connected TV," which is said to include IP-enabled TVs, IP set-top box (STB), and Blu-ray players. This reference platform will enable users to "enjoy access to multiple applications, services, and personal media, all while watching TV," says MeeGo.
MeeGo architecture
MeeGo comprises the MeeGo Operating System and the MeeGo User Experience subsystems (see architecture diagram farther above). Building upon a Linux kernel derived from Kernel.org, MeeGo offers the following middleware subsystems and other components:
Comms Services — — Provides services to manage voice and data connectivity, offering APIs for cellular and IP voice and data connectivity across a range of communications technologies, including WiFi, 3G, WiMax, and Bluetooth
Internet Services — — Services for rendering web content, providing web run time support, exchanging data with web services, and determining location
Visual Services — Core 2D and 3D graphics capabilities, including support for rendering internationalized text and taking advantage of underlying hardware graphics acceleration
Media Services — Audio/video playback, streaming, and imaging functionality, including audio/video data handling (retrieval, demuxing, decoding and encoding, seeking, etc.)
Data Management — Services for extracting and managing file meta-data, retrieving data about device context, such as device position or cable status, and managing installed packages
Device Services — Managing device state, including safety factors, data exchange, sensor data extraction, system policy, data synchronization, and backup and restore
Personal Services — Managing user data, including personal information management, as well as user accounts to enable single-sign-on for web services
MeeGo Security Architecture — Scalable security framework using role-based access control, covering completely open systems as well as "systems that need to be partially locked down"
MeeGo UI Toolkit — Based on Qt, with enhancements and additions, and includes GTK and Clutter
MeeGo Handheld UX — Core system UI and applications for handhelds
MeeGo Netbook UX — Core system UI and applications for netbooks
MeeGo will use the .rpm package format instead of .deb, says the FAQ. Hardware vendors running MeeGo will need to provide their own platform kernel drivers, core architecture patches, kernel configurations, X software patches and configuration, modem support, and hardware specific media components, says MeeGo.
MeeGo's split licensing scheme
According to MeeGo's somewhat convoluted licensing page, "the whole MeeGo platform software available from MeeGo.com should be fully open source." However, the page also states that "users of MeeGo should be able to differentiate their MeeGo-based commercial products by adding proprietary extensions on all layers of the architecture."
Here, MeeGo places no additional rules on top of the upstream component licenses, says MeeGo. However, licenses must be compatible with the OSI Open Source definition "in a way that enables proprietary extensions," says the project.
MeeGo licensing differs for the OS versus the "User Experience" subsystems. The license policy for the OS portion of MeeGo "is driven by maximizing alignment with the rest of the Linux distribution community, hence a high degree of variety in licenses and effective dominance of the GNU licenses in number." The project says that it encourages use of GNU GPL 2.x, and discourages GPL v.3.
The User Experience license policy, however, "is driven by satisfying the needs of operating system and device vendor users of MeeGo to help them in fast adoption and in providing the best value to their customers." In short, for the User Experience, the project recommends "a policy of primarily permissive BSD-style open source licenses and secondarily copyleft licenses. The licensing page then goes on to list several exceptions.
Stated Intel President and CEO Paul Otellini. "This is a foundational step in our evolving relationship with Nokia. The merging of these two important assets into an open source platform is critical toward providing a terrific experience across a variety of devices and gaining cross-industry support."
Stated Olli-Pekka Kallasvuo, CEO, Nokia. "Through open innovation, MeeGo will create an ecosystem that is second to none, drawing in players from different industries. It will support a range of business models across the value chain, building on the experience and expertise of Nokia, Intel and all those who will join us."
Stated Jim Zemlin, executive director at the Linux Foundation, "MeeGo has been built from the ground up for rich, mobile devices and will deliver choice to consumers without lock-in."
Availability
The MeeGo site may be found here. Webcasts of the announcement may be found at Nokia, here or Intel, here.
A blog entry from the LF's Jim Zemlin, calling the MeeGo announcement Linux's "second IBM moment," may be found here.
The eWEEK story on MeeGo may be found here.
---
This article was originally published on LinuxDevices.com and has been donated to the open source community by QuinStreet Inc. Please visit LinuxToday.com for up-to-date news and articles about Linux and open source.