Feb 4, 2010 — by Eric Brown — from the LinuxDevices Archive — 2 views
The Nokia-backed Symbian Foundation announced it has open sourced the world's leading smartphone operating system, with the release of Symbian 3. Released under an Eclipse Public License (EPL), Symbian 3 adds improved graphics, HDMI support, and better multimedia streaming capabilities, says the Foundation.
Four months ahead of schedule, Symbian 3 is offered with source code available for free under the Eclipse Public License (EPL). Some may quibble that EPL does not offer the same level of openness as GPL and LGPL, but the fact is that by any meaningful measure, Symbian is now open source. In other words, the Nokia-controlled Symbian now shares one of the key advantages that has helped the Google-backed Android platform — and to a lesser extent other Linux platforms such as Palm's WebOS — rise quickly in the smartphone market.
The move also represents a major leap forward for open source. The majority of mobile phones available for sale worldwide now offer open source software.
Symbian 3: Graphics, HDMI, and streaming
All 108 packages containing the Symbian 3 source code can now be downloaded from Symbian's developer web site under the terms of the EPL. Also available for download are a Symbian Developer Kit and Product Development Kit. Symbian 3 will be "feature complete" later this quarter, says the Foundation.
Symbian 3 builds upon Symbian 2 with new features including graphics support for advanced layering and effects, full HDMI support, and improved multimedia streaming, says the Symbian.org project. Highlights are said to include:
Improved networking architecture improving streaming of high definition audio and video
Full HDMI support with HDCP
Re-architected graphics, with greater support for hardware acceleration, as well as advanced layering and effects
Initial phase introduction of the Symbian Hardware Abstraction Interface (SHAI), touted as lessening the amount of work required to port the platform to new hardware
Improved single tap support, making the UI more fluid and easy to use
Fast development tied to open source
In an interview in our sister publication eWEEK, Larry Berkin, director of Global Alliances at the Symbian Foundation, was quoted as saying he believes the effort to open source the Symbian source code was the biggest open source migration project in history. Berkin told writer Darryl Taft that any individual or organization can now take, use, and modify the code for any purpose, whether for a mobile device or for something else entirely.
Berkin was said to have noted that Nokia has also committed to transparency in future plans. This will reportedly extend to the publication of the platform roadmap and planned features through 2011.
One of the key advantages of open source is agility, the ability to quickly ramp up development projects. This was evident, Berkin told Taft, by the rare occasion in the technology world of a four-month jump-start on the Symbian 3 release schedule.
"It's ahead of schedule and that can be attested to the open forum," Berkin was quoted as saying. According to eWEEK, Berkin acknowledged that there had been some missteps by Symbian in the efforts to tap the U.S. market, but that now, "The U.S. is a focus for a lot of our partners."
Background: Symbian's open source transition
In June 2008, Nokia acquired Symbian and launched the Symbian Foundation with a vow to make the platform open source. In October of 2009, the Symbian Foundation announced a major milestone on the road to porting Symbian to open source when it released the platform microkernel (EKA2) and supporting development kit under the EPL. The kernel release was said to have been nine months ahead of schedule at the time.
Despite the mobile operating system's tough sledding in the North American market, Symbian is still the world's leading smartphone operating system, according to research firms, including IDC and others. Symbian has shipped in more than 330 million devices around the world, says the Symbian Foundation. Yet, IDC projects that Android will move into second place in the market behind Symbian by 2013.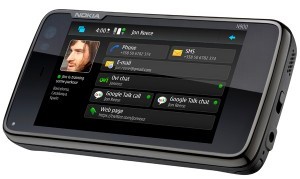 Nokia's first non-Symbian smartphone: the N900
Nokia's OS-enabled phones predominantly run Symbian, which also ships on phones from other handset vendors such as Symbian Foundation members Samsung and Sony Ericsson, but this November, the Finland-based company shipped its first Maemo Linux-based phone, the
N900
(pictured above). Nokia also plans to ship another Maemo phone this year.
It is widely speculated that Nokia will turn increasingly to Maemo Linux for its high-end smartphones and other larger converged devices, due primarily to the aging code base of Symbian. Meanwhile, Nokia is collaborating with Intel on a number of mobile phone projects, including ongoing open source collaborations between the Intel-backed Moblin and Nokia's Maemo project.
According to a LinuxDevices white paper by Andreas Constantinou published shortly after the Symbian open source announcement in 2008, EPL is a weak copyleft license, which means that source code modifications and derivatives created must be published if distributed, but can be combined with proprietary software. Constantinou also noted, however, that "There is also an explicit patent grant in the EPL, which implies that IPR-encumbered code (intellectual property rights) from third parties is unlikely to find its way into the Symbian Foundation platform."
Nokia's Qt Software unit recently released a version of its popular "Qt" cross-platform development environment that supports both the N900 and Symbian. According to Qt Software, the Eclipse license is compatible with LGPL, which the unit embraced last year, and Symbian contains elements that are licensed under LPGL, such as the WebKit browser, which also underlies Qt.
Symbian's board of directors comprises AT&T Mobility, Fujitsu , Nokia, NTT DoCoMo, Qualcomm Innovation Center (QUIC) , Samsung Electronics., Sony Ericsson, ST Microelectronics, Texas Instruments, and Vodafone Group Services.
Availability
More information on Symbian 3, including links to downloads, may be found here. The release will be "feature complete" later in the quarter, says the Symbian Foundation.
he eWEEK story on the open sourcing of Symbian may be found here.
---
This article was originally published on LinuxDevices.com and has been donated to the open source community by QuinStreet Inc. Please visit LinuxToday.com for up-to-date news and articles about Linux and open source.