Sep 30, 2011 — by Eric Brown — from the LinuxDevices Archive — 2 views
Amazon's Kindle Fire may not be an iPad killer or offer cutting-edge features, but it could prove to be a big headache for Android tablet and e-reader vendors, analysts agree. Meanwhile, others debate whether the Fire's customized UI represents a true fork of Android, and argue over whether its cloud-oriented Silk browser is a breakthrough in mobile multimedia or an unprecedented invasion of privacy.
Hands-on time with Amazon.com's Kindle Fire tablet was limited at the Sept. 28 unveiling in New York City. As K. T. Bradford put it on GottaBeMobile, "There were few units on display and they were carefully controlled by the army of Kindle vice presidents on hand to show it off. Why so worried, Amazon? What is it about your tablet that made people afraid to even let us hold it to see how light it is?"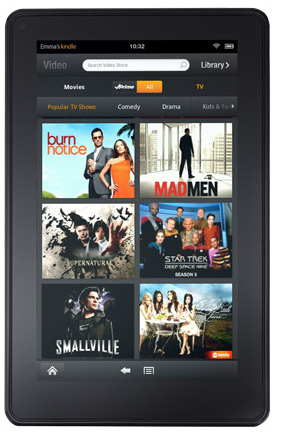 That said, Bradford and the other lucky few who got to spend more than a few seconds with the device seemed to like what they saw. The seven-inch Android tablet's IPS display "does pop some nice colors and did appear to do well with viewing angles," and performance of the dual-core processor seemed solid, though not spectacular, writes Bradford.
As with many third-party reports, this one pegs the chip as a Texas Instruments, Cortex-A9-based OMAP4 system on chip (SoC), although Amazon is not saying.
Hayley Tsukayama of the Washington Post notes the Fire (pictured above right) "didn't show fantastic performance," based on her brief hands-on experience. However, the new homegrown Silk web browser seemed to be especially nimble, she adds.
At BGR, meanwhile, Jonathan Geller notes that multimedia performance was "mostly smooth," but there were "notable hiccups and stutters when switching between apps and tasks."
Despite all this, not to mention the lack of cameras, ports, and other features that are common on even mid-range Android tablets, the Kindle Fire should be a winner, all three observers seem to agree. The Fire's $200 price-tag and wealth of available Amazon content will be hard to resist, they suggest.
This appraisal appears to be the general consensus of Fire analysis over the last two days. The Kindle Fire may not be an iPad killer, they argue, but it could cut into Apple's tablet share while posing considerable competition and pricing pressure for existing Android tablets.
In particular, the Kindle Fire poses a huge challenge to Barnes & Noble's popular Nook Color ereader, which is far less a complete Android tablet and multimedia machine than the Fire. Compared to the 800MHz, Cortex-A8-based Nook Color, the Kindle Fire is both $50 cheaper and more powerful.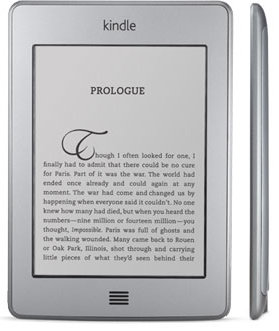 Meanwhile, with its newly announced, updated, touch-enabled versions of the monochrome Kindles — the $150 Kindle Touch 3G (pictured) and $99 Kindle Touch — Amazon is raising the stakes against B&N and other e-reader vendors on the low end as well.
The Kindle Fire has leapt to the top of Amazon's list of best-selling electronic gadgets. Numbers two and three are held down by the entry-level $79 Kindle and the $99, Wi-Fi only, Kindle Touch, respectively.
First Android fork?
Thanks to some leaks several weeks ahead of the announcement, the prospect for the Kindle Fire going head to head with the industry-leading iPad 2 had already pretty much been put to rest. Yet, with the tablet's highly customized version of Android — which makes familiar Android elements all but unrecognizable - it could represent something just as significant: a fork of Android.
This is the conclusion of several observers, including Mashable's Christina Warren, who writes that the Fire's Android 2.3-based UI goes far beyond any "fragmentation" threats posed by UI skins like HTC Sense, Samsung's TouchWiz, or even B&N's customized Android UI on the Nook Color. The Kindle UI is "perhaps, the first true fork of Android," and "might just end up encroaching on the greater Android ecosystem," writes Warren.
The UI changes represent "such a different direction that it no longer conforms to its original guidelines," writes Warren. "Because much of Android is covered by the Apache license and not the GPL, Amazon won't even have to commit most of its changes back to the main Android branch."
As a result, Amazon can ignore the upcoming Ice Cream Sandwich release of Android and forge its own path, "courting Android developers to make customized Kindle Fire-specific versions of their apps," she adds.
The Silk trade-off
In addition to introducing its customized Android UI, the Kindle Fire also blazes its own trail with the new Silk browser. Powered by the company's AWS (Amazon Web Services) platform, Silk dwells on both the Kindle Fire as well as on the AWS cloud platform.
As Amazon explains, it "Each time you load a web page, Silk makes a dynamic decision about which of these subsystems will run locally and which will execute remotely."
Clint Boulton notes in his closer examination of Silk on eWEEK that this split browser architecture is hardly new, although very nicely done here. For example, Opera uses the same approach for its Mini mobile browser.
Boulton quotes IDC analyst Al Hilwa as calling Amazon's strategy an "interesting spin on the me-too Android software we have seen so far, and possibly a game changer." The Silk browser "might become one of the most effective antidotes to the mobile bandwidth crunch," added Hilwa.
Over at ZDNet, however, Steven J. Vaughan-Nichols argues that Silk is also marked by some serious security and privacy issues that go far beyond anything Facebook has done, such as tracking web activity via Like button activation.
The AWS involvement in Silk means that everything one does on the browser is trackable by Amazon — and hence, potentially by others, as well — writes Vaughan-Nichols.
When Silk users visit a website they're not actually connecting to the site, but viewing an EC2-based copy of the site, he explains. This has several advantages, including media performance that has in many cases been optimized for the Kindle Fire, he continues.
However, according to the Silk terms of agreement, "Amazon will keep your the Web addresses you visit, the IP addresses you use, and your Kindle Fire's unique media access control (MAC) addresses for 30 days," writes Vaughan-Nichols. "With that information, Amazon can track your every Web move."
Amazon permits users to opt out of Silk's cloud-enhanced mode, but that also diminishes performance, he adds.
Analysts: Amazon is the Gillette of mobile devices
Over at our sister publication eWEEK, the pundits have been giving the Kindle Fire announcement a closer look, while other have surveyed industry analysts for their views. Here's a brief survey, with links to the articles:
---
This article was originally published on LinuxDevices.com and has been donated to the open source community by QuinStreet Inc. Please visit LinuxToday.com for up-to-date news and articles about Linux and open source.