Jul 11, 2011 — by Eric Brown — from the LinuxDevices Archive — 1 views
Google announced that iRiver's Story HD e-reader will be available July 17 at Target, and will be the first device to offer Google eBooks support via Wi-Fi. In related e-reader news, the Philadelphia Media Network will offer deeply discounted Android tablets to Philadelphia Inquirer and Philadelphia Daily News subscribers, and e-reader/tablet vendor Augen appears to have gone under.
As we reported last month while covering a tipped iRiver MX100 Android tablet, iRiver was expected to soon release a high-resolution update to its Story e-reader tablet, the Story HD. This monochrome e-reader has now been announced not by iRiver, but by Google, which is supplying the device with pre-integrated wireless access to its Google eBooks online bookstore service.
The company touted the July 17 availability of the Story HD at Target stores and Target.com for $140, and says the device would be the first to offer Google eBooks compatibility directly via Wi-Fi. Google's online bookstore is supported on some 80 other mobile devices, but only via USB links to a connected PC for downloads.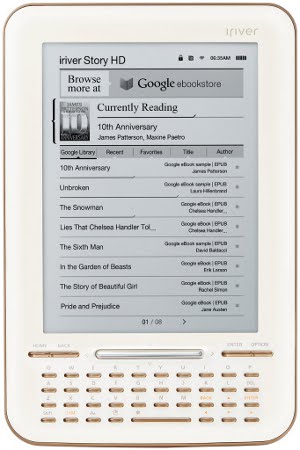 iRiver Story HD showing Google eBookstore


(Click to enlarge)
Google did not confirm that the device runs Linux, but we strongly suspect this, given that the majority of e-readers (as well as
iRiver's previous portable media player devices
) do so. In other words, this flagship Google eBooks device does not run Android.
It appears that Google may be partially subsidizing the device in order to drive ebook sales, and to do that, it had to get down into Kindle-like price-points that are still easier to achieve with Linux than with Android. (The earlier, lesser powered iRiver Story now starts at $200 on Amazon.com.)
Google did suggest this won't be the only Google eBooks device, however. "Stay tuned for more Google eBooks-integrated devices to come," says Google's blog announcement.
Originally announced in January with few details, the Story HD was billed as the world's first six-inch XGA (1024 x 768) resolution e-reader. The e-reader incorporates a Freescale ARM Cortex-A8 based i.MX508 processor. This 800MHz version of the i.MX51 family of system on chips is equipped with an embedded E Ink controller and is designed especially for e-readers. (Earlier today, Freescale announced several stripped-down versions of the i.MX508, including the i.MX502, i.MX503, and i.MX507.)
The Story HD was developed in conjunction with LG Display, said iRiver. The device ships with 2GB of memory, an SD slot, and Wi-Fi, and is supported by the Easy WiFi network. The e-reader is said to offer a three-week battery life, and supports Adobe EPUB and PDF formats with DRM. As Google noted, a Kindle-like QWERTY keyboard is located under the E Ink display.
Google points to iRiver's U.S. site for more information, but so far, there's nothing on the Story HD. More on the earlier Story e-reader may be found on its global website.
Google eBooks background
The Story HD is the first device to let users browse, buy, and read Google eBooks via Wi-Fi, says Google. There are now said to be hundreds of thousands of ebook titles for sale, and more than three million free ebooks on the online eBookstore (pictured below).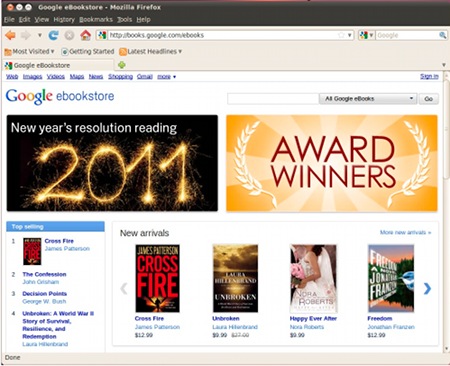 Google eBookstore


(Click to enlarge)
Launched in December, the open-platform
Google eBooks
offers the ability to read Google eBooks on any device with a modern browser, as well as on Android and iOS devices using the Google Books mobile apps, according to Google. Access to the store is also said to be available via the Chrome Web Store app and on compatible e-reader devices. Yet all the mobile devices require downloads via a connected PC.
The eBooks platform complements the earlier Google Books online service, says Google. In addition to supporting the ePub and PDF formats, the service also includes a web reader to help users read indexed books from any device that supports a modern web browser.
Google now offers access to the titles of more than 250 independent bookstores, says the company. In addition, it has extended its affiliate network and updated its APIs.
Philly newspaper content sold via discounted Android tablets
The Philadelphia Media Network has launched a 2,000-person pilot program to offer content from its Philadelphia Inquirer, Philadelphia Daily News, and Philly.com publications on an undisclosed Android tablet. As reported by Adweek and Philly.com itself, the pilot program will offer the tablets at deeply discounted prices, packing them with four applications that display digital versions of its newspapers.
The project is expected to launch in the second half of August with the sale of about 2,000 tablets, followed by a full-scale launch later this year.

Philadelphia Media Network publisher Greg Osberg announcing tablet project
Source: Philly.com
(Click to play)
Philadelphia Media Network CEO and publisher Greg Osberg announced the pilot program along with a new media-technology incubator, to be housed at Philadelphia Media's headquarters. The incubator is being financed partly by a $250,000 grant from the Knight Foundation to Ben Franklin Technology Partners, another participant in Project Liberty, says
Philly.com
.
The tablet project is part of the larger Project Liberty, which aims to increase revenues in the struggling newspaper business as consumers shift their reading preferences from print publications to digital devices, says the story.
The discount is expected to exceed 50 percent of the combined price of the apps and tablet, says the story. It will be offered to digital subscribers who agree to buy the bundle of apps for one or two years.
The Philadelphia Media Network confirmed Adweek's assertion that the company would have access to usage data on how readers consume newspaper content on a tablet. Assuming that this is indeed a dedicated Android tablet with limited access to other websites or Android features, the survey may find that readers would prefer to have the content on a general-purpose mobile device of their own choosing. Then again, cheap dedicated devices may be the key to consumers' fickle hearts.
The company currently sells online content for $2.99 a week, says Adweek. The entire project appears to be a bold gamble, and dramatizes the severe challenges faced by newspaper publishers. Osberg was quoted by Adweek as saying the entire project would cost the company "somewhere in the six figures," although the Knight Foundation grant may help out there as well.
Augen bites the dust
If the tablet project is a gamble for the Philadelphia Media Network, the publisher may have found an Android vendor that is just as much on the ropes as it is — and willing to risk a lesser cut in exchange for volume.
Facing increasing competition, some of the early e-reader and tablet vendors are starting to fall, including Entourage Systems, with its e-reader focused Entourage Edge Android tablet. Now tablet maker Augen's website has "gone cold," according to a Digital Reader report.

Splashing onto the scene last summer with a $150 Gentouch78 Android tablet (pictured) sold at K-Mart, Florida-based Augen was quickly besieged with negative reviews. One Laptop review concluded, "Tablets have hit rock bottom." Nevertheless, sales of the tablet were at least initially said to be brisk.
The Digital Reader discovered that Augen's website has been down for over a month after it received complaints from users of Augen's "The Book" e-reader, who said their disabled device was never returned from warranty repair. The consumer did not even receive an email of explanation, and the Digital Reader has not received responses to emails sent to Augen.
---
This article was originally published on LinuxDevices.com and has been donated to the open source community by QuinStreet Inc. Please visit LinuxToday.com for up-to-date news and articles about Linux and open source.