Dec 8, 2010 — by LinuxDevices Staff — from the LinuxDevices Archive — views
Google's eBooks service could shake up the Amazon-dominated ebook market if Google creates an ad-supported media cloud storefront with tie-ins to Google TV and the upcoming Google Music, say analysts. Announced on Monday, Google eBooks lets Android and Apple iOS users access some three million paid and free titles via the Google search engine's cloud computing model.
Google eBooks and the corresponding eBookstore were launched Dec. 6, letting consumers search for and access more than two million public domain books for free. In addition, they can purchase any of hundreds of thousands of titles from 4,000-plus publishers.
Out of the gate, that's more than three million paid and free titles to users via the search engine's cloud computing model, accessible via any computer, as well as via apps created for Android and Apple iOS smartphones and tablets.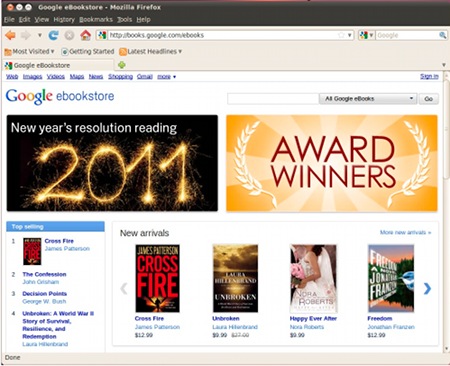 Google's eBookstore
(Click to enlarge)
Google eBooks, which will support the ePub and PDF formats, will include a web reader to help users read indexed books from any device that supports a modern web browser, including computers, tablets, and smartphones, says Google.
Users may consume Google eBook titles on Amazon's Kindle e-reader device, but only for titles without digital rights management. This is said to be due to Amazon sporting its own content protection environment for its books.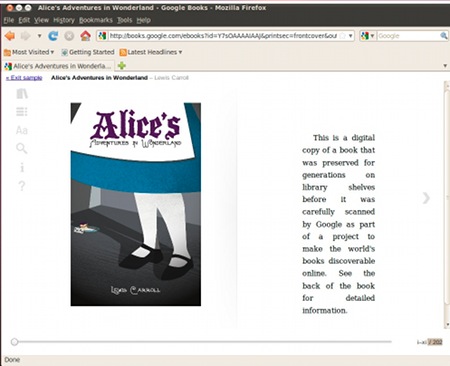 Google's eBooks web reader seen in Ubuntu
(Click to enlarge)
Google eBooks will be readily readable on the Sony Reader and Barnes & Noble Nook e-reading device, says the company. (For more on Google eBooks, see eWEEK's previous coverage, here.)

The Google eBooks announcement was part of a Google media onslaught this week that included announcements of Android 2.3 ("Gingerbread") and a Google-branded, Gingerbread-flavored Nexus S smartphone (pictured), as well as previews of Android 3.0 and a new 3D version of Google Maps running on a Motorola tablet prototype.
Yesterday, Google followed up with a Cr-48 notebook prototype for Chrome OS, although the latter announcement was muted by the fact that the notebook is for beta testing only, with the first commercial notebooks to run the Linux-based, cloud-oriented Chrome OS delayed until mid-2011.
Analysts: Tie-ins likely with Google TV, Google Music
Gartner analyst Allen Weiner said Google's eBooks model is a big deal because it creates a gateway to make the company the first true "media in the cloud" provider. He envisions that, paired with Google TV's ability to let users consume Netflix and other web apps from their TVs, Google has a powerful advertising platform to wield against Amazon, Apple, and others eyeing web-delivered media.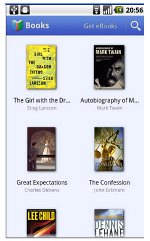 In a Dec. 6 blog post Weiner wrote, "Add in the purchase of Widevine (multiplatform DRM and content optimization platform) and you see the formation of two content services with the ability to share customer behavioral information, advertising targeting and a device agnostic distribution engine."
On the Google TV connection, he surmised that a book purchased by a consumer on the wine regions of France — for example, on the Google eBooks Android app shown at right and below, at left — could trigger a related TV clip pushed to a user via Google TV, paired with targeted advertising.
"User behavior data collected and collated across Google's content services and Google's search engine creates a scary scenario of cross-media dominance," Weiner said. "It can be profitable to sell a consumer a TV set or e-reader, but far more profitable to have that device owner come back and use your storefront as a content hub."
Curbing the enthusiasm somewhat, Google eBooks Product Management Director Scott Dougall told eWEEK that Google has no plans to run ads with eBooks. Still, Weiner is not alone in believing the company has a powerful ad platform on its hands with eBooks.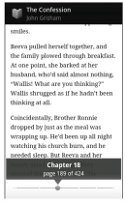 Forrester Research analyst James McQuivey wrote in his own speculative blog post Dec. 6 that Google eBooks should be used to create an ad-supported publishing model. In McQuivey's scenario, a user stumbles upon a new book recommended by Facebook friends. Instead of a limited free trial of a few chapters, Google could offer an ad-supported read of the book.
"As you read, the meter starts ticking and revenue accrues directly to the publisher and author. If you don't like the ads, you can buy the book at any time to remove them," he explained. "But, even if you choose to read the whole thing without buying it, it's an easy thing for Google to figure out how many ads you have to see for it to generate enough revenue to replace the cost of buying the digital book."
These ads can be split with ad-supporting publishers via Google's AdWords model. Everybody wins.
Moreover, Google is expected to add a digital music service to its arsenal in 2011 speculatively named Google Music. This would provide a three-pronged media cloud attack of Google eBooks, Google TV, and Google Music.
Availability
Google eBooks may be found here, and a Google overview of the service may be found here.
An eWEEK slide show on Google eBooks may be found here.
Clint Boulton is a writer for our sister publication eWEEK.
---
This article was originally published on LinuxDevices.com and has been donated to the open source community by QuinStreet Inc. Please visit LinuxToday.com for up-to-date news and articles about Linux and open source.