Aug 18, 2011 — by LinuxDevices Staff — from the LinuxDevices Archive — views
HP announced it would discontinue its current WebOS operations, including the TouchPad tablet as well as the Pre 3 and Veer smartphones. The announcement came after reports of sluggish sales of the TouchPad, which has struggled in the market despite 20 percent price cuts.
Less than two years after it acquired Palm for $1.2 billion, and only a few months after unveiling ambitious hardware plans centered on Palm's Linux-based WebOS operating system, Hewlett-Packard announced it was terminating that strategy with extreme prejudice.
"HP reported that it plans to announce that it will discontinue operations for WebOS devices, specifically the TouchPad [tablet] and WebOS phones," read an Aug. 18 statement released by HP ahead of its earnings call. "HP will continue to explore options to optimize the value of WebOS software going forward."
HP's bottom-line revenue for the fiscal fourth quarter 2011 will absorb restructuring and shutdown costs associated with WebOS devices, said the company.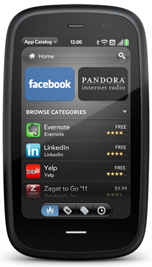 HP neglected to mention whether owners of the TouchPad and HP Pre 3 smartphone (pictured at right), which went on sale in Europe this week prior to a planned U.S. launch, would continue to receive support for their devices.
Certainly WebOS developers must be a mite concerned about the future of the platform. For the past several months, HP had pushed an aggressive vision for WebOS, one in which the operating system found its way not only onto tablets and smartphones, but also laptops and desktops.
HP is also exploring "strategic alternatives for its Personal Systems Group (PSG)" — its PC arm — including a possible spin-off. That, combined with the summary execution of the WebOS ecosystem, appears to signal the beginning of a plan to consolidate the company's operations around services and software, imitating in many ways the model established by IBM some years ago.
According to eWEEK's Chris Preimesberger, HP is set to announce the acquisition of U.K.-based e-discovery and storage provider Autonomy. The $10 billion deal would be the largest HP acquisition since the $13.9 billion purchase of EDS in May 2008.
End of the line for WebOS?
If WebOS withers and dies, or ends up purchased by yet another company that fails to actualize the software in new products, it will offer small but tangible benefits to a number of companies. Apple will have eliminated a nascent competitor to its iPad and iPhone franchises. Microsoft will no longer face the possibility of another platform trying to elbow its way onto Windows' turf. Research In Motion (RIM) and Google will have a shot at more customers for their respective tablet and smartphone products.
Because HP seemed to have such big plans for WebOS, the WebOS implosion came as a shock to many. But at least one analyst believes the operating system never stood a real chance against its largest competitors, particularly Apple.
"They were trying to catch a train," Mark Margevicius, an analyst with Gartner, wrote in an Aug. 18 research note. "With Apple, they were trying to catch the bullet train. It was impossible."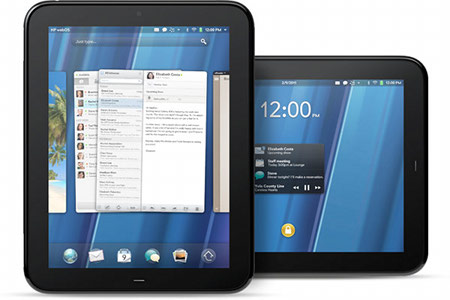 HP TouchPad

HP CEO Leo Apotheker had previously made no secret of his plans to eventually license WebOS to other manufacturers. Back in March, the company announced it would install WebOS as a dual-boot option on all of its Windows-based desktop and notebook computers in 2012. And just this week, an HP executive told the Wall Street Journal that the operating system could find its way into household devices and automobiles.
But there were also signs that WebOS and its associated devices were in serious sales trouble. According to an unnamed source earlier this week, speaking to AllThingsD's Arik Hesseldahl, "Best Buy has taken delivery of 270,000 TouchPads, and has so far managed to sell only 25,000." The slow sales came despite price cuts of up to 20 percent since the devices first shipped six weeks ago.
A few days ago, HP executives would tell you that WebOS was a serious contender. Now the company will doubtlessly try to license or sell the platform to someone else in the space.
Considering that even in otherwise scathing reviews of the TouchPad, most reviewers found room to praise WebOS 3.0, the OS would appear to be worth something. The question, in an age in which Apple and the combined forces of Android are making it increasingly tough even for more established mobile device players like RIM, Microsoft, and Nokia, is "how much?"
Nicholas Kolakowski is a writer for eWEEK.
---
This article was originally published on LinuxDevices.com and has been donated to the open source community by QuinStreet Inc. Please visit LinuxToday.com for up-to-date news and articles about Linux and open source.