Jul 1, 2011 — by Eric Brown — from the LinuxDevices Archive — 11 views
The Wi-Fi version of the 9.7-inch HP TouchPad tablet went on sale today for $499 (16GB) and $599 (32GB). Early reviews follow the same general pattern as those of the original Palm Pre two years ago: praise for the promise of WebOS, but disappointment over bugs, performance, lack of apps, and limited battery life.
HP released detailed specs on its first WebOS-based tablet, the TouchPad back in February, so there are few secrets left as the device goes on sale today in its Wi-Fi version. (The 3G version with a GPS option should be ready later this summer.)
There are even fewer mysteries now that units have been widely reviewed over the last week. As our sister publication eWEEK sums up here, and CNNMoney echoes in its own review wrap-up, the verdict appears to fall on the shady side of "mixed."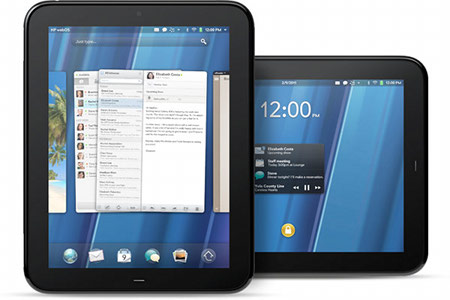 HP TouchPad
(Click to enlarge)
The good news here for HP — as it was for Palm with the original
Palm Pre
phone released two years ago — is the overall praise for the promising, Linux-based WebOS operating system. This, however, is mixed with critiques of its bugginess, occasional design flaws, and lack of apps optimized for this green-behind-the-ears release.
WebOS has been evolving for two years, but this is the debut of the new tablet-ready WebOS 3.0. As with that original WebOS 1.0 release, the software can always be improved, and the library of apps expanded, but some key hardware design issues could limit the appeal of the first TouchPad.
As with the Pre — and a good share of Android tablets and phones for that matter — the lack of battery life is a big issue for most reviewers, who found anywhere from six to eight hours of life, less than the claimed nine hours. While this is on par with many "Honeycomb" Android tablets, it should be noted that this Wi-Fi only version is not even burdened with handling the more demanding 3G or 4G cellular service. Several reviewers noted the iPad 2 gets 10 hours.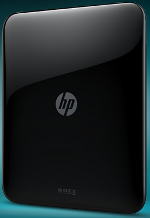 In addition, the recent reviews almost universally cite the 1.6-pound (740 g) weight as a major disappointment. What's more, in the age of the super-thin iPad 2 and Samsung Galaxy Tab 10.1, which measures 0.34 inches (8.6mm), the 0.54-inch (15.6mm) thick TouchPad appears to deserve the "chunky" label applied by many of the reviews.
(Note that the 0.54-inch width is confirmed on HP's main TouchPad site, as well as by Laptop Magazine's review (2.5 stars out of five), although the HP Store site says 0.45 inches and The New York Times' David Pogue says 0.75 inches.)
The challenge for any tablet debut these days is that unless it's a low-cost seven-inch model, it's going to be immediately compared to the iPad 2. Despite a few key missing features, Apple's latest tablet is a step ahead of the best Android alternatives, let alone the TouchPad.
In the same way, the Palm Pre was upstaged by the revamped iPhone 3GS that debuted the same week in June of 2009. At the time, the new iPhone, too, was substantially ahead of the Pre and the early Android competition, although Android phones have quickly caught up and many have arguably surpassed the iPhone.
Despite critiques of the TouchPad's weight and thickness, many reviewers have found the tablet's design to be attractive, echoing some of the early feedback about the Pre. Reviewers were generally kind to the crisp, 1024 x 768 display, although it was noted the resolution is not as good as a typical Honeycomb tablet.
WebOS 3.0: "beautiful, elegant," and glitchy
Not only is the hardware design "iPad beautiful" in the words of the Times' David Pogue, but "WebOS is beautiful, too. It's graphically coherent, elegant, fluid and satisfying."
Pogue praises WebOS 3,0 for offering better multitasking than the iPad 2, and gives high marks to its "Synergy" integrated messaging app, which appears to have matured nicely in the 3.0 edition.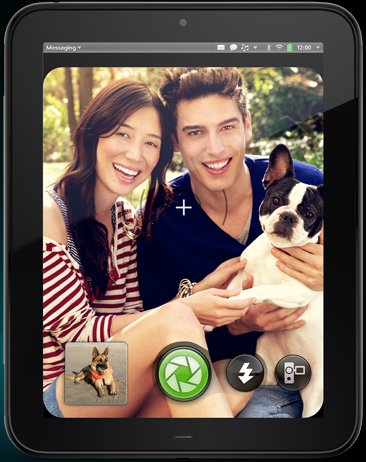 HP TouchPad with camera interface for 1.3-megapixel webcam
Yet Pogue and others, such as
AllThingsD's Walt Mossberg
, found various glitches, missing features, and other early-release issues with the software. More importantly, whether it's the fault of WebOS, the supposedly powerful
1.2GHz dual-core Qualcomm Snapdragon
APQ8060 processor (available here with 1GB RAM), or some other design issue, performance was seen by many to be shaky.
"When you rotate the screen, it takes the screen two seconds to match — an eternity in tablet time," writes Pogue. "Apps can take a long time to open; the built-in chat app, for example, takes seven seconds to appear. Animations are sometimes jerky, reactions to your finger swipes sometimes uncertain."
Mossberg, who also praises WebOS 3.0's overall approach to tablets, similarly finds its performance to be problematic. "I found the TouchPad grew sluggish the more I used it," writes Mossberg, noting that a reboot was needed to restore normal speed. HP has acknowledged the problem and told Mossberg it would be fixed in a WebOS update due in three to six weeks.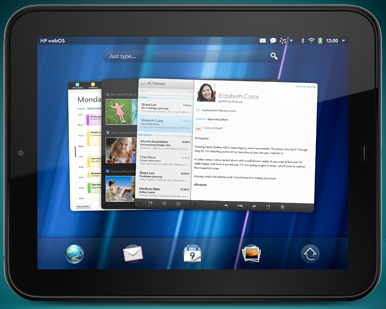 TouchPad in landscape mode
The performance complaint is echoed by
Engadget's Tim Stevens
, who writes that the TouchPad's performance "left us occasionally wanting." Like many of the reviewers, he also faulted the lack of a rear-facing camera, which is standard issue on Honeycomb tablets.
Concludes Stevens: "The shortage of apps is a problem, no doubt, but that will change with time. What won't change is the hardware, and there we're left a little disappointed."
Ars Technica's Casey Johnston offered a more positive take on the TouchPad, calling it a "hot new tablet," and praising the much-improved WebOS 3.0 and HP's "great set of native apps."
Johnston even found the performance to generally be "smooth and snappy," although like many reviewers he encountered problems with Adobe Flash video, a common complaint on Android tablets as well. (That's Steve Jobs you hear snickering in the background.) Still, the lack of apps, missing camera, relatively high price, and heavy, "chunky" design left Johnston short of a full endorsement.
WebOS 3.0 appears to have laid a solid groundwork for tablets, but like Android 3.0, it also seems to suffer from glitches, bugs, performance problems, and design issues. HP will likely have the persistence to stick with WebOS and make it a contender. Yet, according to many reviewers, the company may know its PCs, but still has a lot to learn about making a competitive media tablet.
Third-party adoption of WebOS?
HP CEO Leo Apotheker said this week that HP is now negotiating with vendors including Samsung to license WebOS for their own devices, and he may well get some takers.
Several reviewers, including Pogue, linked the more promising aspects of the TouchPad and WebOS experience to the company's tight, almost Apple-like control over the platform — something Google attempted to a certain extent with Honeycomb. However, many developers and vendors will want a more open platform before they jump to WebOS, which is at this point less open than Android, and considerably less so than more fully open source Linux platforms such as MeeGo.
"WebOS is based on Linux and we applaud that," wrote Linux Foundation executive director Jim Zemlin in an email to LinuxDevices when we asked for his take on whether WebOS was sufficiently open source:
We support all Linux-based operating systems. The sponsors and users of MeeGo, Android and WebOS each use Linux to go to market in a different way. This is the beauty of Linux: it is open and flexible enough to give companies choice in how they go about competing and innovating in today's market.
Zemlin reinforced this point in a blog posting yesterday in which he cites HP's all-out, multi-device strategy for WebOS as further proof that contrary to popular opinion, companies can make good profits off Linux and open source.
Zemlin goes on to write, "In fact, unless you're one of just three companies whose names are Microsoft, Apple or RIM there is nobody out there creating devices … without Linux: Amazon's Kindle, Barnes and Noble's Nook, all of Sony's cameras, televisions, and phones, Samsung's smart TV's, Tivo's DVR's, BMW's cars, and more."
Perhaps true, but none of the products he mentioned compete directly with the iPad 2. The TouchPad may have a tough climb indeed.
Availability
The HP TouchPad Wi-Fi version is available now for $499 (16GB) and $599 (32GB). More information may be found at HP's TouchPad site, and the tablet may be purchased at its HP Store. It's also available elsewhere, including Amazon.com.
---
This article was originally published on LinuxDevices.com and has been donated to the open source community by QuinStreet Inc. Please visit LinuxToday.com for up-to-date news and articles about Linux and open source.