Oct 17, 2011 — by LinuxDevices Staff — from the LinuxDevices Archive — views
T-Mobile's HTC Amaze 4G is worth considering by serious shutterbugs who want a phone that can replace their everyday point-and-shoot, according to this eWEEK review. But, reviewer Nicholas Kolawkowski adds, don't expect its battery to hold out all day.
HTC may have taken any number of design tropes into consideration when crafting the Amaze 4G, but "thin and light" wasn't one of them. At 6.1 ounces, the smartphone offers quite a bit of heft, comparable in terms of how it feels in the hand to one of Motorola's Droid phones, and noticeably more weighty than the iPhone 4. The curved plastic backing (with a wide metal strip along the lower portion) feels comfortable in the palm, and its slight texture means it doesn't slide much on smoother surfaces.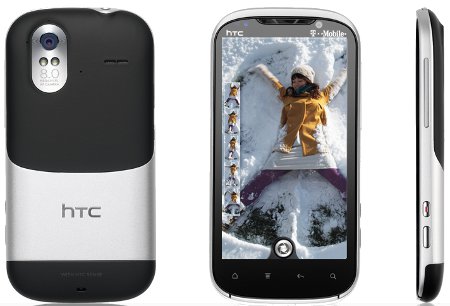 HTC Amaze 4G
(Click to enlarge)
The 4.3-inch quarter high-definition (qHD) super LCD capacitive multi-touch screen (540 x 960 resolution) is crisp but seems a little dim or matte, especially in comparison with the iPhone's Retina Display or the Samsung Galaxy S II. In an odd tweak of design, the screen is also ever-so-slightly elevated above the main body of the smartphone, creating an added edge you feel when gripping the device. It's a matter of subjective perception whether this annoys you; I found it noticeable but not overly distracting.
The Amaze 4G packs a lot of power under the hood: a Qualcomm Snapdragon S3 processor with 1.5GHz dual-core CPUs, paired with Android 2.3.4 (Gingerbread). Applications open at a snap. (With the 4G network in play, they download super-fast, as well.) The smartphone seemed to laugh at any processor-chewing tasks tossed in its way.
However, that sort of power comes with two noticeable drawbacks. For one thing, the phone becomes noticeably hot after an hour or two of heavy use, to the point where you can feel that heat radiating from a pants or coat pocket.
Second, the power drain (even for a moderate user) is considerable; this is not a smartphone you can expect to last for a full day on a single charge. If you start answering emails and shooting photos and downloading applications at 8 a.m., chances are pretty good you'll need to hunt for an electrical plug by 1 p.m. Granted, few Android-based devices are lauded for their power-management abilities, but the Amaze 4G's hardware turns it into a hungry little battery vampire.
Android on the Amaze 4G is responsive and user-friendly. The interface offers a neat application that turns the camera flash into an effective little flashlight with adjustable intensity, along with a grab bag of other applications (FM radio, WiFi hotspot, weather, etc.).
HTC has skinned Android in a way that, depending on your sensibilities, you'll either find chock-full of easy-to-access widgets or hopelessly cluttered. As a platform, however, it's becoming increasingly clear that Android — no matter what sort of hardware it runs on — is in desperate need of tweaking in order to match the smoother aesthetic styling of iOS or Windows Phone. The next Android build (code-named Ice Cream Sandwich) might deliver this, but maybe not.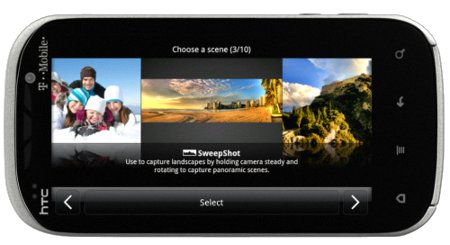 Amaze 4G, showing SweepShot panoramic camera feature
The camera, however, is the Amaze 4G's strong point. The 8-megapixel rear camera, paired with a two-megapixel front aperture, is capable of taking 1080p HD video. Thanks to the backside illuminated sensor (in conjunction with the rest of the hardware), the camera snaps crisp images, although it wrestles a little bit with dimmer conditions.
Of greater importance is the software backing that camera. Unlike the Droid Bionic or other Android phones, which feature noticeable lag between clicking (or "clicking," if it's a virtual button) the shutter and actually snapping an image, the Amaze 4G's camera is near-instant. You can then edit the photos to your heart's content (cropping, auto-enhance, high contrast, etc.), spin through your portfolio of images, or share them with the world.
Die-hard shutterbugs who want an Android device might find that camera a big enough draw. In addition to the camera, the combination of muscular processor and speedy network makes the Amaze 4G a solid all-around Android smartphone — unless you need one that only sips battery power.
Further information
The HTC Amaze 4G costs $260, following a two-year contract and $50 mail-in rebate. More information may be found on T-Mobile's Amaze 4G product page.
Nicholas Kolakowski is a writer for eWEEK.
---
This article was originally published on LinuxDevices.com and has been donated to the open source community by QuinStreet Inc. Please visit LinuxToday.com for up-to-date news and articles about Linux and open source.