Aug 17, 2009 — by LinuxDevices Staff — from the LinuxDevices Archive — views
HTC has applied for a patent on a magnetic stylus that can be used with capacitive touchscreens. The device could allow future mobile phones to offer multi-touch, as found on Apple's iPhone, while also providing precise operation with legacy applications.
Capacitive touchscreens, of which Apple's iPhone sports the most famous example, employ glass coated with a transparent conductor such as indium tin oxide. This type of sensor is basically a capacitor, in which the plates are the overlapping areas between the horizontal and vertical axes. Touching the surface of the sensor affects the electric field and causes a measurable change in the capacitance of the device. But, since capacitive screens only respond to the proximity of a conductive medium such as a finger, they will not work with gloved hands or with styli.
Resistive touchscreens, on the other hand, are composed of several layers. Two electrically conductive layers are separated by a narrow gap, but become connected when a finger, stylus, or other object presses down on the surface of the display. While resistive screens offer greater potential for accuracy, they also provide a "squishy" feel when touched with a finger, require a firmer touch, and are not well suited to multi-touch operations.
The two technologies have had a major effect on mobile operating system design. Windows Mobile and its venerable antecedent, Windows CE, for example, were designed to support resistive touchscreens, and as a result sport miniaturized design elements that are hard to target with a finger. Apple's iPhone OS, in contrast, was designed with a capacitive screen from the start, and employs generally larger icons and buttons.
Linux, meanwhile, was also designed with resistive screens in mind, but multi-touch has now been introduced into the Linux 2.6.30 kernel. Of course, multi-touch also features in Palm's Linux-based Pre smartphone, and is expected to be available in additional Android smartphones later this year.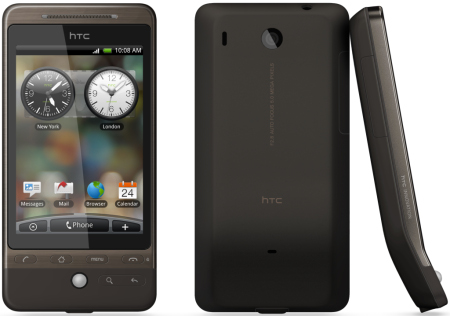 HTC Hero in graphite
(Click to enlarge)

HTC, meanwhile, has long been a partisan of multi-touch, creating a homegrown implementation for its recently released Android phone, the Hero (above). The company's Windows Mobile phones don't have multi-touch but do have a proprietary, finger-friendly software interface, TouchFLO 3D. The problem with the latter, according to reviewers, is that users can operate HTC's own customized applications with their fingers, but need to break out a stylus to work with standard Windows Mobile software.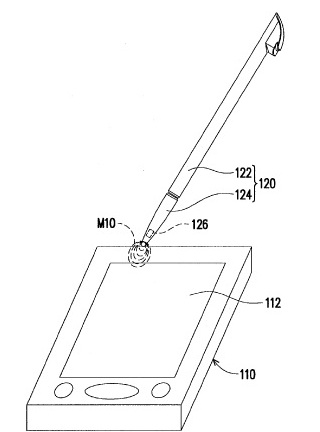 A drawing filed with HTC's magnetic stylus patent application
A new patent application, filed in December and published by the U.S. Patent and Trademark Office last month, suggests that HTC plans to market smartphones that would be equipped with capacitive touchscreens — supporting multi-touch as a result — but would also work with a stylus when extra precision is required. Conceptually simple, the patent proposes a stylus equipped with a magnetic tip, to which a capacitive touchscreen would be capable of responding.
According to HTC's Yi-Ching Liu and Hsu-Hsiang Tseng, a drawback of current capacitive screen implementations is that icons must be extra-large to allow users to locate them with their fingers. In addition, they add, a user's fingers often wind up blocking his or her view of the screen. Adoption of a magnetic stylus would avoid these problems, thus providing the best of both worlds, HTC says.
Last year, BlackBerry manufacturer RIM (Research In Motion) applied for a patent of its own, proposing a dual-layer touchscreen that would have both capacitive and resistive layers. The capacitive layer would be on top, available for quick finger-based movements and multi-touch gestures. Underneath, the resistive layer would allow for more precise operation. HTC's proposal appears to be a lower-cost way of accomplishing the same goal, however.
Due in part to the limitations of present-day screen technology, multi-touch is not included in Microsoft's Windows Mobile 6.5 operating system, set for release this fall. However, multi-touch is widely believed to be a key part of the company's Windows Mobile 7, which could appear next year.
Further information
To view HTC's patent application regarding a magnetic stylus that would be used with capacitive touchscreen displays, see the U.S. Patent & Trademark Office website, here.
To see RIM's patent application regarding a hybrid capacitive/resistive touchscreen, see the U.S. PTO website, here.
---
This article was originally published on LinuxDevices.com and has been donated to the open source community by QuinStreet Inc. Please visit LinuxToday.com for up-to-date news and articles about Linux and open source.