Sep 13, 2010 — by Eric Brown — from the LinuxDevices Archive — views
Motorola announced that its rugged, Android 2.1-based Motorola Defy phone will arrive later this year on T-Mobile USA. Meanwhile, LG announced it is developing a series of Nvidia Tegra 2-based Android smartphones, T-Mobile is rumored to be doing the same with a "MyTouch HD" phone, and Motorola's touted "2GHz Android phone" actually uses a Tegra 2 with dual 1GHz cores, say various reports.
When Motorola announced the Defy (pictured) earlier this month along with the Milestone 2, a near clone of the Droid 2, the company mentioned only a European launch for both Android phones beginning in the fourth quarter. Today, the company announced that T-Mobile will offer the phone in time for the holidays this fall, and that the ruggedized phone will make its debut on today's 25th season premiere of "The Oprah Winfrey Show."
T-Mobile will be the exclusive retailer for the rugged Android 2.1-powered smartphone, says Motorola. At presstime T-Mobile had yet to post any information on the phone, however.
Equipped with Android 2.1, DLNA support, Android Market, and various Google apps, the Defy is touted for its dust- and water-resistance. The phone is equipped with 512MB of RAM and 2GB of internal flash, as well as a microSD slot, says Motorola.
The 3.7-inch, 854 x 480 (WVGA) touchscreen is accompanied with accelerometers, plus ambient light and proximity sensors, says the company. The Motorola Defy is further equipped with 802.11b/g/n, Bluetooth 2.1, aGPS, FM radio, and a five-megapixel camera. (For more details on the Defy, please see our earlier coverage, here.)
Motorola previously stated that the Defy supports WCDMA (900/2100) and GSM (850/900/1800/1900) networks, including support for HSDPA 7.2Mbps and HSUPA (2Mbps) 3G services, says Motorola. It does not appear, however, that it will support T-Mobile's 4G-like HSPA+ network.
T-Mobile last week announced that the HTC-manufactured T-Mobile G2 Android phone would be the first to support HSPA+.
Stated Paul Cole, vice president, product management, T-Mobile USA, "Defy is essentially a connection hub wrapped in a layer of protection. The unique and innovative form factor of the Defy provides you with the confidence to truly take your phone anywhere."
LG preps Tegra 2-based, dual-core Android phone
Last week, LG Electronics announced it is developing a series of phones for its Optimus family that could be the first to run on a dual-core processor, namely the Nvidia Tegra 2. The first of the phones are expected to ship in the fourth quarter, says LG.

The company did not mention operating system support in its press release, but AndroidandMe says that at least one of the phones will run Android. This makes sense considering that the first two Optimus phones — the Optimus One (pictured) and Optimus Chic — will run Android 2.2, according to a July announcement. The company also said at the time that the Optimus line would also run other operating systems.
According to LG, the phones will offer 1080p video playback and "console-quality gaming." Combining dual 1GHz Cortex-A9 cores, the processor offers twice the web browsing speed and five times the gaming performance compared to single-core processors running at 1GHz, says LG.
Stated Chang Ma, vice president of Marketing Strategy Team, LG Mobile Communications Company, "LG is committed to making its Optimus Series smart devices the de facto standard in speed and graphics performance. We selected Nvidia because it is the visual computing leader and has a long history of creating amazing consumer experiences."
Is T-Mobile prepping a dual-core phone?
AndroidandMe speculates that possible U.S. carriers for the Tegra-2-based Optimus models include T-Mobile and Verizon. In May, Verizon launched LG's first Android phone, the Ally, and the site claims that a leaked T-Mobile roadmap indicates that two LG devices are coming in late November.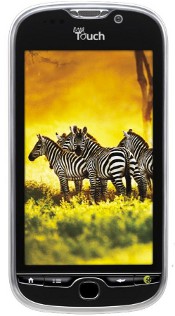 Yesterday, meanwhile, TMONews published a leaked internal document from T-Mobile referring to a MyTouch HD phone (pictured) that runs Android 2.2 on a "1GHz dual processor." Assuming the authenticity of the document — TMONews says it can't vouch for it completely, despite receiving previous tips about a MyTouch HD — LG's Optimus would seem to be a likely candidate.
But, it is not the only candidate. In July, TMONews ran a tip story claiming that HTC was prepping an Android phone for T-Mobile with dual 800MHz processors. Other vendors, including Motorola, are rumored to be prepping dual-core phones, as well (see farther below).
According to the leaked document, the MyTouch 3G will run Android 2.2 and support T-Mobile's fast new HSPA+ network.
The phone is said to offer a 3.8-inch display, Wi-Fi, 4GB internal RAM, and 8GB external RAM for a slot that holds up to 32GB. Other features are said to include both a five-megapixel back-facing camera and a front-facing VGA camera. Neither pricing or availability were mentioned.
Motorola's "2GHz" phone actually runs dual 1GHz chips, says report
If a recent rumor is true, Motorola may be another possibility as the manufacturer of the alleged MyTouch 3D. T-Mobile has offered some Motorola Android phones in the past, including the Cliq.
According to another AndroidandMe post last week, the so-called 2GHz Android phone tipped by Motorola co-CEO Sanjay Jha earlier this year will actually employ the Tegra 2, which offers dual 1GHz cores.
CNET apparently confirmed Jha's 2GHz remark back in June, but according to AndroidandMe, its tipster says the 2GHz quote was taken out of context by ConceivablyTech. Either Jha was intentionally misleading, it appears, or the ConceivablyTech reporter seemed to misunderstand that dual 1GHz cores, while much faster than a single 1GHz processor, are not equivalent to a 2GHz processor.
At the time, ConceivablyTech mentioned that the system-on-chip (SoC) would include an Nvidia graphics core, leading us to speculate that it might be an unknown 2GHz Tegra model. Still, we were not alone in our surprise that a 2GHz mobile processor would be featured in a phone so early — by the end of the year, according to Jha.
Considering Motorola's previous use of Texas Instruments (TI) OMAP3x processors in its Android phones, the most likely dual-core SoC candidate for a Motorola phone would be the dual Cortex-A9 OMAP4.
However, AndroidandMe does not believe the SoC will be ready in time for a 4Q product release. Neither would Qualcomm's 45nm fabricated dual 1.5GHz Snapdragon core QDS8672, says the story. More recently, Qualcomm announced the dual 1.2GHz Snapdragon core Mobile Station Modem (MSM) MSM8260 and MSM8660 SoCs for the smartphone market.
Last week, Samsung announced a dual Cortex-A9 Orion SoC, but it won't go into production until the first half of 2011.
All these roadmaps would seem to confirm the tipster's story about the Tegra 2 being used in the Motorola dual-core phone, concludes AndroidandMe.
Availability
More information on the Motorola Defy may be found here.
The AndroidandMe story on the LG dual-core Optimus should be here.
The TMONews story on the T-Mobile MyTouch HD may be found here.
The AndroidandMe story on Motorola's upcoming dual-core Android phone should be here.
---
This article was originally published on LinuxDevices.com and has been donated to the open source community by QuinStreet Inc. Please visit LinuxToday.com for up-to-date news and articles about Linux and open source.