Jul 28, 2010 — by Eric Brown — from the LinuxDevices Archive — views
Infrax Systems announced a version of the HTC Desire Android smartphone designed for encrypted voice and data communications. In other HTC-related news, HTC will sell Android phones under its own name in China, HTC's "Sense" skin will move to Android 3.0, T-Mobile posted a teaser page for what may be the HTC G1 Blaze, and the carrier has discontinued HTC's original G1.
The Infrax Systems "secure phone" uses a peer-to-peer VoIP connection for communicating between devices over Wi-Fi and cellular networks, "thereby eliminating a central network hub for potential eavesdroppers to aim a single point of attack," says Infrax Systems. The phone is based on the HTC Desire (pictured below), a close cousin to the HTC-manufactured, Google-branded, Nexus One (see farther below for more on the Desire).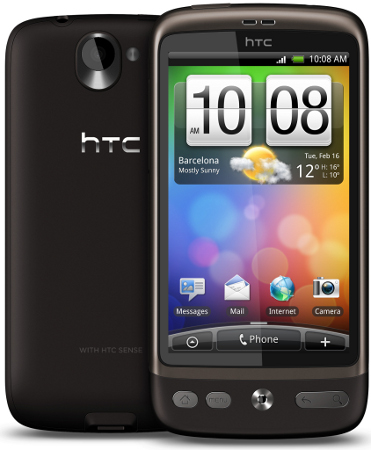 The HTC Desire (pictured) forms the basis for the new Infrax security phone
According to Infrax, wireless interception technology is becoming cheap and widely accessible, making it easier to hack into mobile phone voice and data communications. The unnamed Android-based "secure phone" offers secure VoIP communications when the same device is used on both ends of the connection, says the company.
The technology is said to work over Wi-Fi, as well as HSDPA, UMTS, and EDGE cellular networks. Side benefits to the technology include "superior voice quality and cost efficient calls due to the carrier billing data traffic instead of voice traffic," says the company.
The secure phone is now shipping in Government, Industrial, and Business editions, with a specialized Utilities version due in the near future, says the company. (Infrax specializes in "smart grid" products and services for the energy and utility industries.) The company can also help customers develop customized applications for the phone to support remote monitoring of industrial and business processes, says Infrax.
The underlying HTC Desire runs Android 2.1 on a 1GHz Qualcomm Snapdragon processor, but offers slightly more RAM, at 576MB, as well as an 8GB memory card. The phone is due for an upgrade to Android 2.2, but Infrax does not mention which operating system will be used on its Desire-based secure phone.
The phone offers a 3.7 inch AMOLED WVGA touchscreen with pinch-and-zoom. Other common features with the Nexus One include Bluetooth, GPS, and a five-megapixel camera. Available in Europe, Asia, and Australia, the HTC Desire is due to go stateside next month in a gig with U.S. Cellular.
HTC going direct to China
Taiwan-based HTC will begin selling smartphones in China under its own name, along with a large brand campaign, says the Wall Street Journal. The company has sold phones in China under the "Dopod" brand, but in September or October the company will offer four HTC-branded phones, including two touchscreen models, a high-end phone running Windows Mobile, and a mid-range handset running Android, says the story.
As Michelle Maisto writes in our sister publication, eWEEK, HTC alternates between offering self-branded phones such as the HTC Evo 4G and HTC Hero, or remaining in the background with phones like Google's Nexus One or T-Mobile's MyTouch 3G (pictured below).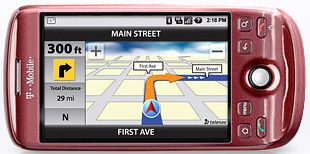 T-Mobile's HTC-manufactured MyTouch 3G
In 2009, HTC sold 11.7 million phones, a figure that research firm IDC has forecast will zoom to more than 60 million by 2012, writes Maisto. Currently, 80 percent of HTC's revenue is said to come from sales in Europe and United States, but by the end of this year, HTC handset sales in China are expected to rise 50 percent over 2009's total and continue heading upward, says the
eWEEK
story.
HTC vows to knock some Sense into Android 3.0, Windows Phone 7
The leader of HTC's user experience design team told Forbes that it would use its Sense UI layer on both Windows Phone 7 and Android 3.0 phones this fall, setting up a potential conflict with both Microsoft and Google.
HTC has offered its Sense UI on almost all of its Android phones, as well as on Windows Mobile phones, including the high-end HTC HD2. Microsoft, however, has said that it hopes to avoid fragmentation with Windows Phone 7 by negating the need for such UI layers. Meanwhile, Google is widely rumored to be focusing on the UI experience in Android 3.0 ("Gingerbread") to ward off similar fragmentation caused by vendors and carriers adding skins.
Apparently, HTC believes it is big enough to ignore the wishes of both tech giants, although HTC UI chief Drew Bamford told Forbes that Sense will be customized to integrate well with both operating systems.
"Microsoft has taken firmer control of the core experience [in Windows Phone 7], but we can still innovate," Bamford was quoted as saying. "We won't be able to replace as much of the core Windows Phone experience, but we will augment it."
Neither does Bamford seem to feel that Android 3.0 will make skins irrelevant. "Google may focus more on improving the user interface on the stock Android [software], but I don't think they'll preclude manufacturer customization," Bamford told Forbes.
T-Mobile teases with G1 Blaze

As we reported earlier this week, more rumors and spy shots have emerged about a new HTC QWERTY slider phone to be offered by T-Mobile called the G1 Blaze (formerly referred to as the HTC Vision). Now, the phone — which reportedly runs Android 2.1 with the Sense UI layer — has been tipped by T-Mobile, according to BoyGeniusReport.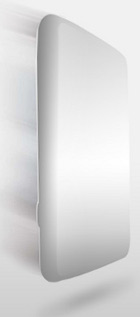 T-Mobile's teaser phone page does indeed show a stylized image of a mystery phone (pictured at right) but neither the page or the image gives away many details. The page offers a sign-up form for notification of what it calls "the first HSPA+ smartphone from T-Mobile," offering theoretical peak downloads of 14.4Mbps. The phone will use T-Mobile's new 3.5G HSPA+ network, which it claims offers almost equivalent speeds as Sprint's 4G network.
So far, so mysterious, but BoyGeniusReport dug into the page's source code and found that the application ID references "Vanguard," which the site says is another code-name for the G1 Blaze. The site had previously cited unnamed sources as saying the phone will support HSPA+.
According to Engadget, meanwhile the phone will offer a 1GHz processor, a slide-out keyboard, and a 3.7-inch WVGA screen. The G1 Blaze would be the first HTC Android phone to offer a QWERTY keyboard since the original G1.
End of the line for the G1
The T-Mobile teaser page is entitled "The Revolution Continues," suggesting perhaps a passing of the baton from the first Android phone, the HTC-manufactured G1. Now, AndroidGuys has noticed that T-Mobile has stopped listing and selling the G1 on its site.

"There are still plenty out there you can get your hands on if you really wanted to, but the life cycle of the G1 has officially come to an end," writes Ray Walters in AndroidGuys. "The G1 was a ground breaking device, the first to really challenge the iPhone's dominance of the market."
The G1 was announced on Sept. 23, 2007, with great fanfare, including an appearance by Google founders Sergey Brin and Larry Page on roller skates. The G1 (pictured at left) shipped a month later for $180 and quickly became a hot seller.
The G1 provided features that would now be considered lacking even among some low-end Android phones. It offered a 528MHz Qualcomm MSM7201A ARM processor, 192MB of RAM, 256MB of internal flash, and a 1GB microSD card, with support for up to 8GB. The phone was equipped with a 3.2-inch, 480 x 320 touchscreen, a slide-out keyboard, plus Wi-Fi, Bluetooth, and GPS.
The G1 also offered something that was relatively rare at the time for mobile phones: an SDK with full access to open source code.
Availability
The Infrax Systems "secure phone" is now shipping in Government, Industrial, and Business editions, with a specialized Utilities version due in the near future. Pricing was not made available. More information on Infrax, but not yet on its secure phone, may be found at the company website, here.
The Wall Street Journal story on HTC's China push may be found here. and the eWEEK take on the story should be here.
The Forbes story on HTC's Sense plans may be found here.
The T-Mobile teaser page on its HSPA+ phone should be here, and the BoyGeniusReport story should be here.
The AndroidGuys story on the death of the G1 should be here.
---
This article was originally published on LinuxDevices.com and has been donated to the open source community by QuinStreet Inc. Please visit LinuxToday.com for up-to-date news and articles about Linux and open source.