Mar 24, 2008 — by LinuxDevices Staff — from the LinuxDevices Archive — 58 views

A Korean company has announced a unique mobile device melding an x86-based nano-PC with an ARM-based mobile phone. Miu's HDPC can run Linux, Windows CE, or Windows XP on its 500MHz Via C7-M processor, while a 200MHz ARM9-based system-on-chip runs an unspecified mobile phone OS.
Miu appears to be an ODM — a company that designs products for other companies to market. As such, the HDPC ("hybrid dual portable computer") seems to be a proof-of-concept design available to OEMs for rebranding and manufacture, likely with operating system customizations.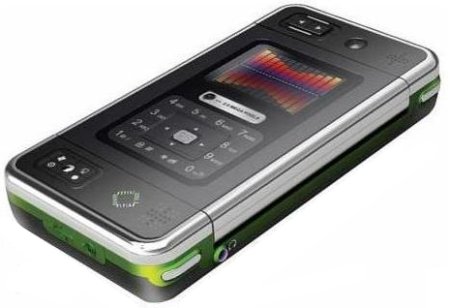 Closed, there's a QVGA screen with hardware keypad and gaming controls
Why combine a mobile phone with an x86-based nano-PC? Well, you could converge mobile phone functionality with a PMP (portable media player), ebook reader, handheld game player, wireless video walkie-talkie, camcorder, navigation device, ebook reader, voice recorder, digital camera, MP3 player, and email reader, among other potential applications listed in a graphic published by Asian technology news site Aving, but likely originated by Miu.
The HDCP has been demonstrated running QPlus, a kind of general-purpose embedded distribution with a graphical configuration interface. Introduced six years ago by the Korea-based Electronics and Telecommunications Research Institute (ETRI), QPlus now offers reconfigurable embedded Linux kernel, system libraries, a graphic window system, and a target builder. It also provides access to the Esto visual software development kit, which is said to include project-based source editing, cross-compilation, remote execution, remote and nonstop debugging, and JTAG-based on-chip debugging.


ETRI's MCC
(Click for details)
Linux Qplus is also built-into ETRI's own "Mobile Convergence Communicator" (MCC), which was announced in January. Similar in many ways to the Miu HDPC, the MCC is said to offer both 802.11b/g and 3.5G cellular networking, along with digital TV reception and Bluetooth.
Alternatively, the HDCP can run Windows CE, or even Windows XP, Miu said. Since it supports the x86 architecture exclusively, XP is not often found found on mobile devices as small as the HDCP.
Pin-pointing specifications for the HDPC at this point is a matter of guesswork based on computer translations of Korean manufacturer MIU bit's website. Here's our best guess:
Processors: Via C7-M processor clocked at 500MHz or optionally 1GHz, and ARM9 clocked at 200MHz
Memory: up to 4GB of DDR2
Display: 4-inch, WVGA (800×480) inner screen, 2.2-inch outer screen (320×240)
Storage — 1.3-inch 30/60GB hard drive or 4GB SSD
Manual input — thumbball mouse; keyboard; game keys, touchpad, telephone keys, function select keys; stylus for touchscreen
A/V — microphone IN, A/V IN, AV/OUT; two-channel stereo speaker
WiFi, Bluetooth 2.0, GPS, USB
Other I/O — replicator port; E-ant port
Expansion — Mini SD and T-Flash slot
3- or 5-megapixel digital camera (CMOS)
Li-ion batteries claimed good for seven hours normal use, or 90 in low-power mode (likely with the x86 processor powered off)
Dimensions: 6.4 x 2.6 x 1 inches (160 x 65 x 25mm)
Weight: 13.6 ounces (385 grams)
Power — 100~240V; 12V 2A DC in
Batteries — 4 cells Li-Ion for 7 to 90 hours
Options — Car-mounting kit with cigarette lighter attachment; hand strap


HTC's dual-processor Shift
(Click image for further information)
HTC first introduced the concept of combining x86 and ARM-based processors in a single device with its Shift, a UMPC (ultra-mobile PC) that was announced last year and began shipping last month. The 1.8 pound, Shift uses an 800MHz Intel Stealey A110 processor, featuring a Pentium M core, along with Qualcomm's ARM11-based MSM7200.
The Shift runs Windows Vista Business edition on the Stealey CPU, much like a normal UMPC or laptop. In addition, users can toggle over to the MSM7200 and run what HTC calls SnapVUE, an environment based on a modified version of Windows Mobile. Where Vista would deliver about two hours of battery life, SnapVUE can keep operating for up to two days, HTC claims.
At just 6.4 x 2.6 x 1 inches, however, Miu's HDPC is significantly smaller than HTC's Shift.
Availability
The Miu HDPC will be available in July in Korea, priced between 400,000KRW ($400) and 500,000KRW ($500), Miu said.
---

This article was originally published on LinuxDevices.com and has been donated to the open source community by QuinStreet Inc. Please visit LinuxToday.com for up-to-date news and articles about Linux and open source.