Mar 1, 2011 — by LinuxDevices Staff — from the LinuxDevices Archive — views
New Jersey can be proud of its nerdy Congressman Rush Holt, the only lawmaker who managed to beat IBM's Linux-based supercomputer Watson at a mock Jeopardy tournament on Capitol Hill. Meanwhile, IBM has stated it will not apply Watson to the general search market to compete with Google and Microsoft's Bing, but will instead focus on medical diagnostics, among other applications.
Hey, New Jersey. Instead of "My Congressman is a rocket scientist!" bumper stickers, it's time for one that says, "My Congressman beat Watson!" Rep. Rush Holt of New Jersey beat IBM's SUSE Linux-based supercomputer Watson in one round of a mock Jeopardy tournament Feb. 28 in Washington DC, several weeks after Watson won the official Jeopardy challenge against two top human contestants.
Five members of Congress played in a bipartisan "Watson vs. Members" tournament, including Holt, Reps. Bill Cassidy of Louisiana, Jim Himes of Connecticut, Jared Polis of Colorado, and Nan Hayworth of New York.
"I played a full round against @IBMWatson tonight and was proud to hold my own: the final tally was Holt $8,600, Watson $6,200," Holt posted on Twitter shortly after the match. Holt is a a Democrat who represents parts of Monmouth and Middlesex counties.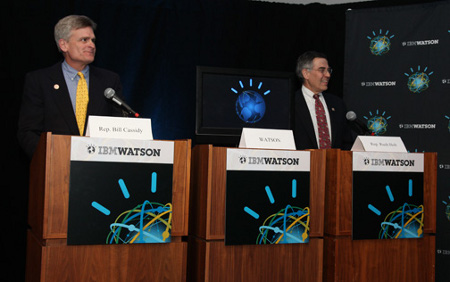 U.S. Rep. Bill Cassidy (left), Watson, and eventual winner Rep. Rush Holt (right)
Source: The Hill
Cassidy, the third player in that round, scored $1,000, according to
The Hill
. There were three rounds of play, and two lawmakers played Watson in each round. Holt and Cassidy faced Watson in the first round (pictured above) while Himes, a former Rhodes scholar, played in both the second and third rounds.
Polis and Himes played in the second round, but could not keep up with Watson, which swept the "Always in Fashion" category. Polis had $6,800 and Himes had $7,600 against Watson's $22,500.
The non-televised event was organized by IBM and open only to IBM employees and Congressional staffers. At the end of the tournament, Watson had amassed 40,300 points, over the humans' combined total of 30,000. The event was meant to "foster a conversation about how technology can positively impact society," and US global competitiveness, IBM said.
Holt, a five-time Jeopardy winner more than 30 years ago under original host Arthur Fleming, is a nuclear physicist who has authored scientific papers in research journals. He even owns a patent titled a "method for maintaining a correct density gradient in a non-convecting solar pond."
"Although Watson was just a little Atari when I was on the show three decades ago, he's grown up & I'm slower than I was then. I watch in awe," Holt wrote on Twitter before the match.
Himes, the only lawmaker to play Watson twice, added on Twitter, "Ok. So I came in third behind Rush Holt (nuclear physicist) and @ibmWatson (supercomputer) but beat all the other humans. I'll take that."
After the event, Holt praised the supercomputer, noting that the technology can be extremely useful for tough decision-making in fields such as medical diagnosis, air traffic control, or situations that require piecing together of knowledge, according to CNN.
Holt said research was necessary to create jobs, a sentiment echoed by Democratic leader Nancy Pelosi. "Absolutely-we must invest in our future! MT @IBMWatson: Hope #ibmwatson also showed potential positive impact on science #education," she tweeted.
IBM and Watson have been busy, as Watson was also in Germany for the opening ceremony at tech trade show CeBIT. IBM CEO Sam Palmisano talked about Watson's natural language query system and how it could be used in finance and healthcare systems in his speech.
"It's a search with a brain," said Palmisano, just before the beginning of a Watson demonstration, in which attendees heard Watson answer healthcare related questions.
Just as there were some memorable moments in the Man vs. Machine tournament, Watson's shining moment in the Congressional matchup came with the clue, "Ambrose Bierce described this as 'a temporary insanity curable by marriage.'" Watson answered, "What is love?"
Watson analyzes "real language," or spoken language, as opposed to simple or keyword-based questions, to understand the question, and then looks at the millions of pieces of information it has stored to find a specific answer. Powered by 10 racks of Power 750 servers running Novell's SUSE Linux, containing 15TB of RAM and 2,880 processor cores operating at 80 teraflops, Watson run thousands of simultaneous analytics algorithms to sift through more than 15 terabytes of information stored in its "brain," a DB2 database.
IBM won't unleash Watson on Google or Bing
In other Watson coverage today, eWEEK reported on IBM's Pulse 2011 systems and service management show, where company reps fielded questions on whether Watson would be applied to Internet search to compete with Google and Bing. Steve Mills, IBM's senior vice president and group executive of software and systems, said that the company has no interest in moving in that direction despite the strong showing IBM made in answering a variety of complex questions on Jeopardy.
Mills said that IBM has other plans for the technology and its natural language processing and DeepQA (Question Answering) technology, including medical diagnostics.
Fahmida Rashid is a writer for our sister publication eWEEK.
---
This article was originally published on LinuxDevices.com and has been donated to the open source community by QuinStreet Inc. Please visit LinuxToday.com for up-to-date news and articles about Linux and open source.