Jul 22, 2011 — by LinuxDevices Staff — from the LinuxDevices Archive — views
Toshiba's Thrive is a decent, if unspectacular, entry to the trundling Android "Honeycomb" tablet market, according to this eWEEK review. However, the availability of multiple ports will please enterprise users, who might also like the removable battery better than did author Clint Boulton.
I began using the Toshiba Thrive Android 3.1-based "Honeycomb" tablet last week with some reservations, after all of the negative attention the 10.1-inch tablet garnered over what I'll call SleepmodeGate.
I've been using this hefty, WiFi-only device (my version was the 16GB model, with 1GB of RAM) for over a week and I haven't experienced the surely annoying experience of having to reboot every time I want to wake the device from sleep mode. But dozens of Thrive owners are experiencing this, according to Engadget.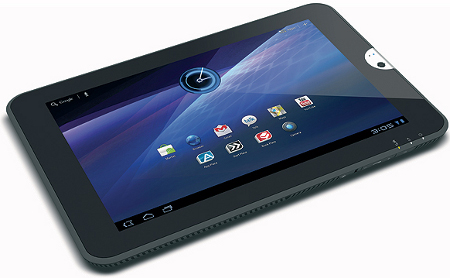 Toshiba Thrive
(Click to enlarge)

Let me tell you what I have experience with: The Thrive, which weighs 1.6 pounds, is over .06 inches thick, compared to the thinner, lighter Samsung Galaxy Tab 10.1.
The Thrive is speedy, as powered by the Nvidia Tegra 2 1GHz dual-core processor. It's also got a solid-but-not-great LED backlit widescreen display.
The device boasts 1280-by-800 resolution, just like the Tab 10.1, but its screen is not as crisp. I played several YouTube videos and movies side-by-side and the Tab won every time.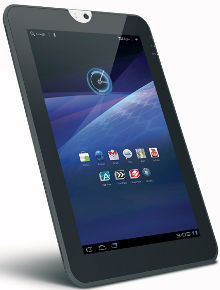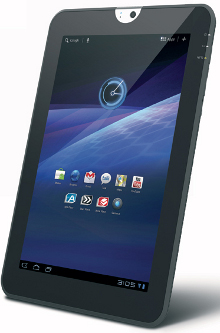 Toshiba Thrive in portrait mode


(Click on either to enlarge)

One area where the Thrive whips the Tab 10.1 (and even the vaunted iPad) is the availability of ports, letting users connect their Thrive to other devices for content sharing and device-to-device communications. It has a USB port, a mini USB port, an HDMI port for putting content on bigger screens, a headphone jack, and an SD slot for flash memory cards.
There is also a docking connector to let users access latch on to a Toshiba Multi-Dock ($59.99), with an additional HDMI port, two more USB 2.0 ports, and another audio port. The Toshiba Standard Dock with Audio Out ($39.99) provides just an 3.5mm stereo audio port, apparently for connecting to a home stereo.


The Thrive's bevy of ports
(Click to enlarge)
In other words, the Thrive is very PC-like — it even has an AC Adapter included with the tablet. Yes, the Thrive comes with a laptop-style power cord!
Toshiba really showed its enterprise leanings with the Thrive by including its proprietary File Manager and PrinterShare apps on one of the five customizable homescreens. The File Manager (below) is useful for people storing, managing and accessing lots of content: I used it to put photos, documents and videos from thumb drives onto the Thrive.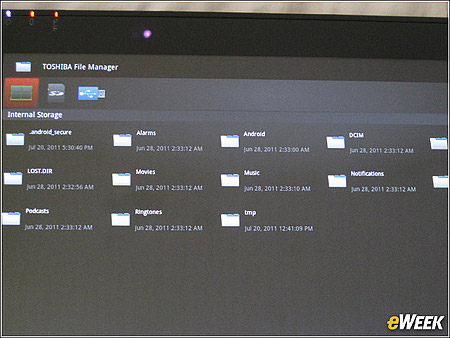 The Thrive's File Manager
(Click to enlarge)
PrinterShare enables printing via Android phones. The LogMeIn remote desktop and QuickOffice productivity apps were also preinstalled on this homescreen.
Conversely, Toshiba also wants to be consumer-friendly, offering proprietary Toshiba Start Place news aggreggator, a Book Place digital bookstore, and an App Place application store that is pretty poor and ugly, mixing both enterprise and consumer apps. Stick with the Android Market for apps.
YouTube, Facebook, Twitter, and the new Google+ mobile app rendered well. The stereo speakers worked well for music, video content and games, such as NFS Shift from EA, which is included on the Thrive. Switching between apps was super -imple, as Google intended Honeycomb to be.
Typing on the virtual keyboard was a breeze, and I used Gmail quite a bit on the Thrive to compose messages or respond to Google+ comments. You'll get used to the clacking keyboard sound, I promise. Swype gesture technology is available for folks who prefer it.
The Thrive has a standard five-megapixel rear-facing camera for average pics, though the two megapixel front-facing Webcam will give users a nice face-to-face video chat session, as my testing with Skype Mobile showed.
OK, it's rugged, but …
My biggest issue with the Thrive is the hardware. I strongly dislike the ruggedized, rubberized and texturized Easy Grip removeable cover. I don't care that you can swap out the battery with this feature; it feels like a military-grade machine.
In fact, I moved recently and I showed the AT&T U-Verse installer the Thrive and joked that it would go great with his work Panasonic Toughbook. He agreed. You can drop it, kick it or sit on, it and you won't hurt it. (Or so it seems: I didn't do it to this test model — I break it and I buy it.)
Seriously, I'm okay with the idea of a removable cover, but this plastic shell feels awkward on or off. Moreover, the cheap metal camera bezel on the cover is an eyesore. I wish it were rubber, too.
Speaking of rubber, you can buy Blue Moon, Raspberry Fusion, Lavender Bliss, Silvery Sky and Green Apple covers for $19.99 if you don't like the black one with which it comes.
Here's a smaller, more niggling point. While I appreciate all the various ports and the way they're rendered in the Thrive's hardware, I believe you should never clutter the power button. It must be pronounced and easy to access.
No dice here; the Thrive's power button is grouped with the volume buttons and a screen rotation lock in a rubber bezel on the right side of the device (when in portrait mode). Try manipulating these in the dark or without looking. They're not pronounced enough in my opinion.
Battery life averaged five to six hours of solid use each day I tested it — not as good as the Tab 10.1 or the iPad at all — even though Toshiba professes 11 hours on a full charge. With the Thrive, you need to make sure that the tablet switches off WiFi when you're not using it or you will drain power fast.
In conclusion, I found the actual software experience of the tablet enjoyable, but I'm not comfortable with the Easy Grip removable back cover.
I appreciate what Toshiba was going for, but I don't want a tablet with removable parts. I don't take the cover off my laptop; why would I remove my tablet's cover? For fashion's sake? Pshaw.
At 1.6 pounds, it's also too heavy for my tablet experience. I couldn't use the Thrive as my primary device for media consumption, but that's me.
There are plenty of people who like the look and feel of it. And it's hard to beat the user interface and overall software experience, assuming you're one of the Android aficionados who doesn't hate Honeycomb. The 16GB Thrive I tested costs $479, but if you're feeling less storage hungry, go for the 8GB model for $429.99. More greedy customers can buy a 32GB monster for $579.99.
Further information
More images of the Thrive may be found in an eWEEK slide show, and further information may be found on Toshiba Direct's Thrive site.
Clint Boulton is a writer for eWEEK.
---
This article was originally published on LinuxDevices.com and has been donated to the open source community by QuinStreet Inc. Please visit LinuxToday.com for up-to-date news and articles about Linux and open source.