Oct 13, 2008 — by Eric Brown — from the LinuxDevices Archive — views

Intel CEO Paul Otellini (pictured) reportedly told the Associated Press that Linux will dominate sales of mobile Internet devices (MIDs). Meanwhile, ABI Research predicts that by 2013, Linux will outsell Windows by two to one in the combined market for MIDs, netbooks, and UMPCs.
The Associated Press interview represented another strategic and incremental shift for Intel away from its long-time partnership with Microsoft, said USA Today. According to the publication's account, the Intel CEO told the Associated Press that MID activity will be "centered around Linux."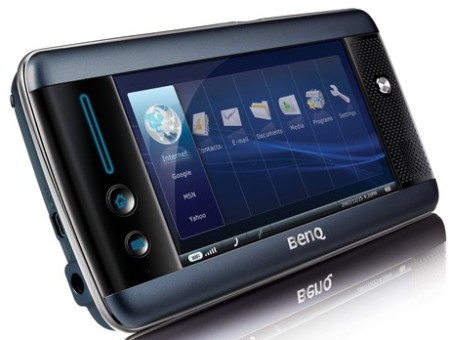 BenQ's S6 MID
Otellini was also reported to have noted the fast growth in sales of netbooks, where Linux and Windows XP are the leading contenders. "I've not seen energy like this from our customers in a long, long time," he was quoted as saying. The loser here, he suggested, is Windows Vista. "Vista has a larger memory footprint, a larger graphics requirement, and a higher price point. This is all about low-cost computing," Otellini was quoted as saying.


Dell's Inspiron Mini 9
(Click for details)
Otellini did not apparently tip his hat on whether he expected Linux or Windows XP to dominate netbook sales. However, the Linux netbook genre received a boost this week when Dell started running its first major advertisements about a Linux-based system. According to a story from The VAR Guy, Dell started running multi-page newspaper ads specifically hawking its first Linux netbook, the Dell Inspiron Mini 9 (pictured).
ABI: a two-to-one edge for Linux
Meanwhile, ABI Research has offered up more details from its recent report on what it calls ultra-mobile devices (UMDs). ABI defines the category as spanning the conceptual and size gap between smartphones and notebooks, including MIDs, ultra-mobile PCs (UMPCs), and netbooks. Previously, the research group forecast that the total number of such UMD units would jump from 10 million units in 2008 to over 200 million in 2013, representing $27 billion in sales, up from $3.5 billion.


MSI Wind U100
(Click for details)
In this latest installment, ABI made note of the recent reports of higher returns on Linux netbooks such as the MSI Wind U100 (pictured) compared to those equipped with Windows XP. Linux will dominate netbook sales despite this current trend, however, said ABI, suggesting that the return rates would even out over time.
In addition to the projection of Linux domination over Windows in the UMD category by two to one, other projections offered in the report include:
By 2013, more than half of UMDs will be based on x86 (mostly Intel Atom) processors, "with the balance based on ARM."
Whereas most UMDs today are partially subsidized and sold by carriers and directly by manufacturers, by 2013, retail sales are expected to account for 75 percent of sales.
Some MIDs will offer cellular voice, leading to direct competition with smartphones.
As for the specific MID market, ABI has recently predicted that Linux would take the "lion's share" of the market by 2013, with Linux MID projections pegged at 86 million devices in 2013. According to the study, the Intel-sponsored Moblin stack would lead among Linux MID distributions with 42 percent, followed by Nokia's Maemo, which runs on its N810 Internet Tablet. The LiMo Foundation and its mobile-phone oriented LiMo Platform was expected to rank third.
The Intel Atom-based MIDs are just now beginning to be unveiled, starting with the BenQ S6 (pictured above). Another recent study on MIDs by Forward Concepts also forecast that Linux will be a top OS in the segment, pegging total MID shipments as growing from 305,000 units in 2008 to 39.6 million units in 2012.
Availability
ABI Research's latest "UMD" report, "MIDs and Mobile CE Market Data," should be available here.
---

This article was originally published on LinuxDevices.com and has been donated to the open source community by QuinStreet Inc. Please visit LinuxToday.com for up-to-date news and articles about Linux and open source.