Feb 5, 2010 — by LinuxDevices Staff — from the LinuxDevices Archive — views
ARM Holdings announced that more than 1.3 billion chips based on its designs were sold during the fourth quarter of 2009. Reporting better-than-expected financial results, the company added that it's signing up licensees for three new designs, code-named "Eagle," "Heron," and "Merlin."
Given that it took McDonalds eight years (1955-63) to sell a billion hamburgers, the idea that more than 1.3 billion ARM chips were served last quarter is mind-boggling. But, with more than 660 different licensees for its "macros" — core designs that customers such as Nvidia, Marvell, Qualcomm, and Samsung build their chips around — ARM is believed to have about 98 percent of the world's cellphone market.
Additionally, as the company explained this week in its Q4 2009 earnings report, each phone shipped during the quarter contained an average of 2.4 ARM-based chips (up from 2.1 in the previous quarter). In other words, ARM chips are found not just in smartphone CPUs, but also in microcontrollers, radios, and other necessary components.
According to ARM, Q4 2009 saw 25 new processor licenses being signed, 19 of them involving "non-mobile" digital products such as automotive, consumer entertainment, microcontrollers, printers, networking, smartcards, and SSDs (solid state drives). Due in part to sales of Cortex-M class devices, ARM-based microcontroller sales grew 60 percent sequentially, outpacing the 20 percent growth seen in the overall microcontroller market, the company stated. Meanwhile, shipments of ARM-based smartcards were said to be up 100 percent.
ARM said its revenue for the quarter was $140 million, and $489.5 million for the year overall, both representing 10 percent declines over the same time periods in 2008. But, the company told investors, this was higher than expectations, and outstripped a 20 percent fall in global demands for all semiconductors.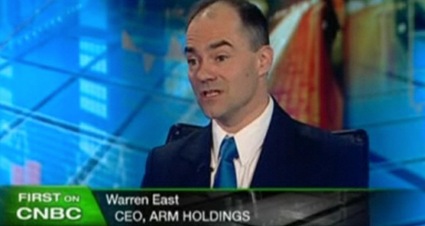 ARM CEO Warren East speaking earlier this week on CNBC
The company's CEO, Warren East (above), stated, "We are pleased that in Q4 ARM has continued to outperform the semiconductor industry as we gain market share. Throughout 2009 we demonstrated the resilience of the ARM business model in a challenging trading environment."
According to ARM, the number of Cortex-based chips shipped during Q4 2009 more than doubled compared to the previous quarter. These high-end products, such as the Cortex-A8 and the Cortex-A9, now represent two percent of total shipments, the company says. ARM added that ARM11 products have reached five percent of shipments, but ARM7 and ARM9 products still predominate, with 57 percent and 36 percent shares, respectively.
In a conference call for investors, East outlined three new processor core designs, codenamed "Eagle, "Heron," and "Merlin," that will be unveiled during the next 12 to 18 months. Heron is apparently an upgrade to the Cortex-R class of processors, used in such things as engine management systems, inkjet printers, and hard disk drives, while Merlin is an upgrade to the Cortex-M family, used in microcontrollers.
But, East added, "Eagle … takes our application processor products onto yet another level of high performance." According to previous reports, Eagle will include a multi-core main processor, "high-end" graphics, and power usage that can be kept down by using Global Foundries' 28nm production process. Declining to provide further details, East said, "Sorry, we're not launching it today."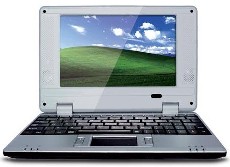 Regarding netbooks and tablets, East told investors, "There are no appreciable ARM-based real netbook products out there that you can go and buy today," apparently discounting low-end ARM9 devices (such as the Cherrypal Africa, pictured at left), which sells for as little as $100. "There are many design wins, but I think the dynamics in 2010 have been held up by a couple of factors," he added, citing the overall economy plus uncertainty about what distributions such devices should run.
"There's been a lot of uncertainty over which Linux desktop operating system should be released and we had in particular a couple of sort of switches around of which the favorite would be," said East.
The CEO did not specify which distros were being considered. According to a recent ABI study that estimated that Linux represented a third of the netbook market in 2009 and would overtake Windows in 2013, Ubuntu is the leading Linux netbook distro. However, Google's Chrome OS was expected to have a major impact starting in 2011, and Android, Moblin, and other distributions were also said to have a shot at market share. The projections for Linux winning the netbook market were based in large part on the rise of ARM-based netbooks, said ABI.

ARM's East noted that ARM11 processors dominate the e-reader market, and added that a number of tablet devices with ARM processors were shown off at the Consumer Electronics Show (CES) in Las Vegas.
Asked in a subsequent CNBC interview about Apple's recently announced iPad (right), East declined to confirm the widespread belief that Apple has employed an ARM core in the device's "A4" processor. But, he said, "What they've done over the past week is introduce a new product category that we see as an area of huge growth potential for us," he said.

A CNBC interview with ARM Holdings CEO Warren East
(click to play)
Availability
Further details of ARM's earnings report may be found on the company's website, here, and a transcript of the earnings call for investors can be found on the Seeking Alpha website, here.
CNBC's interview with Warren East may be found here.
---
This article was originally published on LinuxDevices.com and has been donated to the open source community by QuinStreet Inc. Please visit LinuxToday.com for up-to-date news and articles about Linux and open source.