Apr 8, 2009 — by LinuxDevices Staff — from the LinuxDevices Archive — views

Celebrating the anniversary of its Atom processor (left), Intel announced two new variants aimed at MIDs (mobile internet devices). At its IDF (Intel Developer Forum) in Beijing, the chipmaker also provided the first demonstration of its "next-generation" Atom platform, "Moorestown," showcasing a 10x idle… power reduction.
(Click for larger view of the original Z5xx Atom and its SCH US15W companion chip)
Announced during a keynote this morning by Anand Chandrasekher, Intel senior VP and GM of the company's ultra mobility group, the new Atoms — news of which had been previously leaked by reports out of Taiwan — include one variant that's the fastest ever, plus another that can save power by operating at varying clock speeds. The new Z550 will clock at 2.0GHz while retaining a 2.4 Watt TDP, while the Z515 will run at either 800MHz or 1.2GHz, Intel says.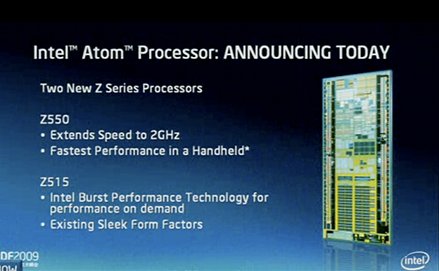 Intel's new Z515 and Z550
Intel's new parts bring interesting choices for customers of the original Atom
Z5xx
processors, which have become widely used in MIDs (mobile internet devices), COMs (computer-on-modules), UMPCs (ultra-mobile PCs), and some netbooks. (Unlike the Atom
N270
used by most mini-notebooks, the Atom 5xx CPUs measure 14 x 13mm, and rely on a single northbridge/southbridge companion chip, the 22 x 22mm "Poulsbo," for overall savings in board real estate and power efficiency.)
For those who need extra performance, the Atom Z550 will have a clock speed of 2.0GHz, a Front Side Bus (FSB) of 533MHz, and a 512KB second-level cache, the publication claims. Apart from the clock speed bump, these specs are the same as the original 1.86GHz Atom Z540 (see table, below), and the Z550 also shares the Z540's 220mW average power rating, 110mW idle power, and 2.4 Watt TDP, according to Intel.
Meanwhile, the new Z515 is capable of running at two different clock speeds, courtesy of what Intel calls BPT (burst performance technology). Like Intel's original, entry-level Z500, the Z515 can run at 800MHz, achieving an 80mW idle power, 160mW average power, and 0.65 Watt TDP. But, according to Intel, the Z515 can also speed up to 1.2GHz, at which point it has a 1.4 Watt TDP — still lower than the 2 Watt TDP of Intel's previous 1.1GHz Z510 (below).
No.
SKU
MHz
Power (W)
FSB
Features
L2
Cache
Die
Size
Kit
(CPU+SCH)
Pricing
(per 1000
units)
TDP Power
Ave. Power
Idle Power
(C6)
1.
Z500
800MHz
0.65W
160mW
80mW
400MHz
512K
7.8mm
x
3.1mm
$45
2.
Z510
1.1GHz
2W
220mW
100mW
400MHz
$45
3.
Z520
1.33GHz
2W
220mW
100mW
533MHz
$65
4.
Z530
1.6GHz
2W
220mW
100mW
533MHz
$95
5.
Z540
1.86GHz
2.4W
220mW
100mW
533MHz
$160
Intel's original Atom Z5xx SKUs
(Source: Intel)
The new Z550 and Z515 Atoms both use the familiar "Poulsbo" companion chip, the
SCH US15W
, which supports a 400MHz or 533MHz front-side bus, and supports up to 2GB of system memory. According to Intel, the Z515 can also employ the comparatively little-used
UL11L
, which limits system memory to 512MB of RAM and has a slower clock speed for its graphics core.
Moorestown moving up
As part of his keynote, Chandrasekher also delivered a progress report on Intel's "second-generation" Atom, code-named Moorestown. First promised in a Sep. 2007 IDF keynote, Moorestown consists of a SoC (system on chip) codenamed "Lincroft" and an I/O hub codenamed "Langwell." According to Intel, Lincroft integrates a 45nm Atom processor core with a graphics, video, and memory controller. In February, Intel announced that it was collaborating with LG Electronics on a Moorestown-based MID due in 2010. The MID will run a MID-focused version of the Linux-based Moblin V2 distribution that will add cellular voice capability.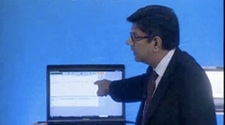 Intel's Chandrasekher demonstrated Moorestown power savings
(Click either image to enlarge)
Intel has long promised that Moorestown will have an idle power consumption just 1/10th of today's Atoms. "We're delivering exactly against our goals," said Chandrasekher, providing what was billed as the world's first on-stage demonstration of actual Moorestown silicon. Comparing an instrumented Moorestown device to the previous "Menlow" platform (above left), he displayed a real-time graph (above right) apparently showing that Moorestown's power consumption is even lower than expected.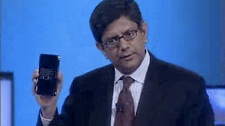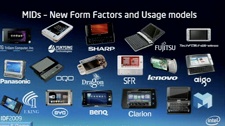 Chandrasekher showed off BYD's "Mars" phone and a bevy of MIDs
(Click either image to enlarge)
Adding that "I thought I'd have to wait until Moorestown to get a phone utilizing our technology," he brandished a prototype phone from
BYD Electronics
code-named "Mars." Apparently using a current Z5xx Atom, the Mars phone (above left) provides "Windows XP in your pocket," he added.
Chandrasekher also showed off newly announced MIDs (above right) for the Chinese market from manufacturers including Aigo, BYD, CZC, Dragon, Eking, ESL, Gemsta, NFS, and Techfaith. Intel added that Aigo, BYD, Compal, CZC, and Fujitsu have "already committed" to building products based on the Z515 and Z550 processors announced today.
The chipmaker's burgeoning Z5xx family recently gained "PT" models deliberately upsized to 22 x 22mm for easier cooling, and accompanied by larger, 37.5 x 37.5mm versions of the Poulsbo companion chip, too. For details of Intel's Z530P, Z530PT, Z510P, Z510PT, SCH US15WP and SCH US15WPT, which target automotive use and are claimed to operate up to 85 deg. C, see our earlier coverage, here.
Availability
Intel did not provide availability or pricing specifics for its new Z515 and Z550 processors, but the new Atoms will apparently be on sale soon. Meanwhile, Moorestown, aimed at smartphones as well as MIDs, will be on sale "by 2010," the company says.
---

This article was originally published on LinuxDevices.com and has been donated to the open source community by QuinStreet Inc. Please visit LinuxToday.com for up-to-date news and articles about Linux and open source.