Apr 15, 2011 — by LinuxDevices Staff — from the LinuxDevices Archive — views
Intel is planning to pay a $10-per-device subsidy to encourage the creation of Android tablets using its "Oak Trail" Atom processor, a DigiTimes report has claimed. And a relevant port of Android 3.0 ("Honeycomb") will be available later this year, a company executive has been quoted as saying.
The Apr. 14 DigiTimes report by Monica Chen and Joseph Tsai says Intel wil "pay a subsidy of $10 for each Intel CPU-based tablet PC to attract first-tier notebook vendors." It will promote the Android 3.0 platform "to save costs from Windows licensing fees for downstream vendors," the story further adds.
If true, the subsidy would represent another rift in the close relationship between Intel and Microsoft that was once described as the "Wintel monopoly." It would also indicate Intel's desperation to catch up with ARM Holdings and its many licensees in the tablet space.
While Google has delayed open-sourcing its tablet-specific Android 3.0 ("Honeycomb") release, the operating system has already appeared on a variety of ARM-powered tablets. Most notably, there's Motorola's Xoom, but other entries — all, as it happens, sporting Nvidia's ARM-based Tegra 2 processor — include the Acer Iconia Tab A501, the Samsung Galaxy Tab, and an un-named tablet from Toshiba.


ViewSonic's ViewPad 10Pro boots either Android (left) or Windows 7 (right)
(Click to enlarge)
Meanwhile, the vast majority of Intel-based tablets announced to date run Windows 7, sometimes (but not always) with vendor-specific customizations to make them more finger-friendly. In February, ViewSonic did announce its ViewPad 10Pro (above), an Oak Trail-based tablet that will ship with both Windows and Android. However, the device will boot into only the older 2.2 version of the latter, the company indicated.
Intel and Google first worked together on an x86 Android port for the Google TV project, involving devices which run on the Atom CE4100 system-on-chip. Now, they're collaborating again to port Android 3.0 to Oak Trail, according to an Apr. 11 report by the IDG News Service.
Bill Kircos, general manager of marketing at Intel's netbook and tablet group, is quoted as saying that the Honeycomb port will be available later this year, though release of actual products will depend on the device makers. Separately, Google Vice President of Engineering Andy Rubin wrote in an Apr. 6 blog post addressing the delayed source code release, "There are not, and never have been, any efforts to standardize the platform on any single chipset architecture."
Oak Trail — not up to the job?
Intel's Oak Trail was first mooted last June under its code name, and formally announced as the Atom Z670 on Apr. 11. From the start, it has been touted as "optimized for tablets" and offering "up to all-day battery life."
However, there were early signs of trouble last December when an official from the PC manufacturer MSI was quoted as saying that the battery life and performance improvements provided by Oak Trail would be "not extremely significant." Since then, vendors of the Oak Trail tablets announced so far have cited battery lives of up to nine hours — easily matched or bettered by ARM-powered tablets such as Apple's iPad.
The IDG News Service report cited earlier in this story quotes Intel's Kircos as saying Oak Trail chips — until recently positioned as the salvation of x86 tablets — "won't be outstanding on power consumption." And at its Atom Z670 launch, the chipmaker took the unusual step of talking up Oak Trail's successor: It claimed the smaller, more power-efficient "Cloverview" Atom will be available later this year, providing "no worry battery life."
Beating ARM but alienating Microsoft?
Despite power concerns, it's too early to write off the Atom Z670 when few or no devices are yet in customer hands. Nonetheless, ARM Holdings and its licensees are, in the tablet space, providing Intel with what could be considered the most urgent competitive challenge it has faced for decades.
Given that, a $10 payment per x86 tablet shipped could make sense. Unlike simply cutting the selling price of the Oak Trail to below that of its ARM competitors, it would not do any permanent damage to Intel profits.
However, the DigiTimes report implies — but does not quite clearly state — that the $10 bounty will be offered only to vendors shipping their Oak Trail tablets with Android 3.0. If that's the case, the subsidy could be seen as inimical both to Microsoft and to Intel's own MeeGo operating system.
The Linux-based MeeGo supports both x86 and ARM architectures, and resulted from a partnership between Intel and Nokia. Intel has said it is standing behind MeeGo, despite Nokia CEO Stephen Elop's Feb. 11 announcement that the phone maker would shift its primary focus to Microsoft's Windows Phone 7 platform.
Earlier this month, the MeeGo project released a "pre-alpha" version of a Tablet User Experience (UX) version, featuring a touch-optimized user interface for tablets as well as a new panel UI concept and a suite of built-in browser, personal information management, and media playback apps. A tablet build of MeeGo was also shown off at this week's Intel Developer Forum (IDF) in Beijing, according to Netbook News.

Intel's PRC Plus project may focus on enhancing Android for Atom-powered tablets
(Click to enlarge)
The DigiTimes report also mentions an apparently unrelated Intel initiative called PRC Plus, which will reportedly improve on tablet user interfaces and is again implied to be Android-targeted. An IDF presentation [PDF link] by Doug Davis, vice president and general manager of the Netbook and Tablet Group at Intel, included the PRC Plus image above but no further details.
Intel has also posted a Chinese-language YouTube video regarding PRC Plus (see later in this story). In a caption, the software is described as "an optimized UI/UX layer designed to improve the user experience on Intel architecture-based tablet devices. With PRC Plus, users can enjoy a richer tablet experience, such as multi-window and multi-tasking and a seamless connection."
In any case, an Android-on-Oak-Trail bounty wouldn't help MeeGo. Even more critically, it could also upset Microsoft, a long-time Intel partner.
Microsoft has announced that a forthcoming update to "big Windows" — being referred to most as "Windows 8," though there's no official word on what it will be called — will run on SoC (system-on-chip) architectures from ARM as well as Intel and AMD. Meanwhile, Windows CE — which already runs on ARM — has been used to create tablets in the past, and was recently comprehensively updated and renamed as Windows Embedded Compact 7.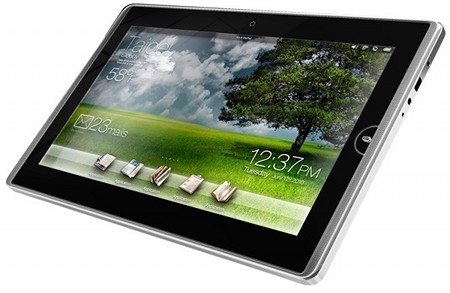 The Asus Eee Pad EP101TC
(Click to enlarge)
Windows Embedded Compact 7 was being promoted for tablets when it was first announced, and was shown off running on the EeePad EP101TC (above), a 10-inch tablet from Asus that has since been reannounced and switched to Android. Since then, no Windows Embedded Compact 7 tablets have appeared that we're aware of; some observers claim Microsoft isn't promoting their creation because of the higher licensing fees it can gain from Windows 7.
In other words, devices running Windows 7 on Oak Trail or other x86 CPUs appear to be Microsoft's only serious entree into the tablet game at the moment. That being the case, Redmond needs Intel promoting defections to Android 3.0 about as much as it does the proverbial hole in the head.

An enhanced, Chinese-language tablet interface called PRC Plus
Source: Intel
(click to play)
Jonathan Angel can be followed at www.twitter.com/gadgetsense.
---
This article was originally published on LinuxDevices.com and has been donated to the open source community by QuinStreet Inc. Please visit LinuxToday.com for up-to-date news and articles about Linux and open source.