Aug 11, 2011 — by LinuxDevices Staff — from the LinuxDevices Archive — views
Intel Capital announced a $300 million fund designed to help foster the chipmaker's "Ultrabook" category of portable computers. The money will be invested over the next three to four years "to create a cycle of innovation and system capabilities for this new and growing category of mobile devices," the company announced.
Sean Maloney, Intel executive vice president and the newly appointed head of the chip makers China business, introduced the "Ultrabook" idea during his keynote speech May 31 at the Computex 2011 show in Taiwan. The chip giant has trademarked the name, which it says refers to notebooks that:
are less than 20mm (0.8 inch) thick
use Core processors
start up almost instantly with the aid of SSD (solid state disk) storage
and have "mainstream price points under US$1,000"
Intel stated Aug. 10 that initial Ultrabooks will be available for this year's holiday shopping season, and will be powered by its current "Sandy Bridge" Cores. A next generation using forthcoming, 22nm "Ivy Bridge" Core CPUs will come out in the first half of 2012, the company added.
The third step in the Ultrabook device progression will come in 2013, when products based on "Haswell" Core processors will be released, Intel said. These devices will reduce power consumption to "half of the 'thermal design point' for today's microprocessors," the chip giant promised.
According to Intel Capital, its new $300 million fund will be invested "to create a cycle of innovation and system capabilities" related to Ultrabooks. Presumably, some of the money will go to computer manufacturers and some will go to component suppliers, though no breakdown was provided.
Arvind Sodhani, president of Intel Capital and an Intel executive vice president, stated, "Ultrabook devices are poised to be an important area for innovation in the $261 billion global computer industry. The Intel Capital Ultrabook fund will focus on investing in companies building technologies that will … morph today's mobile computers into the next 'must have' device."
Mooly Eden, vice president and general manager of Intel's PC Client Group, stated, "Celebrating 30 years of innovation, the PC is the ultimate Darwinian device and Intel is striving to again reinvent mobile computing. Our announcement today is about Intel mobilizing significant investments to achieve the next historic shift in computing."
To date, the only confirmed "Ultrabook" is the Asus UX21 (below), which was shown off at Computex. This device will be just 2/3rds of an inch thick, according to Asus, and it will reportedly use the Core i5-2557M (two cores, 1.7GHz base clock speed and 2.7GHz TurboBoost speed, 17-Watt TDP) that Intel announced at the end of June.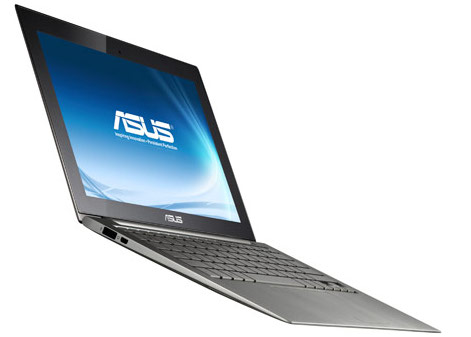 The Asus UX-21
Clouds on the horizon
In previous coverage, we've expressed our doubts about Intel's bothering to create the Ultrabook moniker, given that the company's 2009 CULV (Consumer Ultra Low Voltage) notebook format disappeared without leaving many ripples, as did its "nettop," "mobile Internet device," and "ultra-mobile PC" formats. Nomenclature aside, Ultrabooks also face more significant technological hurdles.
One of these is the distinct possibility that by 2013, when Intel says it will have halved today's Core power consumption, a variety of portables will already be on the market running Windows 8 on ARM processors. Linux-based distros including Ubuntu, MeeGo, WebOS, Android, and Chrome OS may also start appearing on more ARM-based portables. How important will x86 architecture be to buyers at that point, given that the ARM devices will likely offer even longer battery life? Meanwhile,
Another, in today's adverse economic climate, is the present cost of Ultrabook components. Intel is already "paying handsomely to attract downstream vendors into launching Ultrabooks," according to a July 4 DigiTimes report out of Taiwan. But "Vendors are still concerned whether the Ultrabook product's prices can reach as low as $1,000, as claimed by Intel," authors Monica Chen and Joseph Tsai.
A followup story by Chen and Adam Hwang claimed "actual production costs render the hope practically infeasible. The 11.6-inch Asus UX21 and a 13.1-inch followup called the UX31 will cost between $1,000 and $1,600 because "yield rates for panels and key components are still lower than originally expected and therefore production costs are relatively high."
The July 27 DigiTimes report added that Asus will launch its Ultrabooks only "in small volumes to test market response, and will make large-volume launches in 2012 when demand proves to emerge." If it's true, the delay will no doubt frustrate Intel's Maloney, who told his Computex audience that 40 percent of portable computers shipped by the end of 2012 would be Ultrabooks.
Ironically, Apple's revamped Macbook Air — launched July 20 — seems to exemplify an Ultrabook, right down to a "Sandy Bridge" Core processor, Intel's Thunderbolt interconnect technology, SSD storage, and a thickness of just 0.68 inches.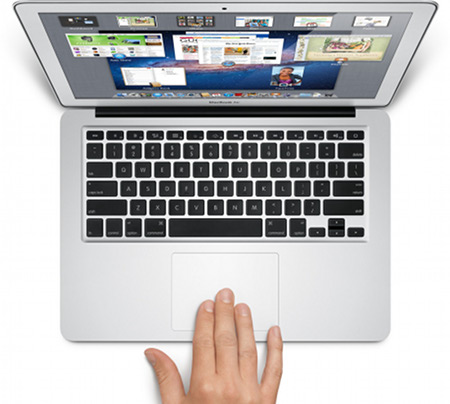 An UltraBook in all but name: Apple's MacBook Air
Apple's entry-level Air has a 1.6GHz Core i5 processor, an 11.6-inch display, and a 64GB SSD, while the top model has a 1.7GHz i5, a 13.3-inch display, and a 256GB SSD. Yet, these portables — which can run Microsoft Windows as well as Apple's own OS X — are priced at $1,000 and $1,600, respectively.
In other words, Apple — historically castigated for high pricing — can sell de facto Ultrabooks today for the prices Asus, HP, and other competitors are only just talking about.
Why? Nobody seems to have addressed that point, but it seems likely that Apple's leverage with suppliers is bringing it lower costs than those prospective Ultrabook cloners face. That would be the same reason that most Android tablets sell for just as much as Apple's iPad 2 — despite being mere knockoffs in the eyes of consumers.
Given that Apple's iOS already runs on ARM — a version of the operating system already powers the iPhone, iPod Touch, and iPad — Apple could move away from x86 for a future MacBook Air refresh. That, we're sure, is a terrifying prospect not lost on Intel executives as they hurry to popularize Ultrabooks.

This Intel-produced video promotes Ultrabooks
(click to play)
Jonathan Angel can be reached at [email protected] and followed at www.twitter.com/gadgetsense.
---
This article was originally published on LinuxDevices.com and has been donated to the open source community by QuinStreet Inc. Please visit LinuxToday.com for up-to-date news and articles about Linux and open source.