May 31, 2011 — by LinuxDevices Staff — from the LinuxDevices Archive — 2 views
At the Computex show, Intel executives spoke of a new notebook segment called "ultrabooks," thin portable computers that will employ future power-sipping Core processors. The 22nm "Ivy Bridge" Cores are "on track" for delivery in the first half of 2012, and 2013 "Haswell" versions will save even more power, officials added.
Intel, with its Atom processor platform, was an early proponent of the netbook when the computer form factor first hit the market several years ago. It didn't create the term — Psion did, in 2003 — but started promoting the moniker aggressively in early 2008.
Now, Intel — which has also touted terms such as "nettop," "mobile internet device," and "ultra-mobile PC" in the past with varying degrees of success — is promoting the term "ultrabook" for Core-powered portables that will be under an eighth of an inch thick and sell for around $1,000.
(We're wondering why a new term was required for what most people already call "ultraportables," and wish Intel marketers would concentrate on better naming and positioning for their overly-numerous CPU offerings — Ed.)
Company officials told attendees at the Computex 2011 in Taiwan that ultrabooks will combine the performance and capabilities of traditional notebooks with features found in popular tablets, such as high responsiveness and, eventually, touch capabilities. Such devices will be powered by Intel's increasingly energy-efficient Core processors, the executives added.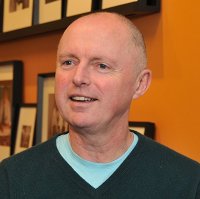 Sean Maloney (right), Intel executive vice president and the newly appointed head of the chip maker's China business, introduced the ultrabook idea during his keynote speech May 31 at the Computex 2011 show in Taiwan. Along with the ultrabook, Maloney talked about Intel's acceleration of the Atom road map and reiterated the vendor's vision of federated clouds — both private and public — and its role in cloud computing environments.
Maloney's keynote came as Intel continues its aggressive push into the mobile device market — in particular, tablets and smartphones — that is dominated by highly energy-efficient chips based on ARM designs. Intel is still making a lot of money from its traditional server and PC businesses, but the growing popularity of mobile devices offers an opportunity for Intel to expand its reach.
Intel's already begun that push. In April, the vendor rolled out its Atom Z670 "Oak Trail" platform, designed for such devices as tablets. Officials said they expect 35 system designs based on Oak Trail to hit the market this year. In addition, they have begun talking about the next Atom version, a 32nm design dubbed "Cedar Trail." At Computex, Maloney showed off more than 10 tablets running Oak Trail.
Earlier this month, Intel unveiled a new 3D transistor technology called Tri-Gate, which executives said will ramp up the performance of its shrinking processors while driving down power consumption, key attributes for chips in tablets and smartphones and the areas that Intel needs to improve upon to compete with ARM designs. According to Intel, the Tri-Gate technology will enable 37 percent better performance than current 32nm chips and 50 percent power reduction.
Maloney said he expects that by the end of 2012, 40 percent of notebooks shipped will fall into this ultrabook category. He was joined on stage at Computex by Asus Chairman Jonney Shih, who showed off that company's new UX21 ultrabook (below) based on the latest Core chips.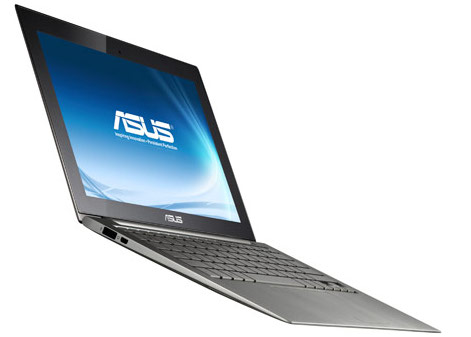 The Asus UX21 is just .66 inches thick
"At Asus, we are very much aligned with Intel's vision of ultrabook," Shih said in a statement before the keynote address. "Our customers are demanding an uncompromised computing experience in a lightweight, highly portable design that responds to their needs quickly. Transforming the PC into an ultra-thin, ultra-responsive device will change the way people interact with their PC."
The next step in driving the ultrabook initiative will be the next generation of Intel's Core architecture, dubbed "Ivy Bridge," which will be the first chips to feature the Tri-Gate transistor technology. The 22nm Ivy Bridge chips will begin appearing in PCs and servers in the first half of 2012. The processors will begin appearing in other devices — including tablets and smartphones — after that, though, Intel officials have not been more specific.
In 2013, Intel will unveil "Haswell," the follow-on to Ivy Bridge, which will further Intel's ultrabook push by significantly ramping up the energy efficiency. Intel officials said Haswell will reduce processor power consumption by half of what it is today.
Maloney also talked about Intel's plans to accelerate the development of the Atom platform, including offering a new generation of the chips every year, a move he said will result in reduced transistor leakage, lower power consumption and more transistors on the chips, all of which will drive more powerful devices — including smartphones, tablets and netbooks — with more features and better battery life.
The Cedar Trail Atom platform also will drive ultra-thin designs with such features as Intel's Rapid Start for fast resume capabilities, Smart Connect technology that always updates the system, and Wireless Display and PC Sync offerings, which enable users to wirelessly update and synchronize documents. It also will offer more than ten hours of battery life and will support Microsoft Windows, Google Chrome OS, and MeeGo, the open-source operating system developed by Intel in conjunction with Nokia.
In addition, Maloney talked about "Medfield", a 32nm platform specifically targeting smartphones and tablets and optimized for low power and high performance. Maloney showed off a tablet running Google's Android 3.0 "Honeycomb" OS. Intel officials expect the first Medfield-powered tablets to hit the market in the first half of 2012, running both Android and MeeGo. Medfield will enable system designs that are thinner than nine millimeters and weigh less than 1.5 pounds.
Regarding the cloud, Maloney noted that Intel will benefit from the demand. He estimated that one new Intel-based server will be needed for every 600 or so new smartphones or 122 new tablets connecting to the Internet.
Maloney also talked about Intel's Cloud 2015 vision, which includes federated clouds that enable enterprises to move data safely across public and private clouds, automated networks that enable users to move workloads between servers in the data center, and device-aware clouds to understand types of applications, commands and processing.

A recent interview with Intel's Sean Maloney
Source: Intel
(click to play)

Jeffrey Burt is a writer for eWEEK.
---
This article was originally published on LinuxDevices.com and has been donated to the open source community by QuinStreet Inc. Please visit LinuxToday.com for up-to-date news and articles about Linux and open source.