May 24, 2010 — by LinuxDevices Staff — from the LinuxDevices Archive — 1 views
Intel announced six new 32nm processors intended for ultra-thin laptops. Topped by the Core i7-660UM, with a clock speed of 1.33GHz and "TurboBoost" frequency of 2.4GHz, the CPUs will be available next month in devices from Acer, Asus, Gateway, and Lenovo, the chipmaker says.
Intel's new 32nm CPUs are part of the company's CULV (consumer ultra low voltage) line, intended for thin-and-light laptops that cost more than netbooks, but typically offer extended battery life and better performance. The new chips are intended to replace parts such as the Core 2 Duo-based SU7300, which has a 1.3GHz clock speed and a 10 Watt TDP.
Promised in January when Intel unleashed a bevy of new Core CPUs, the new CULV versions do not include any major technological surprises. They once again use the chipmaker's 32nm process, which includes second-generation high-k metal gate transistors, and the i5/i7 parts feature Turbo Boost technology, allowing clock speed to be bumped up temporarily in response to workload.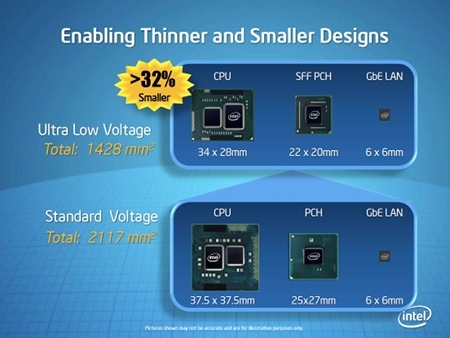 Intel's new Core CULV processors are smaller
Source: Intel

As the above graphic shows, however, the CULV chips are said to offer a 32 percent savings in board real estate, thanks to 34 x 28mm CPUs and a small form factor of the PCH (platform controller hub) that measures 22 x 20mm. Compared to their standard-voltage counterparts, the CULVs reduce power consumption by 20 percent, Intel claims.
Compared to the earlier SU7300, the new processors are said to offer more than twice the graphics performance, a 40 percent improvement in video editing, and a 35 percent improvement in multitasking. Intel adds that manufacturers will be able to make laptops based on the parts up to 30 percent thinner.
The newly announced CULV processors are as follows:
Core i7-660UM
Core i5-540UM
Core i5-430UM
Core i3-330UM
Pentium U5400
Celeron U3400
Intel initially posted specifications for only the i7-660UM, which is said to offer dual cores, four threads, and a 4MB second-level cache. The CPU has a clock speed of 1.33GHz, a Turbo Boost frequency of 2.4GHz, and an 18-Watt TDP, the chipmaker says.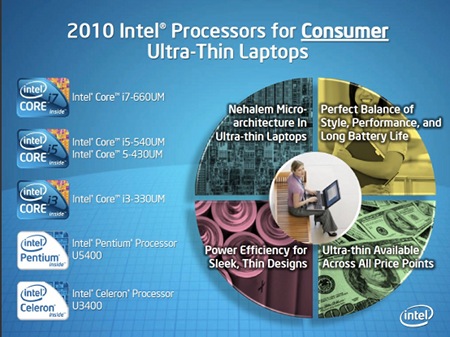 Intel's new CULV processors
Source: Intel
(Click to enlarge)
We didn't see specs for the other CPUs anywhere, but Register Hardware author Tony Smith says the i5-540UM, i5-430UM, and i3-330UM will all have 1.2GHz clock speeds and 3MB of second-level cache. The i5-540UM and i5-430UM will further offer respective Turbo Boost frequencies of 2GHz and 1.73GHz, he claims.
According to Intel, the new CULV processors have already gained "over 40 design wins," with products scheduled for June availability. Forthcoming devices include the Acer Aspire 1830, Asus UL80, Asus UL30, Gateway EC19, Gateway EC39, Lenovo U160, Lenovo U460, and MSI X350, the chipmaker says.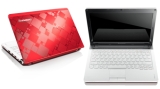 At least one of these devices — the Lenovo IdeaPad U160 (right) — was announced by its manufacturer several weeks ago. The U160 will be available with any of the new CULV processors listed above, up to 4GB of RAM, up to 500GB of disk storage, an HDMI output, and battery life up to seven hours, according to Netbookchoice.com.
Mooly Eden, VP and GM of the PC Client Group at Intel, stated, "Intel's leadership in 32nm high-k metal gate process technology, combined with breakthrough architecture and design has enabled thinner, lighter and faster notebooks than previous models, with terrific battery life. Not only are laptops becoming ultraportable, but with the new processors inside, users will see faster response times and less waiting."
Availability
As noted, Intel said the new CULV processors will be widely available next month. No mention was made of pricing that we could see, but the Register Hardware story claims the Core i5-540UM and Core i7-660UM will be $241 and $278, respectively, when bought in batches of 1000.
The Register Hardware story mentioned above may be found here, while Netbook Choice's item on the Lenovo IdeaPad U160 may be found here.
Intel's website promoting its new CULV processors may be found here, while more information on the Core i7-660UM may be found here.
---
This article was originally published on LinuxDevices.com and has been donated to the open source community by QuinStreet Inc. Please visit LinuxToday.com for up-to-date news and articles about Linux and open source.