May 5, 2010 — by LinuxDevices Staff — from the LinuxDevices Archive — views
[Updated, 8:00AM] — Intel has finally launched its "Moorestown" platform, slashing x86 power consumption but — initially, at least — spurning Microsoft Windows. Supporting Moblin MeeGo, and Android flavors of Linux, the Atom Z6xx SoC (system on chip) will give devices more than 10 days standby, two days of audio playback, and up to five hours of video playback, the company says.
The basic architecture and capabilities of Intel's Z6xx processor are far from a surprise, since the chipmaker has been touting this platform under its "Moorestown" code name since a September 2007 developer forum. The product is a successor to the first-generation Atom, the Z5xx "Silverthorne", which had reduced idle power consumption by ten times compared to Intel's original UMPC (ultra mobile PC) platform.
A "family" of Z6xx SoCs will now cut idle power consumption by a further factor of 50, the company says. The devices, which were not delineated further, are said to range from "up to 1.5GHz for handhelds/smartphones and up to 1.9GHz for tablets."
While all the above was expected, the shocker is that the Z6xx has been launched with support for three flavors of Linux — Android, Moblin 2.1, and MeeGo — but nary a mention of Microsoft Windows. This arguably represents the biggest rift in the "Wintel monopoly" since the IBM PC was first launched in 1981 with Intel's 8088 CPU and Microsoft's MS-DOS/PC-DOS operating system.
Lower power consumption
According to Intel, the Z6xx offers not only 1/50th the idle power consumption of its earlier Z5xx, but also 1/20th the power consumption for audio playback. Power usage during web browsing and video playback has been cut by one half to two thirds, the company adds.
As a result, it's said, "high-end smartphones, tablets, and other mobile handheld products" will be able to offer more than ten days of standby, up to two days of audio playback, and from four to five hours of intensive usage. Intel says the Z6xx's new power-saving techniques build on the C6 state found in the original Z5xx, and include:
new ultra-low-power states (S0i1 and S0i3), which respectively kick in when a user is employing a device but not providing any input, and when a device is idle
aggressive power and clock gating across the SoC's 19 power islands and its system voltage rails
a new high-K 45nm process that supports a multiple transistor design with a range of high-voltage I/Os
burst performance technology, allowing the processor to burst to higher performance to very short intervals of time
"SmartIdle" technology, enabling the CPU core and the rest of the SoC to swtich off while the operating system remains in the "on" state (S0)
The last of these techniques may be the key to why, for now, Intel has chosen to ignore Windows. According to Intel, while the Z6xx supports Android and MeeGo, "the best performance and Internet experience at dramatically low power levels [are provided with] the Moblin 2.1 software platform."
At last night's press conference launching the Z6xx, company officials reportedly declined to address the issue of Windows support. It's unclear, therefore, whether initial Z6xx parts will run Windows as they stand, or if a future revision will be required.
First up: Moblin, MeeGo, and Android
The Intel and Nokia-backed MeeGo is largely based on Moblin, while also merging major components of Nokia's open source Maemo and Nokia's Qt application framework, so one would assume that similar Z6xx optimization will be forthcoming. The addition of Android to the mix, however, would until recently have been almost as surprising as the lack of Windows support. Yet, rumors have recently emerged that Google, Intel, and Sony will unveil an Android- and Intel Atom-based IPTV and IP set-top box platform with the help of Logitech and Dish TV.
This weekend, Bloomberg reported that the companies will unveil this "Dragonpoint" platform at the Google I/O conference in San Francisco on May 19-20. It is unclear, however, whether the partners will use the Z6xx or another Atom processor. The story said only that it would use "a customized version of [Intel's] Atom chip."
Lincroft sports integrated memory controller
According to Intel, the 13.8 x 13.8 x 1.1mm Z6xx SoC ("Lincroft") also includes on-chip "GMA 600" graphics (reportedly based on Imagination Technologies' PowerVR SGX IP) clocked at up to 400MHz. The device provides 1080p video playback and 720p video recording, plus support for displays up to 1366 x 768 pixels, the company says.
Also on Lincroft is an integrated memory controller, said to support 200MHz LPDDR memory in quantities up to 1GB. Alternatively 400MHz DDR2 memory may be employed, in which case 2GB of RAM is supported, adds Intel.

Intel's Z6xx SoC (left) and Platform Controller Hub MP20 (right)
(Click to enlarge)

Lincroft (above left) is supported by a similarly sized I/O controller, formerly code-named "Langwell," providing high-speed USB and USB On-The-Go capabilities. Known as the Platform Controller Hub MP20, this part incorporates power management, cryptographic acceleration (AES, DERS, 3DES, RSA, ECC, SHA-1/2, DRM), and a 24-bit audio DSP, the chipmaker says.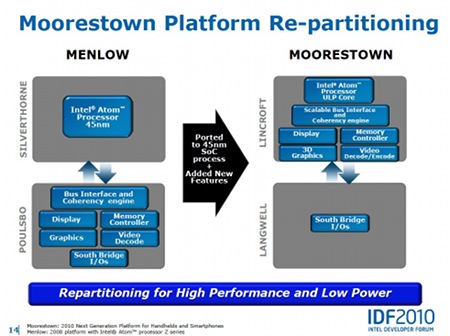 Intel's Moorestown
(Click to enlarge)
According to Intel, the Moorestown platform also includes a MSIC (mixed signal IC) that will be manufactured by Freescale, Maxim, and Renesas. This "Briertown" part integrates power delivery, battery charging, and a range of components such as audio codecs, a touchscreen controller, and GPIOs, the company says.
Intel adds that it has worked with other hardware partners to support Moorestown's "always connected" usage model. For example, ST-Ericcson's M340 provides data and voice connectivity, and Ericsson's C3607w module provides data connectivity. Additionally, Marvell's 8688 provides WiFi, while Infineon's Hammerhead 2 adds GPS, the company says.
Customer wins
Intel did not announce any customers for the Z6xx at yesterday's launch event. In addition, a report rippling around the blogosphere — it apparently originated at Phone Arena, here — claims LG has designed not to produce its GW990, a Moblin-based smartphone that was demonstrated by Intel CEO Paul Otellini (below) at January's Consumer Electronics Show (CES).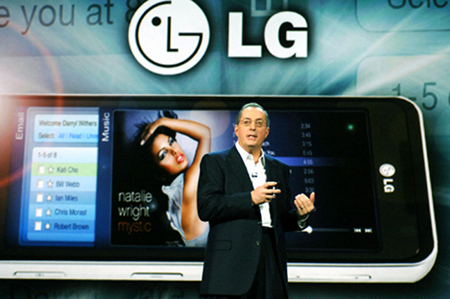 Intel's Paul Otellini with LG's GW990
(Click to enlarge)
Anand Chandrasekher, Intel SVP and GM of the company's Ultra Mobility group, is reported as saying, "We're not going to talk about customers today." He is said to added, "The customers in this [smartphone] domain are much more secretive about what they're doing with the product and about their product timelines, and we'll respect that."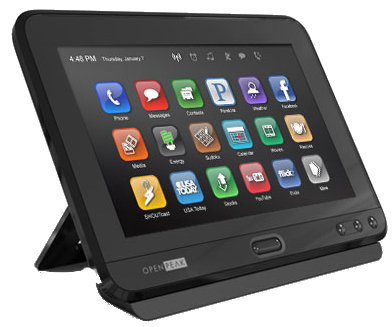 The Open Tablet 7
Intel did show off the previously announced OpenPeak's Open Tablet 7 (above), which features a seven-inch multi-touch display, 802.11n WiFi, Bluetooth 2.1, cellular, HDMI output and dual cameras. The device runs Linux and will reportedly be sold in the U.S. by AT&T later this year.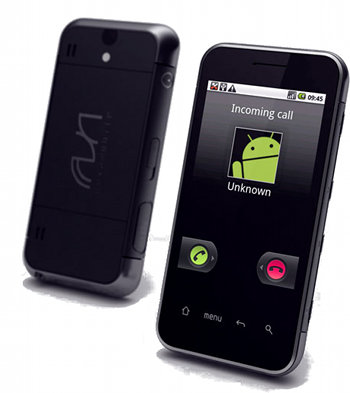 Aava's Moorestown-based phone
(Click to enlarge)
Also shown was a smartphone (above) from Finnish startup Aava Mobile. First displayed at February's Mobile World Congress (MWC), the device runs Moblin Linux on a 1.5GHz Z6xx CPU. According to a Laptop blog entry, the Aava phone has zippy video performance, achieving frame rates ranging from 15 to 100 per second in the Quake video game.
Statements
Intel's Chandrasekher stated, "Intel has delivered its first product that is opening the door for Intel Architecture [IA] in the smartphone market segment. Through Moorestown, Intel is scaling the benefits of IA while significantly reducing the power, cost and footprint to better address handheld market segments. As a result of our efforts, the Intel Atom processor is pushing the boundaries of higher performance at significantly lower power to show what's possible as handheld devices become small, powerful mobile computers."
Belli Kuttanna, chief Intel Atom processor architect, stated, "After we delivered the first-generation Intel Atom processor with 10x thermal power reduction, we challenged ourselves to achieve 50x power reduction at the platform level. We are delighted to have exceeded this goal while increasing performance and are proud of the architects and designers who consistently reinvent the possibilities of Intel Architecture."
Availability
According to Intel, its Z6xx processor, PCH MP20, and dedicated MSIC, are all available now. Pricing was not announced, but devices based on Moorestown are expected to begin appearing in the second half of this year.
Block diagrams and data sheets for the Z6xx have not yet appeared on Intel's website. However, a "fact sheet" in PDF format may be found here.
Engadget offers pictures of the slides from Intel's Moorestown launch, here.
---
This article was originally published on LinuxDevices.com and has been donated to the open source community by QuinStreet Inc. Please visit LinuxToday.com for up-to-date news and articles about Linux and open source.