Jun 24, 2011 — by Eric Brown — from the LinuxDevices Archive — 6 views
Archos announced two Android-based "Home Connect" devices with 3.5-inch touchscreens and front-facing webcams. The Archos 35 Home Connect is a $149 portable Internet radio that runs Android 2.2 on a 1GHz TI OMAP3630 processor, and the Archos 35 Smart Home Phone is an Android-based DECT landline phone.

The only other Android-based Internet radio we've heard of is the Bonux iMusic Player (pictured). This is probably because just about any Android device with a speaker can be an Internet radio, with numerous apps and services supporting streaming music. Yet even tablets typically lack the high-quality speakers that Archos and Bonux claim to have included in their devices.
The new Archos 35 Home Connect offers the more powerful processor with its 1GHz TI OMAP3630 (which also powers the Motorola Droid X smartphone, among other devices). Its screen, however, is a somewhat disappointing 3.5 inches, compared to 4.3 inches for the ARM11-based Bonux device, or 5.7 inches for Pure's Linux-based, touch-enabled Sensia Internet radio.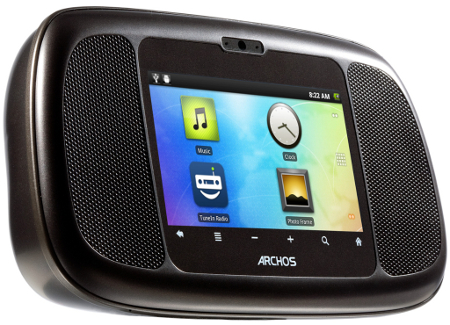 Archos 35 Home Connect


(Click to enlarge)
Here, Archos appears to have made a tradeoff not only to keep the price under $150, but to make the device portable. A non-removable battery is included that provides "extra-long" life.
The device ships with 4GB of internal flash memory and an SD slot that can hold cards with up to 16GB capacity, says Archos. No resolution is listed for the 3.5-inch touchscreen, nor does the company mention whether it's a capacitive screen. The device is said to offer 802.11n Wi-Fi, as well as a micro-USB port.
The Archos 35 Home Connect is equipped with a 3.5mm audio jack, as well as two "high-definition speakers specifically designed for improved bass," says Archos. No additional speaker or audio codec details were mentioned, however.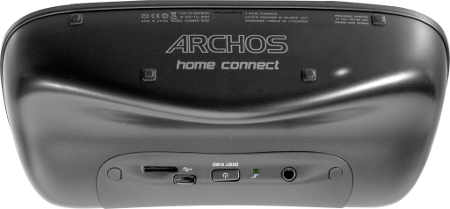 Archos 35 Home Connect, rear view


(Click to enlarge)
There's also a front-facing VGA webcam with microphone, said to be suitable for video calling, baby monitoring, and room surveillance. Weight and dimensions are not currently listed for the device, which is said to "fit perfectly in your hand."
Functionally speaking, it would seem the radio offers everything a midrange smartphone would except the phone. There's support for MPEG4 and AVI video, but no claims for 720p resolution are offered, although the OMAP3630 would seem to be capable of it.
It's a bit unclear just how much Froyo you get out of the Android 2.2-based stack, but no Google apps or services are touted for the device. The company says the radio provides access to thousands of applications on its Archos AppsLib store. Apps that appear to be pre-installed include a web browser, email, weather, news, games, traffic, and a video chat app.
The device can stream over 50,000 web radio stations or music using the pre-loaded TuneIn application, says Archos. Support is listed for MP3, FLAC, OGG, and WAV formats.
Also available is an alarm clock application for that Chumby-esque feel. The app brings users a morning mix of weather, traffic, and news, and features multiple alarms, says Archos. There's even a remote control app that you can load on an Android tablet or smartphone to control the Home Connect from anywhere within Wi-Fi range, says the company.
Archos 35 Smart Home Phone
Archos posted fewer details on its new DECT Internet phone. Like the Android-based, Binatone-built Motorola HS1001 design, it combines Digital Enhanced Cordless Telecommunications (DECT) landline service with Android web browsing and other features.

Archos 35 Smart Home Phone, front and back, in wireless receiver stand
The Archos 35 Smart Home Phone is said to be compatible with any ADSL box or phone line and uses standard DECT protocols. Wi-Fi is presumably part of the mix, but there's no indication that cellular service is available.
Like the HS1001, the Archos 35 Smart Home Phone looks like a standard roaming landline phone except with a built-in 3.5-inch touchscreen. More typical in the emerging landline Android phone category are larger desktop devices like the Nakayo IP phone, which features both a bare-bones handset and a removable seven-inch Android tablet. There are also VoIP landline desktop phones that run Android, such as the eight-inch screen Cloud Telecomputers "Glass" reference platform.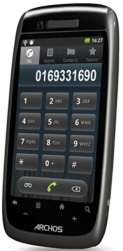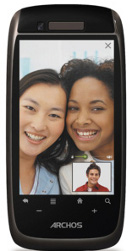 Archos 35 Smart Home Phone with phone dialing (left) and video-call interfaces
The only other hardware details mentioned are a 720p-capable front-facing webcam. There's also a charging dock that is separate from its wireless receiver "so there's no need for a huge dock right next to the phone line," according to Archos.
No Android release was specified, but the software is said to feature contact sharing with Android smart phones, as well as MP3 ringtones, caller photo display, and access to thousands of Android apps, presumably via AppsLib.
The Archos 35 Smart Home Phone also features web surfing, emails, and video calling. Games, including Angry Birds, are also said to be available.
Archos' Android Internet radio and DECT phone were announced alongside two impressive-looking eight- and 10.1-inch G9 tablets we've already covered. The tablets run Android 3.1 on the Texas Instruments (TI) dual-core 1.5GHz OMAP4 processor.
Availability
The Archos 35 Home Connect is expected to be available in September at the suggested price of $149, and the Archos 35 Smart Home Phone is should be ready at the same time for $159. More information on both devices may be found at this Archos Home Connect page.
---
This article was originally published on LinuxDevices.com and has been donated to the open source community by QuinStreet Inc. Please visit LinuxToday.com for up-to-date news and articles about Linux and open source.