Mar 4, 2010 — by Eric Brown — from the LinuxDevices Archive — 5 views
At CeBIT this week, Motorola demonstrated an Android-based "HS1001" cordless IP phone manufactured by Binatone and built around the DSP Group's DECT-compatible XpandR chipset. Meanwhile, DSP Group showed its own Android-based IP phone reference design based on the XpandR II chipset.
For much of the last decade, Linux-based landline-based IP phones made regular appearances on LinuxDevices, but with the rise of mobile phones, such announcements have become fewer and farther between. The few IP phones we've covered recently are typically multimedia tablet/kitchen-computer designs, such as the already defunct, Linux-based Verizon Hub, built by OpenPeak, OpenPeak's Linux-based OpenFrame IP phone, or the Android-based Glass reference platform from Cloud Telecomputers. Typically, in these designs, IP telephony is just one feature among many other multimedia and Web browsing capabilities.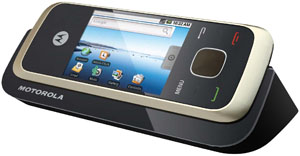 Motorola HS1001
Now several vendors are bringing Android to smaller-screen cordless phones that adhere to the Digital Enhanced Cordless Telecommunications
(DECT)
standard for portable digital phones. According to several sources, — including DECT chipset manufacturer DSP Group, which supplied the photo above — Motorola is preparing an Android- and DECT-based HS1001 phone manufactured for it Binatone.
According to DSP Group, Hong Kong-based Binatone chose the DSP Group's XpandR chipset for the HS1001 "multimedia cordless home phone," which will be sold by Motorola. The company claims that its XpandR chipset is the world's only system-on-a-chip (SoC) to support both WiFi and DECT 6.0, both of which are available on the HS1001.
The HS1001 also provides Android-based email, web browsing, and a touchscreen interface with a virtual keyboard, says DSP Group. The phone will be available in the third quarter in the U.S., the company adds.
No more information was apparent from Motorola. Binatone, or DSP Group, but Engadget and others have posted stories from the floors of the CeBIT show in Hannover, Germany this week reporting on Motorola's demo of the phone. According to Engadget, the HS1001 will be Motorola branded and sell for around $150.
It's said the phone will feature a 2.8-inch touchscreen, and is available with a speaker-equipped charging station that offers music playback. Based on Android 1.6, the phone will not have access to the Android Marketplace for app downloads, and Skype is not available, says the story.
DSP Group Android Home Phone
While furnishing an XpandR I chipset to Binatone and Motorola for the HS1001, DSP Group uses its next generation XpandR II chipset for its own customizable Android Home Phone reference design. The XpandR II combines a 240MHz ARM9 core, a 16-bit TeakLite DSP, and a novel baseband processor that combines WiFi and DECT 6.0 support with CAT-IQ extensions. (Cat-IQ is a broadband-oriented follow-on standard developed by the DECT Forum to enable cordless DECT phones to be used for VoIP and other Internet-based services, including streaming audio and video.)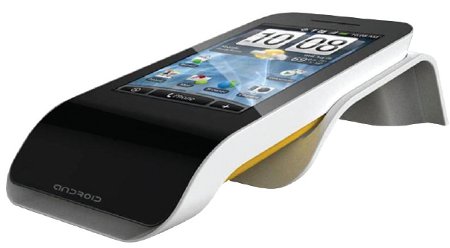 DSP Group Android Home Phone reference design


(Click to enlarge)
XpandR II is available with a Linux-based software development kit that incorporates Qt Software's Qtopia framework (see diagram below). The company also supplies a related hardware development kit.
DSP Group supplies the SDK with the Home Phone design, along with Android extensions and sample applications. The latter include apps for turning the reference design into a universal remote, a home automation monitor, and a general-purpose DLNA-ready storage management device. The design is also said to ship with a VoIP software suite.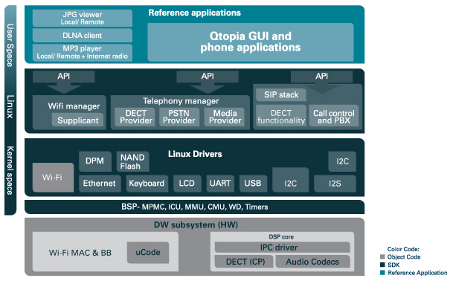 XpandR II SDK architecture
(Click to enlarge)
The DSP Group Home Phone design features a 3.5-inch touchscreen and offers 802.11b/g WiFi, as well as a USB port, keypad, and accelerometers, says the company. Its 1350 mAh Li-Ion battery is claimed to offer 10 hours of DECT talk time and five hours of streaming WiFi content. The phone is also claimed to offer video playback, although quality is not likely to be great on an ARM9 clocked at 240MHz, even if the DSP is contributing.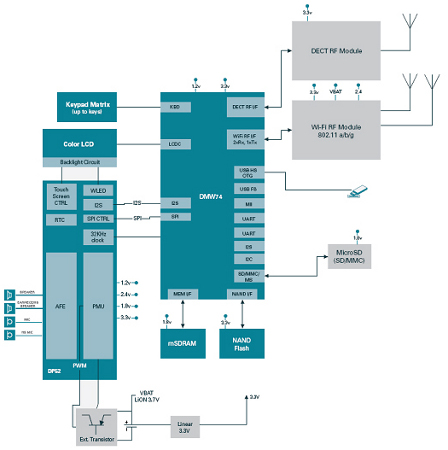 Android Home Phone block diagram
(Click to enlarge)
Specifications listed for the DSP Group Home Phone reference design include:
Processor — DSP Group XpandR II chipset with ARM926EJ-S core @ 240MHz; 16-bit TeakLite DSP core @ up to 160MHz; WiFi/DECT baseband processor
Memory — Undisclosed mSDRAM and NAND flash; micro SD/MMC/MS slot
Display — 3.5-inch TFT LCD display with portrait or landscape orientation
DECT/Cat-IQ/VoIP features:

DECT 6.0
1.7GHz, 1.8GHz, and 1.9GHz bands
GAP compliance; full CAT-iq 1.0/2.0 support
Caller ID, call waiting CID
VoIP narrowband vocoders (G.711, G.723.1, G.726 G.729, G.729a)
VoIP wide-band vocoders (G.722)
SIP call signaling

WiFi — 802.11b/g with WEP, WPA, WPA2, TKIP, AES, and WPS
USB — USB 2.0 OTG
Other features — accelerometers; keypad
Software (highlights):

Android web browser and widgets
Calendar, contacts, call log, favorites, etc.
Adobe Flash Lite
H.263 and 3GP video playback
Remote web-based management
YouTube and Picasa
Universal remote TV controller app
DLNA client and storage manager app
Home automation and monitoring app

Power — 1350 mAh Li-Ion battery with 10 hours of DECT talk time, 5 hours of streaming WiFi content, up to 100 hours standby
Operating system — Linux with Google Android framework
Stated Oz Zimerman, VP of Marketing at DSP Group, "We are proud to be the first company to bring Android capabilities into the home phone. Our partnership with Binatone Motorola enables us to bring the XpandR chip set to the center stage of home telephony offering a fully integrated and connected multimedia device that brings a smart phone user experience to the home phone."
Availability
The Motorola HS1001 phone should be available in the third quarter, says the DSP Group. The Engadget story on the Motorola/Binatone HS1001 phone should be here.
DSP Group did not mention pricing or availability for the Android Home Phone design. More information on the design may be found here, and more on the XpandR II chipset may be found here.
---
This article was originally published on LinuxDevices.com and has been donated to the open source community by QuinStreet Inc. Please visit LinuxToday.com for up-to-date news and articles about Linux and open source.