Jan 18, 2011 — by Eric Brown — from the LinuxDevices Archive — views
[Updated: 2PM] — HP is prepping a netbook using its Linux-based WebOS operating system, says an industry report. On Feb. 9, HP is expected to announce several WebOS devices, including nine-inch "Topaz" and seven-inch "Opal" tablets, says Engadget.
Before we get to the WebOS netbook, here's a quick update on the WebOS tablet — or rather tablets, according to a story in Engadget. The publication has posted a render image dropped by a tipster, claimed to show a nine-inch WebOS tablet from HP-owned Palm, code-named "Topaz." Palm/HP will also show off a seven-inch "Opal" version, says the story.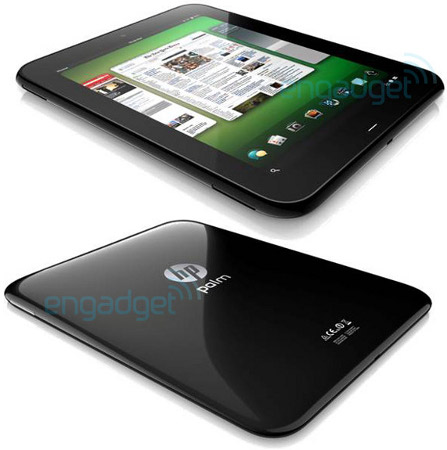 Palm Topaz


Source: Engadget
The tipster related that the units will arrive in Palm's headquarters in June in anticipation of a launch later this year, with the Topaz possibly arriving before the Opal, says the story. The tablets are said to offer 1.2GHz processors.
Based on a marketing slide it received for the Opal, Engadget says the seven-inch, e-reader focused tablet will arrive in September 2011 for the AT&T 3G, Verizon LTE, and Wi-Fi only versions, followed by an AT&T LTE model in July 2012.
Evaluating the render image, the publication notes a no-button design, a front-facing camera, a micro-USB port, and possibly a three-speaker arrangement for stereo audio in both landscape and portrait modes. More speculative is the possibility of a Touchstone charging station, says the story.
A WebOS netbook lurks in training materials
According to a report from Precentral.net, HP is planning on launching a WebOS netbook. HP recently published training materials for mobile carriers, with one section emphasizing the ability of WebOS to run on multiple devices, says the story (see image below).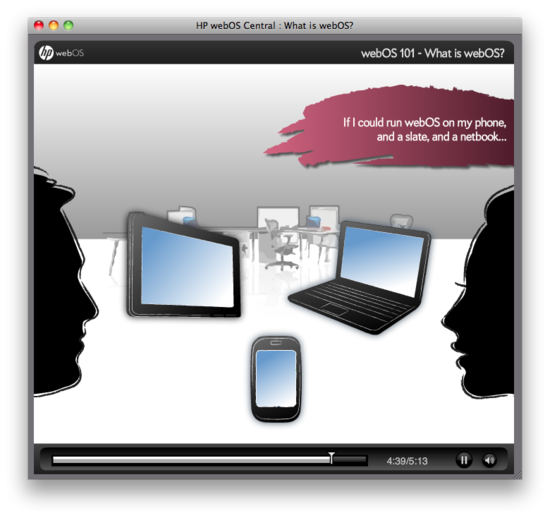 HP's WebOS training materials
Source: Precentral.net
HP specifically lists phones, slates, and netbooks, suggesting that they can all "talk to each other and shared information," says the story. The section ends, "Today, let's start with the phones. Tomorrow will come soon enough."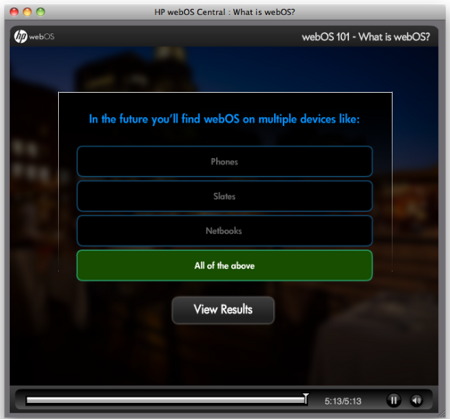 WebOS training quiz suggesting a future WebOS netbook


Source: Precentral.net
HP also posts a quiz, as well as a correct "all of the above" answer that would appear to confirm HP's WebOS netbook plans (see image above). Writes
Precentral.net
's Dieter Bohn, "This is the clearest indication yet that HP intends to release webOS on a netbook-style device, keyboard and all."
In May of last year, after having recently announced plans to acquire Palm for $1.2 billion, HP said it would use Palm's Linux-based WebOS for smartphones, tablets, and printers. However, the company singled out netbooks as one platform it did not plan to support with the Linux-based operating system. This surprised nobody considering HP's large business selling Intel-based, primarily Windows-driven, netbooks.
It would appear, however, that HP, which has offered a number of Linux-based "Mini" netbooks, has changed its mind.

Earlier this month, HP sent out invitations to a WebOS-related event on Feb. 9 in San Francisco. As reported in our sister publication eWEEK, a long-expected WebOS tablet is likely to be unveiled along with a successor to the Palm Pre 2 (pictured), which was announced in October along with a new WebOS 2.0 release. If the aforementioned Topaz/Opal story is correct, you can make that two tablets.
The tablet angle was said to be based on some strong hints dropped by HP Executive Vice President Todd Bradley when being interviewed at CES earlier this month by CNBC's Maria Bartiromo.
As eWEEK reports, HP's Bradley told CNBC's Bartiromo that HP had counted some 96 tablets on display at CES. This prompted Bartiromo to suggest that a lot of vendors were "playing catch-up to the Apple iPad" and then ask how HP plans to compete.
"You and I will talk about that on the 9th," answered Bradley.
Back in August, HP confirmed that a WebOS tablet was coming in early 2011, but had no further details. The tablet was rumored to be codenamed "Hurricane."
According to a second eWEEK story on the HP netbook rumor, Michelle Maisto pointed out that HP's invitation to the Feb. 9 event said, "Think big. Think small. Think beyond." This prompted speculation that HP might show off tablets of various sizes, or additionally a number of form factors, including possibly an IPTV device. Or maybe even a netbook?
Should HP aim cheap with tablet?
In a Jan. 15 analysis piece on ZDNet, Sean Portnoy enumerates the obstacles facing a WebOS tablet. In addition to competing with the Apple iPad and dozens of new Android tablets in the consumer realm, HP is also blunted in its traditional enterprise market by a compelling new RIM PlayBook tablet, as well as lesser competition from Windows 7 models.
Portnoy concludes that despite greater competition, the consumer market makes the most sense. "One area where HP could distinguish itself with a WebOS tablet is one the company probably doesn't want to go to: price."
He suggests that a $199 tablet that ships sooner rather than later, and is launched with a wide variety of tablet-optimized apps has a fighting chance. If The Engadget story on the Topaz and Opal tablets is correct, however, the launch won't happen until September.
If HP fails, it's not the end of the world, he adds. "Luckily for HP, even as it needs to stand behind its Palm acquisition for the time being, it doesn't have to tie its whole tablet strategy to WebOS."
He goes on to add that HP "can pull the plug, or de-emphasize the platform, if sales aren't soaring, and offer Android or Windows-based tablets if those have better commercial potential."
Of course, HP also faces challenges with its Palm Pre line of smartphones, which debuted to great acclaim, but steadily lost market share to Android. Still, the company has an established product and track record with the Pre, which suffered more from the limited availability of apps than from any problems with the phone itself.
---
This article was originally published on LinuxDevices.com and has been donated to the open source community by QuinStreet Inc. Please visit LinuxToday.com for up-to-date news and articles about Linux and open source.