Jun 2, 2010 — by Eric Brown — from the LinuxDevices Archive — 5 views
The Linux-based MeeGo operating system gained traction at Computex, with prototype tablets shown by Wistron, Compal, Quanta, CZC, and others, and Acer announcing it will offer MeeGo on both netbooks and tablets. Meanwhile, Phoronix benchmarked MeeGo for Netbooks and found it to be faster than Ubuntu Netbook Remix, Fedora, and Moblin.
The Intel- and Nokia-backed MeeGo project released version 1.0 of the open source Linux MeeGo last week. Optimized for Intel Atom-based netbooks, MeeGo v1.0 for Netbooks combines the Intel-backed Moblin and Nokia's Maemo distribution, as well as Nokia's Qt application framework.
Versions for handhelds and tablets running on both Intel Atom and ARM platforms won't be out until later this year, but that hasn't stopped Atom-based tablet prototypes from popping up at the tablet-crazed Computex show in Taiwan this week.
At one Computex event, Ray Chen, president and CEO of Compal, announced his company would offer tablets running MeeGo, as well as Android and Windows, according to an IDG News report. The first tablets are expected to arrive by the third or fourth quarter, Chen was quoted as saying.
Compal was said to have shown a seven-inch Android tablet running on an Nvidia Tegra 2 processor, as well as a 10-inch tablet with an unstated OS.
MeeGo, however, was definitely confirmed for several tablets that were shown at an Intel event showcasing MeeGo on the Z6xx. These include a Wistron W1 tablet, according to a UMPC Portal report. The tablet was unpowered, and sitting behind a glass case, but that didn't stop Carrypad's Steve "Chippy" Paine from providing a video assessment, offered on UMPC Portal.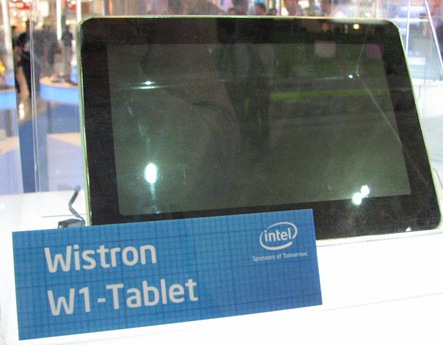 Wistron W1 tablet prototype
(Source: UMPC Portal)
In the video, Paine estimates that the tablet is 15mm thick and appears to offer a screen of between nine to 12 inches. The Wistron W1 (pictured above) runs MeeGo on a "Moorestown" Intel Atom Z6xx system-on-chip, says the story.
Engadget, meanwhile, went gaga over a MeeGo-based tablet from Quanta, the manufacturer of OLPC's education-oriented XO netbooks. The 10-inch Quanta Redvale prototype (pictured below in a Quanta supplied image) runs MeeGo on a 1.5GHz Atom Z6xx SoC, says writer Joanna Stern. The Quanta Redvale is "incredibly thin and light," she adds.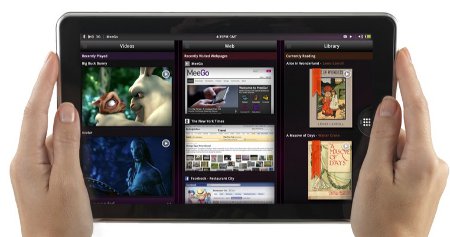 Quanta's Redvale tablet prototype
(Click to enlarge)
Multitouch response was good on the resistive touchscreen, although viewing angles were poor, writes Stern. A 720p video was said to have run "smoothly" on the Redvale.
Stern was especially interested in the prototype "MeeGo for Tablets" environment, which is said to be "drastically different" than the netbook interface.
The tablet interface features two main areas: a simple and a panel mode, she writes. The former is said to be a basic grid of applications, while the panel mode "is a series of vertical panes that can be customized with pictures, social networking feeds, and web bookmarks." A video is provided showing MeeGo running on the Redvale, which is not expected to ship until 2011, says the story (see link farther below).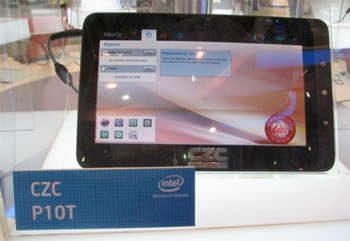 CZC P10T tablet prototype
(Source: BestTabletReviews)
Finally, CZC showed a P10T "MeeGo on Moorestown" tablet, according to
BestTabletReviews.
Pictured above, the CZC P10T appears to run the MeeGo-based Linpus Lite Slate Edition, according to the story.
Acer commits to MeeGo netbooks, tablets
According to a DigiTimes report, Acer president Gianfranco Lanci said this week that Acer will launch netbooks and tablet PCs running MeeGo on Intel Atom processors. Lanci spoke at Intel's e21FORUM 2010 meeting at Computex, says the story.
Acer's rival Asus — which recently announced several Windows 7-based tablets as well as an Eee Tablet e-reader that runs a proprietary Linux distribution — will ship MeeGo-based netbooks "at a later date," says DigiTimes. Both companies were part of a support announcement for MeeGo in April, but did not offer any more details at the time.
MeeGo beats all comers in Phoronix benchmarks
Early reports, including our own basic tests, have shown MeeGo v1.0 to offer a particularly fast user interface on netbooks. Now Phoronix has weighed in with its more complete benchmarks and found that MeeGo edged out Ubuntu Netbook Remix (UNR) 10.04, Fedora 13, and Moblin 2.1 as the overall performance winner.
Phoronix did not provide an overall score, but MeeGo was determined to be the overall winner, having won the majority of the performance tests, most of which showed fairly close performance between the contenders.
MeeGo was particularly fast at audio and video encoding, but was last at OpenGL performance, which would affect 3G graphics and gameplay, according to the review. MeeGo was also the clear boot-time winner, with 8.151 seconds, compared to UNR with 17.31 seconds, Moblin with 18.45 seconds, and Fedora 13 with 23 seconds.
In the very close battery performance tests, meanwhile, Fedora (12.4 Watts) and UNR (12.6 Watts) edged out MeeGo at 12.8 Watts. Moblin lagged at 15.0 Watts, says the story.
Further information
The IDG News report on the Compal press conference may be found here.
The UMPC Portal story on the Wistron W1 should be here.
The Engadget story on the Quanta Redvale should be here.
The BestTabletReviews story on the CZC P10T may be found here.
The DigiTimes story on the Acer press conference should be here.
The Phoronix story on its MeeGo benchmarks may be found here.
---
This article was originally published on LinuxDevices.com and has been donated to the open source community by QuinStreet Inc. Please visit LinuxToday.com for up-to-date news and articles about Linux and open source.