Oct 11, 2010 — by Eric Brown — from the LinuxDevices Archive — views
An Intel exec said that MeeGo-based smartphones and tablets won't hit the market until the first half of 2011, according to an eWEEK report. Meanwhile, HP's newly acquired Linux-based mobile OS — WebOS — will arrive in new smartphones in early 2011, says another eWEEK report.
Android continues to roll up gains in the smartphone market against Apple's iOS, RIM's BlackBerry, and other platforms. ComScore estimated last week that in the month of August, Android had ascended 2.6 percentage points — reaching a 19.6 percent share of smartphones used in the U.S.
But what of the other Linux-based mobile contenders? The LiMo (Linux Mobile) Foundation has continued to fade from the picture, with no new announcements from the consortium since a July partnership announcement with the GNOME Foundation. Aside from various niche projects — or Samsung's Linux-linked Bada — any major new Linux phone introductions aside from Android are likely to come from HP and its Palm WebOS, or else phones running the Intel- and Nokia-backed MeeGo — a combination of the Moblin and Maemo stacks.
New smartphones are indeed on the way for both the MeeGo and WebOS platforms, but not until next year, according to two separate reports from our sister publication, eWEEK.
Intel exec: Wait until 2011
Despite comments from Nokia officials throughout the year that MeeGo-based smartphones would be on the market this year, an Intel official is now saying those devices won't debut until the first half of 2011, writes Jeffrey Burt in eWEEK.
Doug Fisher, vice president of Intel's Software and Solutions Group and general manager of its Systems Software Division, was said to have told Forbes that while both Intel and Nokia are pleased with the progress of MeeGo's development, MeeGo phones and tablets won't arrive until 1H 2011.
The one exception is the WeTab, an 11.6-inch I

ntel Atom N6xx-based tablet (pictured). Neofonie-owned WeTab GmbH says the tablet, which will also eventually run Android as an optional install, is now available for 449 Euros ($600) in Germany.
A number of MeeGo-based netbooks are expected to ship this fall, as well as potentially some web-connected televisions and set-top boxes, such as the Amino Freedom. Meanwhile, there was no word on when the first car computers based on the new automotive infotainment MeeGo user experience would arrive, but it is not likely to be until next year.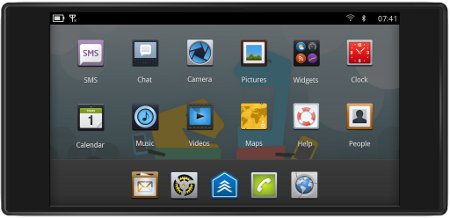 MeeGo for Handsets
The MeeGo project, which is run by the Linux Foundation, announced an alpha version of the
MeeGo handset
"user experience" in July, a little over a month after the
netbook version
was released in a more polished form. MeeGo 1.1 is expected to be released this fall, offering touchscreen support among other enhancements. This will be released along with an updated handset environment, as well as a similar tablet user experience.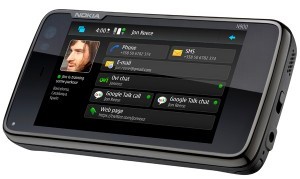 Nokia N900
One of the first MeeGo phones is expected to be a MeeGo version of Nokia's Maemo Linux-based
N900 smartphone
. The MeeGo version of this ARM Cortex-A8-based phone now appears to be delayed until next year, however. According to
eWEEK,
Nokia's MeeGo's efforts took a hit when
Ari Jaaksi
, Nokia's vice president of devices and head of MeeGo development, left the company.
While still the world's top cellphone maker, Nokia has seen its dominance — and the dominance of its Symbian operating system — slip in the face of competition from iPhone and Android phones. Last week, the company hired Stephen Elop, former president of Microsoft's Business Division, as its new CEO.
In the second quarter, Nokia's share of the smartphone market was 37.5 percent, a drop from 45 percent during the same period in 2009, says eWEEK.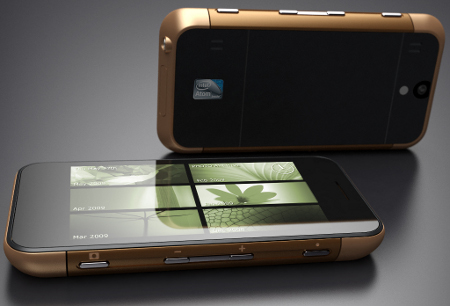 Aava phone reference design
While Intel is not likely to get into the smartphone business directly, it is smoothing the way for others to build Intel Atom-based phones. Aava Mobile of Finland is offering a MeeGo-based reference design for an
Aava phone
that runs on Intel's energy-efficient N6xx ("Moorestown") version of the Atom processor.
Last month, Intel declared the AppUp mobile application store for MeeGo applications to no longer be a beta. The 800-app store will expand its library with an upcoming tool that will enable developers to move iPhone applications to devices powered by Intel chips.
Last week, Intel CEO Paul Otellini said his company should have entered the mobile space sooner, says the story. "I wish we had started earlier," Otellini was said to have told the Council on Foreign Relations on Oct. 5. "I wish I had been smart enough to start [working on smartphone processors] seven years ago because we'd be in a good position today, but I wasn't."
Intel sold its XScale mobile chip business to Marvell Technology Group in 2006. In August Intel bought Infineon Technologies' mobile chip business.
Having MeeGo-based mobile devices delayed until next year will make a tough situation that much more difficult for Intel and Nokia, writes Burt. "Already there is tremendous momentum behind Apple's iPhone and Google's Android OS, and Microsoft is launching its Windows Phone 7 operating system today," he adds.
HP plans early-2011 release of new WebOS phones
Last year, Palm shipped the first two WebOS-base

d phones — the Palm Pre and scaled-down Palm Pixi — and followed up with the slightly upgraded Palm Pre Plus (pictured) and Palm Pixi Plus versions of the phones earlier this year.
Yet Palm lacked the funds to push out new WebOS phones, and was soon acquired by HP, which heavily discounted the existing phones.
HP's main interest in WebOS appears to be for use in tablets, the first of which is due in early 2011, as well as printers and other devices. The computer giant did say, however, that it would introduce new WebOS phones, a promise that it will keep earlier next year, says an eWEEK story by Michelle Maisto.
Eric Cador, senior vice president in HP's PSG (Personal System Group), was reported by Reuters to have told an industry event in Barcelona on Oct. 6 that new WebOS phones are coming early next year. No other details on the new heirs to the Palm Pre were released, however, says the story.
Further information

The eWEEK story on MeeGo phone availability may be found here, and the original Forbes report should be here.
The eWEEK story on HP's WebOS phone plans may be found here.
---
This article was originally published on LinuxDevices.com and has been donated to the open source community by QuinStreet Inc. Please visit LinuxToday.com for up-to-date news and articles about Linux and open source.