Oct 14, 2011 — by Eric Brown — from the LinuxDevices Archive — views
Velocity Cruz has begun shipping two Android 3.2 tablets, dropping the price of the eight-inch, 800 x 600 Cruz T408 by $40 to $200 and selling the 10.1-inch, 1024 x 600 Cruz T410 for $300. Both the T408 and T410 are equipped with a 1GHz, Cortex-A8 processor, 512MB of RAM, 4GB of internal storage, capacitive touchscreens, and front-facing cameras, says the company.
When the Velocity Micro Cruz T408 and Cruz T410 were announced in September, the T408 was said to cost $240. Now that it has begun shipping this week, however, the price has dropped to $200.
Such price drops have become fairly commonplace since Amazon announced its Kindle Fire in late September. On the high end, for example, HTC has dropped the price of its seven-inch HTC Flyer to $300, and a number of recent mid-range Android tablets in the seven- and eight-inch categories have dipped into the low $200's (including the $200 X10 AirPad and the $229 Pandigital SuperNova).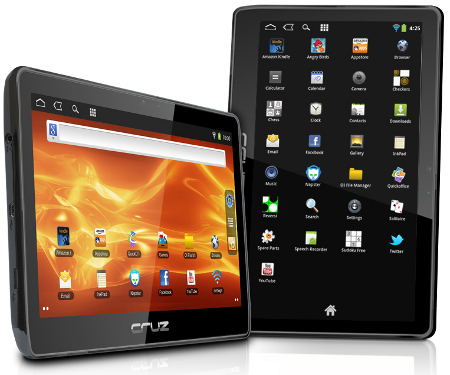 Cruz T410
(Click to enlarge)
The T408 does offers at least one feature not provided by these last two contenders: Android 3.2, the first Honeycomb build optimized for smaller screens. Meanwhile, the 10.1-inch, Android 3.2 T410 remains at $300.
The tablets follow the Android-based, seven-inch Cruz Reader and Cruz Tablet, both of which debuted over a year ago at $200 and $300, respectively. Those original Cruz tablets, by the way, have been replaced with other lower-end Android models including the seven-inch Cruz T301, Cruz T100 Series, and Cruz Reader R100 Series, with the latter the only model still offering a resistive screen. (More details on these models may be found from the links to the T408 and T410 websites at the end of the story.)
Compared to all those tablets, the new Cruz devices move up to an unnamed, 1GHz Cortex-A8 processor. That's still underpowered, however, compared to the dual-core Cortex-A9 CPUs found on just about all 10.1-inch Android tablets and a growing number of seven-inch models.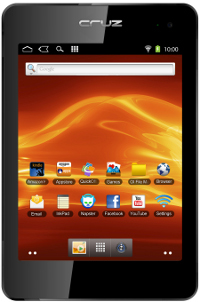 As noted, the Cruz T408 (pictured) and Cruz T410 tablets are quite similar, offering 512MB of RAM, 4GB of internal storage, and a microSD slot. To make this a bit more competitive, an 8GB microSD card costs $30 extra from Velocity Micro's online site.
Both tablets offer an accelerometer, and of course, 802.11b/g/n Wi-Fi, says Velocity Micro. Only one camera is supplied, and as it's said to be front-facing, this is mostly likely a 1.3-megapixel model.
The tablets differ mostly in their screens, both of which use capacitive technology. The T408 offers middling 800 x 600 resolution and a 4:3 aspect ratio. Meanwhile, the 10.1-inch T410 moves up to 1024 x 600 resolution — still on the low side compared to other similarly sized Honeycomb tablets — and a 16:9 aspect ratio.
That's it on the tech specs, so it would appear that if you're looking for confirmed features such as Bluetooth, 3G, GPS, or HDMI ports, you should keep on moving. Velocity Micro doesn't even cite a 3.5mm audio port, and there are no details on the battery, weight, or dimensions, although judging from the photos, the latter appears to be on the thick side.
For software, the Android 3.2 build is accompanied with preinstalled Adobe Flash Player 10.3, Kindle for Android, Angry Birds Rio, and QuickOffice, according to the company. The Amazon Appstore for Android is supplied in place of Android Market.
All told, with its eight-inch screen, the Cruz T408 would seem to hold its own fairly well at the $200 price point, but it still trails the Cortex-A9-based Kindle Fire in features and software. Although the T410 is one of the most affordable 10.1-inch Honeycomb tablets on the market, its relatively modest processor and lack of features may still make it a bit overpriced in the current market.
Such are the cruel marketing realities of the Kindle Fire era, intensified by the $99, soon to be Android-ready HP TouchPad.
In June, Velocity Micro joined a growing list of Android device vendors who have paid the "Microsoft tax" for using Android. Also signing a Microsoft patent agreement this week was Taiwanese OEM Quanta Computer, which manufactures a variety of Android-based devices, including the Kindle Fire.
Availability
The $200 Cruz T408 and $300 T410 are bothshipping now, says Velocity Micro. More information may be found on its T408 and T410 product pages.
A review of the Cruz T408, which concludes "simple bargain-hunting is becoming a weaker and weaker excuse to settle for something this forgettable," may be found on the Engadget website.
---
This article was originally published on LinuxDevices.com and has been donated to the open source community by QuinStreet Inc. Please visit LinuxToday.com for up-to-date news and articles about Linux and open source.