Jan 6, 2010 — by Eric Brown — from the LinuxDevices Archive — views
Lenovo announced two "smartbooks" that run Linux on an ARM-based Qualcomm Snapdragon SoC. The Skylight is a 10.1-inch netbook, while the IdeaPad U1 is hybrid mini-notebook that runs Windows 7 on an Intel Core 2 Duo and — when its tablet/display is detached — Linux on a Qualcomm Snapdragon.
The Lenovo Skylight was first previewed by Qualcomm at an analyst event in November, at which time few details were offered. Lenovo has yet to offer a spec list for the Skylight, but has now supplied additional details and photos. The computer manufacturer also said that when the netbook ships in April, it will sell for $500 at full price, or via two-year 3G service plans from AT&T (presumably with discounts).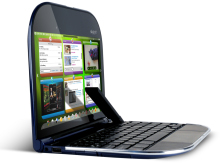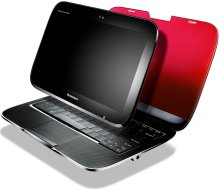 Lenovo Skylight (left) and IdeaPad U1 (right)


(Click on either to enlarge)
Lenovo had even fewer details on its IdeaPad U1 (above right), which is not due until June 1. However
Laptop Magazine
offered some additional details from a hands-on once-over at CES (see farther below). According to Lenovo, the hybrid notebook will sell for $1,000.
Both devices run Lenovo's new Skylight Linux distribution (below) on a 1GHz Qualcomm Snapdragon chipset. In the case of the IdeaPad U1, though, Linux is only invoked when the display/tablet is removed from the Intel/Windows based keyboard docking station.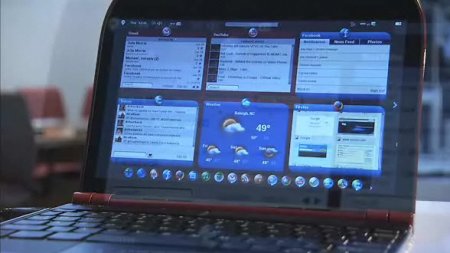 Lenovo Skylight with Skylight Linux UI
(Click to enlarge)

The Skylight Linux distribution is said to supply more than 18 preloaded web gadgets for sites including Google Gmail, Facebook, YouTube, Amazon MP3, and Roxio CinemaNow (see image below). The IdeaPad UI will offer the same interface when working in tablet mode, but switch to Windows 7 when it is attached to its keyboard, according to Lenovo.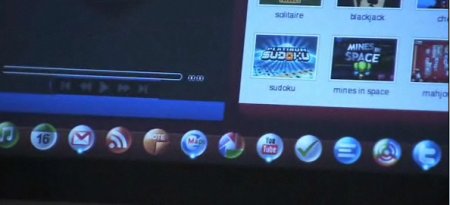 Close-up of Skylight's "web gadgets"
(Click to enlarge)

Skylight
Lenovo calls the Skylight a smartbook, but with its 10.1 inch display, consumers are likely to see it as another netbook. By comparison, Freescale's smartbook design has a 7-inch display, and Qualcomm originally showed off smartbook prototypes that ranged between 5- to 10-inch displays.
Shoppers may notice, however, that the Skylight is lighter than the typical Intel Atom-based netbook of the same size. The netbook, which is said to offer a "full keyboard," weighs less than two pounds, compared to about 2.7 to 3 pounds for the typical Atom-powered netbook. If Lenovo's estimates are true, consumers will also notice the longer battery life, said to be over 10 hours under typical use.
The low weight, and especially the long battery life, can be tied in large part to the use of an ARM-based processor, in this case, the 1GHz Snapdragon (see later in this story for background). Lenovo did not mention internal RAM specs, but the Skylight ships with 20GB of flash storage, and users have access to 2GB of free cloud storage over the Internet, says the company.
To get there, users can call upon either WiFi or 3G connectivity, which are offered with "seamless" handoffs between the two, says Lenovo. With the purchase of a AT&T DataConnect plan, users receive 3G data access as well as access to AT&T's U.S.-based WiFi network, including more than 20,000 hotspots, says the company.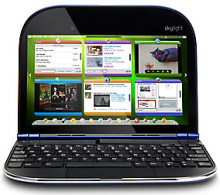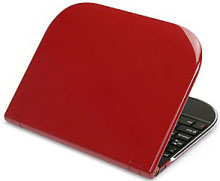 Lenovo Skylight
(Click on either to enlarge)
There were no more tech details available except that the Skylight comes in blue or red. In addition, the video below mentions the inclusion of a USB key that can be stowed in a slot above the keyboard. The key and slot are visible in the photo farther above. Stated David Haight, VP, business development, AT&T Mobility, "The Lenovo Skylight is slim and attractive with extraordinary battery life, and when paired with the nation's fastest 3G network and AT&T Wi-Fi service, it gives consumers a great web and media experience on the go."
IdeaPad U1
The IdeaPad U1 hybrid mini-notebook offers two devices in one: a full, 3.8-pound notebook running Windows 7 on an Intel Core 2 Duo, or the detachable, 1.6-pound tablet display which runs Skylight Linux on a 1Ghz Qualcomm Snapdragon. The 11.6-inch touchscreen is said to offer multi-touch capability and offer "HD" resolution.
The two devices, processors, and operating systems "synchronize to work as one, with the ability to share battery power, 3G wireless, data and documents," says Lenovo. Users can toggle between the two systems, for example, enabling them to surf the web in laptop mode and then continue from the same point without interruption when the tablet is detached, says the company.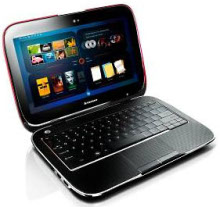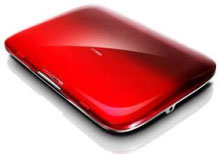 IdeaPad U1


(Click on either to enlarge)
In either laptop or tablet mode, the device supports more than five hours of 3G web browsing and 60 hours of 3G standby, says Lenovo. In addition, the U1 is said to offer an integrated video camera, stereo speakers, and an integrated microphone with echo cancellation.
According to a story in our sister publication, eWEEK, the Skylight offers a 10/100 Ethernet port, 802.11 a/b/g WiFi, Bluetooth, and a 1.3-megapixel webcam. Additional features are said to include dual USB 2.0 ports, an eSATA/USB combination port, an external monitor port, and a four-in-one reader slot.
Meanwhile, as noted above, Laptop gave the unit a once-over at CES, and further describes the display as offering 1366 × 768 resolution. The quickie review also mentions that the notebook has a 128GB solid-state drive (SSD), and an HDMI port. With a monitor attached, the story adds, the Windows-based keyboard docking station can continue to operate as its own computer even while the tablet is off doing its Linux thing.
The tablet meanwhile, has its own WiFi card, 3G connectivity, webcam, and 16GB of flash storage, says Laptop. This would seem to suggest that the keyboard computer offers duplicate radios, which if true, would help to explain the high $1,000 price. The tablet also provides accelerometers, says the story.
According to Laptop, the IdeaPad U1 offers the same Skylight Linux distribution and UI as the Skylight, complete with 18 video gadgets. Lenovo is said to plan an SDK release enabling third party app developers to design more of these widgets. Skylight offers Adobe Flash 10, as well as an e-reader app that only supports text and PDF files, says the story. (All told, the review was positive, with special praise given to the seamless handoffs between the laptop and tablet systems.)
The detachable design of the IdeaPad U1 is somewhat similar to the Always Innovating Touch Book, which offers a detachable tablet keyboard and is based on a Cortex-A8-based Texas Instruments OMAP3530 SoC. Like the aforementioned Freescale tablet design (see image below), however, the Touch Book sticks to one Linux operating system.
Stated Liu Jun, SVP, Idea Product Group, Lenovo, "By fusing the functionality of a notebook with the slate tablet's rich multitouch entertainment and mobile Internet experience, U1 provides consumers the freedom to choose the device they prefer for any activity."
Background
Qualcomm's Snapdragon has been snapped up left and right recently, having appeared in several recent Android phones including the LG Eve and Acer Liquid, and as of yesterday, the HTC-manufactured, Google-branded Nexus One.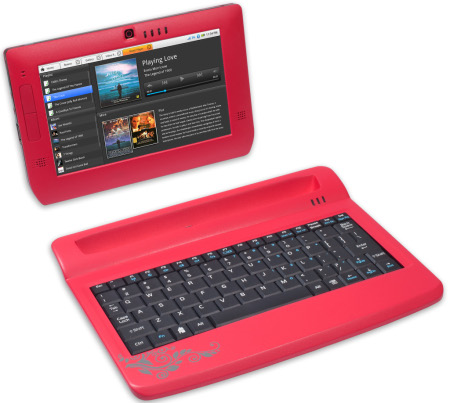 Freescale smartbook tablet design with keyboard docking station
(Click to enlarge)
The ARM Cortex-A8-like Snapdragon is also expected to appear in a number of small netboooks and tablets that Qualcomm has dubbed "smartbooks". The term has also been adopted by Freescale for similar products based on its Cortex-A8-based i.MX515 system-on-chip (SoC). Earlier this week, Freescale announced a smartbook tablet reference design that offers a keyboard docking station (see image above). However, unlike the IdeaPad U1, the only processor is in the tablet, not the keyboard, and the i.MX515 SoC runs Linux or Android, not Windows.
Availability
The Lenovo Skylight smartbook will be available starting in April in the U.S. from Lenovo and AT&T, and will be available in China and Europe later this year, says Lenovo. The Skylight will sell for $500 at full price, or with unstated discounts via two-year 3G service plans or a pay-as-you-need it data service from AT&T. More information on the Skylight may be found here.
The Lenovo IdeaPad U1 hybrid notebook will be available on June 1, with an estimated retail price of $1,000. More on the IdeaPad U1 Hybrid should be here.
An eWEEK story on the IdeaPad U1 may be found here. The Laptop Magazine review of the IdeaPad U1 should be here.
---
This article was originally published on LinuxDevices.com and has been donated to the open source community by QuinStreet Inc. Please visit LinuxToday.com for up-to-date news and articles about Linux and open source.