Mar 25, 2010 — by LinuxDevices Staff — from the LinuxDevices Archive — views
Sprint announced that 3G cellular models supporting its network will be available across Lenovo's ThinkPad product line, with some models supporting 4G (WiMAX) as well. The notebooks will come with SIM cards already installed, and will be able to switch from 3G to 4G via Lenovo's Access Connection tool, the company says.
Lenovo ThinkPads have been previously offered with support for AT&T's GSM-based DataConnect. The new deal with Sprint is a significant boost for the carrier, which is seeking to attract customers to its 4G service before AT&T rolls out a competing 4G LTE (Long Term Evolution) technology next year.
Sprint's announcement also states that "all of Lenovo's ThinkPad laptop models are 3G-enabled." We take this to mean that a cellular WAN card will be standard equipment on every device, perhaps even the recently announced, low-cost ThinkPad X100e (below). If true, this will represent a significant shift in what's expected on a business laptop.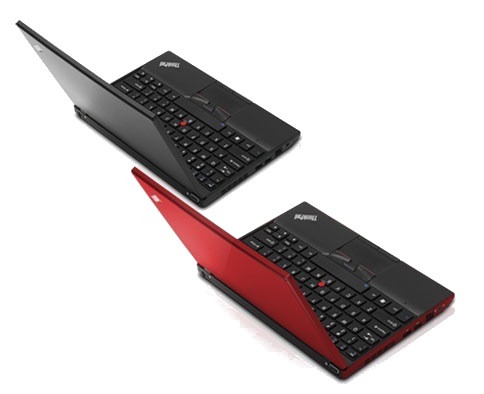 Lenovo's ThinkPad X100e
3G capabilities on ThinkPad devices reportedly derive from Mini PCI Express cards housing Qualcomm's Gobi chipset, which is inherently multi-standard. Gobi-enabled devices can connect to either WCDMA or GSM cellular networks worldwide and will be LTE-capable too, as the chipmaker announced this week (see later for details).
Qualcomm shuns the Intel-supported WiMAX, which is at the heart of the Clearwire service resold as Sprint 4G. To connect to this, therefore, selected ThinkPads likely use Intel's Echo Peak combination WiMAX/WiFi module.
No word was given on operating system support. While Lenovo's ThinkPads are currently offered only with Windows, the x86-based notebooks inherently support Linux. However, drivers will also likely need to be developed to access the WiMAX cards from Linux.
According to Sprint, devices that have both 3G and 4G on board will include Lenovo's Access Connection tool, making it easy to switch from one standard to the other. It's said this is the only tool from any PC maker that can manage both 3G and 4G connections. That's key for Sprint, since, as we note below, the carrier's 4G service is not yet available nationwide.

Earlier this week, Sprint and HTC announced an Android device claimed to be the first WiMAX capable smartphone. The HTC Evo 4G (left) employs a 1GHz Qualcomm Snapdragon QSD8250 chipset, offering CDMA2000 1xEV-DO Rev. B and HSPA as well as CDMA2000, while being backward-compatible with WCDMA and GSM/GPRS/EDGE.
No word was provided regarding the WiMAX chipset used by the Evo 4G, which will reportedly be available in June. However, the phone will presumably switch automatically to Sprint 4G anywhere that coverage is available.
More about Sprint 4G
Sprint's 4G service is provided by Clearwire Communications: In some markets, it's also sold by Comcast as "High-Speed 2go" and directly by Clearwire as "Clear." Based on the IEEE 802.16 standard, it's touted as providing download speeds of 4 to 6MBps, "with bursts over 10Mbps."
Initially launched only in Baltimore, when it was known as XOHM, the service has now expanded to 27 markets across the U.S., including Atlanta, Chicago, Philadelphia and Seattle. Slated to get service this year are Boston, Cincinnati, Cleveland, Denver, Kansas City, Houston, Los Angeles, Miami, Minneapolis, New York, Pittsburgh, Salt Lake City, San Francisco, St. Louis, and Washington, D.C., Sprint claims. (For more background on Sprint 4G and WiMAX, see our earlier coverage, here.)
Sprint's announcements of the ThinkPad modems and of the HTC Evo 4G did not mention pricing, as far as we're aware. But the carrier clearly needs to attract customers to its flavor of 4G before AT&T launches LTE services next year. (T-Mobile and Verizon have reportedly planned to back LTE as well.)
According to a report in our sister publication eWEEK, even Sprint believes LTE will become the bigger 4G standard. Sprint CEO Dan Hesse is quoted as telling his audience at this week's CTIA Wireless show, "LTE will most likely be the larger of the two 4G standards, but for us, we couldn't wait. Because of our spectrum position, we have the option to add other technologies later, but this allows us to get into this technology quickly."
Dilip Bhatia, executive director of ThinkPad product marketing for Lenovo, stated, "Adding Sprint to our network of supported carriers gives customers even more 3G choice and expanded connectivity points with the fast speeds of Sprint 4G. Demand for constant, fast wireless technology has become an expectation, and it's now mission-critical for doing business today."
New Gobi chipsets
This week, Qualcomm announced new chipsets in its Gobi family, delivering support for CDMA2000 1xEV-DO Rev. A and Rev. B, HSPA+, dual-carrier HSPA+ and LTE with integrated backwards compatibility to HSPA and EV-DO. Building on the success of Gobi technology in PC markets as an embedded module, the new devices will target additional markets, such as USB modems, e-readers, gaming devices, and M2M commercial applications, the company said.
According to Qualcomm, its Gobi solutions include software enabling a common interface (API) across multiple hardware platforms. This will help streamline integration efforts, spur application development among third-party developers, and deliver greater flexibility to device manufacturers, the company claims.
The following data chipsets are now available with the Gobi API, the company says:
MDM6200 — supports HSPA+ data rates of up to 14.4 Mbps
MDM6600 — supports HSPA+ data rates of up to 14.4 Mbps and CDMA2000 1xEV-DO Rev. A/Rev. B
MDM8200A — supports HSPA+ data rates of up to 28 Mbps
MDM8220 — supports dual-carrier HSPA+ for data rates of up to 42 Mbps
MDM9200 — supports LTE data rates of up to 100 Mbps with full backward compatibility to dual carrier HSPA+
MDM9600: supports LTE data rates of up to 100 Mbps with full backward compatibility to dual carrier HSPA+ and EV-DO Rev. A/Rev. B
Barry Matsumori, VP of product management for Qualcomm CDMA Technologies, stated, "Our Gobi technology is bringing the transparent, reliable and widely available connectivity of 3G to notebooks, netbooks, e-readers, routers and other market segments that are benefiting from access to mobile broadband. With this newly expanded roadmap, Gobi- enabled devices can bring greater value to consumers and enterprises than ever before."
Availability
More information on Qualcomm's Gobi chipsets may be found here, while information on Intel's "Echo Peak" WiMAX adapters may be found here.
More information on Sprint's 4G service may be found here.
eWEEK's story quoting Sprint CEO Dan Hesse may be found here.
---
This article was originally published on LinuxDevices.com and has been donated to the open source community by QuinStreet Inc. Please visit LinuxToday.com for up-to-date news and articles about Linux and open source.