Sep 1, 2011 — by Eric Brown — from the LinuxDevices Archive — 1 views
Lenovo has unveiled a seven-inch IdeaPad A1 tablet running Android 2.3, due to ship for just $200 with 8GB of storage memory. Meanwhile, ViewSonic unveiled two more seven-inch Android tablets — a seven-inch, Nvidia Tegra 2-based Android 3.2 tablet called the ViewPad 7x and a lower-end tablet called the ViewPad 7e — plus a V350 dual-SIM Android 2.2 phone.
They might as well call the IFA show in Berlin TabletWorld 2011. Not since CES have we seen so many major tablets announced at a single show. Major new Android tablets have already included the Sony Tablet S1 and P1, the HTC Jetstream, the Samsung Galaxy Tab 7.7, and — this just in — the Toshiba AT200.
Of those, only the Galaxy Tab 7.7 is a seven-inch tablet. Now, several more vendors have unveiled seven-inch models at IFA. The Android 2.3-based Lenovo IdeaPad A1 (pictured below) is notable for being priced at under $200, and the ViewSonic 7x comes in at a still reasonable 169 Euros ($241).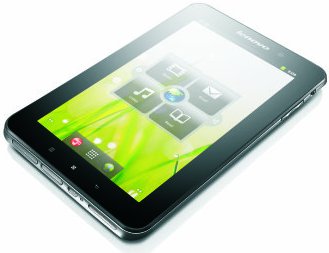 Lenovo IdeaPad A1
The higher-end ViewSonic 7x costs 349 Euros ($498), a price more often found with a 10.1-inch tablet, but it does offer Android 3.2 ("Honeycomb") running on an Nvidia Tegra 2. ViewSonic also tipped a V350 dual-SIM Android phone (see farther below).
Lenovo IdeaPad A1
The IdeaPad A1 follows up on Lenovo's IdeaPad Tablet K1 and ThinkPad Tablet. These are both 10.1-inch Honeycomb tablets, but the business-oriented ThinkPad is somewhat pricier. There was also an earlier IdeaPad U1 hybrid device that combined a detachable 10.1-inch LePad Android tablet running on a 1.3GHz Qualcomm Snapdragon processor, with a Windows 7 base unit using an Intel CPU.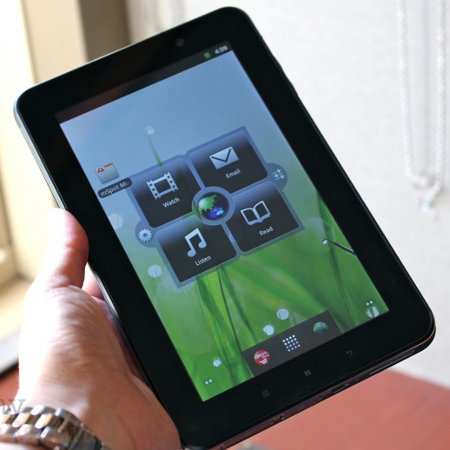 IdeaPad A1
Source: ThisIsMyNext
Now Lenovo is aiming smaller — and considerably cheaper — with its IdeaPad A1. We saw no official announcement on the tablet, but among the many reports from IFA,
Liliputing
offered some source detail, basing its report in part on a deck of Lenovo marketing documents.
Due to ship in September for $199 with 8GB of memory, $249 with 16GB, and $299 with 32GB, the device runs Android 2.3 on a 1GHz Cortex-A8 processor, says the story.
The seven-inch capacitive display offers 1024 x 600 resolution, with two-finger multitouch. Only yesterday that would have been considered great for a seven-inch tablet, but it pales in comparison to the 7.7-inch Galaxy Tab 7.7, which features a 1280 x 800 Super AMOLED Plus display.
Additional features include Wi-Fi and Bluetooth, a G-sensor, and GPS, says Liliputing. The IdeaPad A1 is said to measure about 0.5 inches thick and weigh about 0.9 pounds. Android Market is provided, as well as Lenovo's own app store, says the story.
ThisIsMyNext pitched in with some more details including the presence of a rear-facing three-megapixel camera, and a front-facing 0.3-megapixel cam. The story also mentions the presence of both an SD slot and a microSD slot, as well as "an interesting offline GPS feature due to a partnership with Navdroyd."
As is indicated in the Liliputing slides, Lenovo is touting the A1's internal magnesium alloy roll cage structure, said to offer drop durability, but ThisIsMyNext was nonetheless thrown off by the "plasticy external build" of the tablet. Other faults on what was apparently a pre-production unit were said to include bad viewing angles and some flaky software. There's no Honeycomb update in the cards, nor will there be a 3G version, says the story.
Other hands-on reports were more favorable, including one from Engadget and another from PCWorld.
IFC hands-on with Lenovo IdeaPad A1 on YouTube


Source ThisIsMyNext
(Click to play)
ViewSonic ViewPad 7x and ViewPad 7e
Like Lenovo, ViewSonic has offered both straight-up Android tablets like the seven-inch ViewPad 7 and 10.1-inch G-Tablet, as well as hybrid Windows/Android tablets like the recently released 10.1-inch ViewPad 10Pro. The ViewPad 7x Honeycomb tablet that ViewSonic Europe announced Sept. 1 had been initially tipped by the company at Computex in early June along with a seven-inch, Android 2.2 ViewBook 730 selling for $250.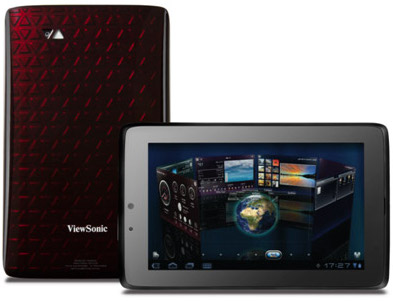 ViewPad 7x
Now ViewSonic is providing some new details on the ViewPad 7x, including the presence of
Android 3.2
running on the already promised dual-core 1GHz Nvidia Tegra 2 processor. This is not surprising considering Android 3.2 is the first Honeycomb build to be optimized for seven-inch as well as larger displays.
The seven-inch, capacitive display offers 1024 x 600 resolution and 10-point multitouch technology, says ViewSonic. The tablet is also said to supply 8GB of flash storage. The GPS radio features a trick that sounds similar to that of the IdeaPad A1, in that it "allows maps to be saved locally so the device always knows where it is even without a data connection," according to ViewSonic.
The ViewPad 7x design features injection moulding techniques that provide for a "lightweight yet durable casing," says ViewSonic. The tablet is said to be bundled with applications including a free full version of LogMein Ignition, which "allows users to perform tasks as if they were local including access to files and applications." The ViewPad 7x will be available in late September for 349 Euros, says the company.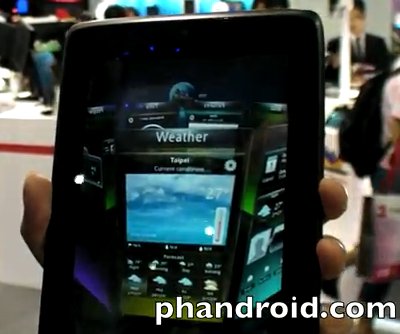 3D interface on ViewPad 7x
Source: Phandroid
Phandroid was on the scene
at ViewSonic's IFA booth for a demo of the 7x, focusing primarily on a 3D user interface layered on top of Honeycomb called ViewScene 3D (see above and in the
YouTube
video below). The video confirms 4G technology, as well as an HDMI port with DLNA support and SRW TruMedia technology. There's also a five-megapixel rear-facing camera and two-megapixel front-facing camera, according to the ViewSonic spokesperson interviewed in the video.
ViewSonic demo of ViewPad 7x on YouTube


Source: Phandroid
(Click to play)
ViewPad 7e tablet and V350 phone
ViewSonic had far less to say about its ViewPad 7e, which appears to be another seven-inch Android tablet. ViewSonic notes only that it offers a 4:3 ratio and multitouch support, as well as Wi-Fi, Bluetooth, and HDMI connectivity. Pre-installed software is said to include the Amazon Kindle app. The ViewPad 7e will be available in late Q4 for 169 Euros, says the company.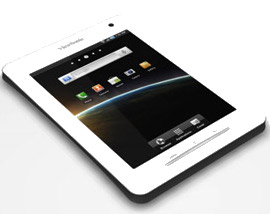 ViewPad 7e
Finally, ViewSonic offered minimal detail on a V350 Android 2.2 smartphone that features the ability to operate two SIM cards. The V350 (pictured below) runs on a modest 600MHZ Qualcomm MSM7227 processor, says the company. No details were provided on the screen, suggesting it's on the small side.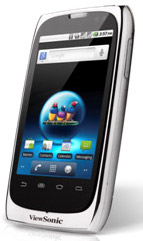 ViewSonic V350
The V350 provides 3G and Wi-Fi communications, built-in GPS, and a five-megapixel camera, says ViewSonic. The phone also offers a smartphone version of the ViewScene 3D UI layer used by the ViewPad tablets. Software features are said to include Android Market and Google Maps. No information was provided on pricing or availability.
Previous Android-based ViewSonic smarthphones have included the 4.1-inch, Gingerbread-based ViewPad 4.
---
This article was originally published on LinuxDevices.com and has been donated to the open source community by QuinStreet Inc. Please visit LinuxToday.com for up-to-date news and articles about Linux and open source.