Aug 31, 2011 — by Eric Brown — from the LinuxDevices Archive — 7 views
Sony is taking orders for a 9.4-inch, Android 3.1-based "Sony Tablet S" it will release next month, and says a folding, dual 5.5-inch display "Sony Tablet P" model (with Android 3.2) will follow later this year. Both models are equipped with 1GHz Nvidia Tegra 2 processors, and the Sony Tablet S costs $499 with 16GB of storage or $599 with 32GB, according to the company.
Sony announced its Sony Tablet Android tablet pair in April as the Sony Tablet S1 and S2, but offered few details. On July 13, Sony demonstrated the models on CNBC, and tipped a few more tidbits of information.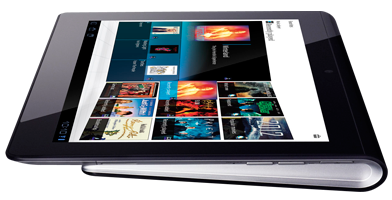 Sony Tablet S
Now, however, the Sony Tablet S (above) is available for pre-sale, with shipments and store sales happening in September, says Sony. The dual-display Sony Tablet P (below), formerly called the Tablet S2, will go on sale "later this year" at an unknown price.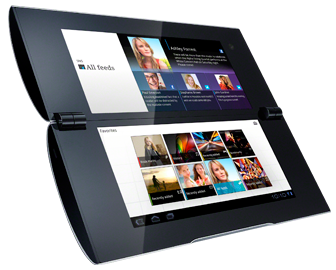 Sony Tablet P
AT&T will have an exclusive on the 4G version of the Tablet P, says Sony. Many more software details common to both tablets, including PlayStation certification, were released, and are detailed farther below.
Sony Tablet S
Although the Sony Tablet S is nowhere as unusual as the Sony Tablet P, it offers a number of design innovations to help it stand out from the Honeycomb crowd.
As noted in our previous coverage, the tablet features a wedge-shaped design that thickens toward the top of the screen. The tapered design of the 1.33-pound tablet is said to increase ease of grip, as well as to offer a feeling of stability and lightness.
The taper also makes the tablet's screen easier to read when the device sits flat on a lap or table, Sony claims. Total dimensions are listed at approximately 9.5 x 6.8 x 0.3 inches, although the latter dimension is presumably for the thinnest part of the tablet.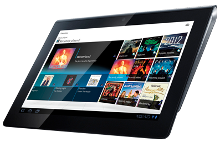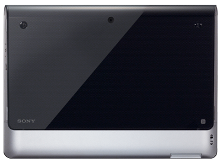 Sony Tablet S, front and back
(Click on either to enlarge)
The Sony Tablet S offers a slightly smaller screen than the typical 10.1-inch Android 3.x ("Honeycomb") tablet. The 9.4-inch tablet provides 1280 x 800 resolution with capacitive technology and 10-point touch detection, says Sony.
The tablet offers Sony's "TruBlack" display technology, which Sony claims reduces reflection and glare "for high-contrast visibility both indoors and out." In addition, its Quick view and Quick touch firmware are said to allow for faster loading of web pages and improve touch response, respectively.
Like almost all Honeycomb tablets to date, the Sony Tablet S is equipped with the dual core Nvidia Tegra 2, clocked at 1GHz. The tablet ships with 1GB RAM, 16GB or 32GB of storage, and a standard SD slot instead of microSD. (Full SD card support has begun to show up on recent Honeycomb tablets, including the Toshiba Thrive.)
The Snoy Tablet S provides a five-megapixel rear-facing camera and a front-facing, 0.3-megapixel VGA webcam, says the company. Other features are said to include a micro-USB port, a 3.5mm audio jack, a microphone, and a 5000mAh battery. DLNA (Digital Living Network Alliance) support is mentioned, but there's no reference to an HDMI port.
The Sony Tablet S lacks 3G or 4G capabilities, although the design is said to support those features for possible future models. The tablet is further equipped with 802.11b/g/n, Bluetooth 2.1, and aGPS, says Sony.
One novel feature is a IR receiver, enabling the tablet to act as a universal remote control for multiple home entertainment components, from Sony and other vendors, says the company. The Tablet S (and Tablet P, too) is also said to be compatible with the Media Remote app designed to control Sony devices via Wi-Fi.
A range of accessories is available, including a charging cradle, AC adapter, LCD screen protector, carrying case, a USB adaptor cable, and a Bluetooth keyboard, says the company.
Sony Tablet S unboxing video


Source: Sony
(Click to play)
Sony Tablet P
Available later this year, the Sony Tablet P, formerly codenamed the Tablet S2, sports a folding design with dual 5.5-inch displays. The displays can be combined to form a single display or can be used for different functions simultaneously. For example, users could play a video on one screen, while reading email on the other, says Sony.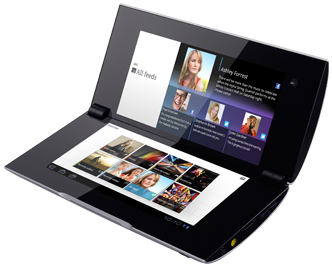 Sony Tablet P
The unusual design is somewhat similar to that of the
Kyocera Echo
Android phone in that two smaller screens can be combined into one, with a bezel between them. Resolution on the Sony TruBlack screens is listed as 1024 x 480, presumably meaning that 1024 x 960 pixels are in play when both screen images are combined.
The thickness of the device is listed at 1 inch (26mm) closed or 0.47 to 0.53 inches (12-13.5mm) open. The 0.83-pound (370-gram) device is said to run on a 3080mAh battery.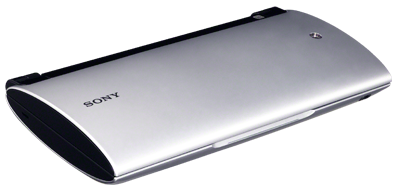 Sony Tablet P, closed up like a cosmetic compact
The Sony Tablet P will run Android 3.2 on a 1GHz Nvidia Tegra 2 processor, and will be further equipped with 4GB of internal memory and a full-sized SD slot, says Sony. The tablet provides a five-megapixel rear-facing camera and a front-facing 0.3-megapixel VGA webcam, says the company. Other features are said to include a micro-USB port and a 3.5mm audio jack.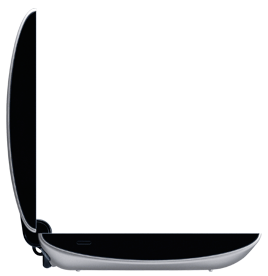 Sony Tablet P from the side in a clamshell configuration
The tablet provides both 802.11b/g/n and Bluetooth 2.1 radios, and a model exclusive to AT&T will offer 4G cellular capability, says Sony. DLNA support is offered, but there's no mention of HDMI. Accessories are said to include a rechargeable battery pack, AC adapter, LCD screen protector, carrying case, and detachable panels. A Bluetooth keyboard is also available.
Software on both tablets
Software available with the Android 3.1 powered Tablet S and Android 3.2-equipped Tablet P include PlayStation gaming titles such as "Crash Bandicoot" and "Pinball Heroes," says Sony. In fact, the new Sony tablets are the first Sony PlayStation certified tablets, says the company.
The tablets also provide Sony's network entertainment services including Video Unlimited and Music Unlimited. The latter, which won't be available until October, is said to offer access to a global catalog of over 10 million songs. A six-month trial basic membership from Music Unlimited and a free movie download from Video Unlimited come with the purchase of each device, says Sony.
Both devices also offer access to Sony's Reader Store, offering more than 2.5 million ebook titles. The reading interface includes bookmarks, highlights, and font adjustments, says the company. One free eBook download is said to be available for free.
A free Personal Space service, meanwhile, enables sharing of pictures and videos captured on Sony Tablet devices. One can also access albums that were previously uploaded from other devices, says Sony.
The Sony Tablet devices provide Google mobile services and applications, including Google Maps, Google Voice Search, and Android Market. Sony also offers its Select App site which highlights Android applications recommended for Sony Tablet devices.
Finally, access to Chumby's push information service is available on the Tablet S, designed primarily for use with the charging stand, says Sony. Chumby provides access to over 1,500 mini-apps.
Availability
The Sony Tablet S device is available now for presale in both a 16GB and 32GB version for $499 and $599, respectively. The tablet will ship and go on sale in September 2011 at Sony Stores including online and other authorized retailers nationwide, at similar prices.
The Sony Tablet P will ship later this year, and will be available on AT&T's 4G network at an undisclosed price. It appears that a Wi-Fi only version may also be available, although the company is none too clear on this point.
Pre-sales for the Sony Tablet S and more information on both tablets may be found at the Sony Store, as well as this separate Sony Tablet feature overview site.
---
This article was originally published on LinuxDevices.com and has been donated to the open source community by QuinStreet Inc. Please visit LinuxToday.com for up-to-date news and articles about Linux and open source.