Nov 16, 2009 — by LinuxDevices Staff — from the LinuxDevices Archive — 4 views
What appears to be the first netbook based on Intel's "Pineview" Atom has broken cover, thanks to a filing last week on the FCC website. The Lenovo IdeaPad "FL5-B3" includes a 1.66GHz CPU, a 10.1-inch display, 2GB of RAM, and a 250GB hard disk drive, according to the newly available documents.
Intel's overall "Pine Trail" platform, consisting of the "Pineview" CPU package, plus an I/O controller called "Tiger Point," shrinks the number of chips required to develop an Atom-based device down to just two, according to the chipmaker. While Intel hasn't named the CPUs, a wide variety of reports says the Pineview processors will include the 1.66GHz Atom N450, a single-core offering for netbooks, plus the 1.66GHz Atom D410 and Atom D510, nettop processors with single and dual cores, respectively. Tiger Point, designed to accompany them all, will be marketed as the NM10.
Last month, Fudzilla writer Fuad Abazovic cited "Intel [web] pages" as a source for his report that the Pineview launch will take place on Jan. 3 (see later in this story for further background). We subsequently theorized that Intel will use that occasion to showcase Pineview devices that have already been created by its customers.
Now, the first netbook based on Pineview has broken cover, thanks to a filing that appeared on the FCC website last week. The documents are apparently part of the certification process for an Intel Mini PCI Express network adapter, identified as the Intel WiFi Link 1000, but incidentally reveal the forthcoming Lenovo netbook, as pictured below.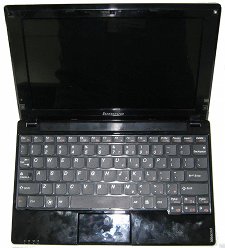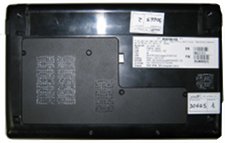 The front (left) and back (right) of Lenovo's "FL5-B3"
Source: Federal Communications Commission
(Click to enlarge)
As identified by a sticker on its backside (above right), the new netbook is known — provisionally, at least — as the FL5-B3. The device is said to feature a 1.66GHz Pineview processor, a 10.1-inch, 1024 x 600 pixel display, 2GB of RAM, and a 250GB hard disk drive.
Named on its top side as an IdeaPad, the FL5-B3 is apparently not Lenovo's long-rumored ThinkPad netbook, since it lacks the ThinkPad product line's signature TrackPoint pointing device, among other business-oriented features. Intriguingly, the netbook also lacks left and right mouse buttons. Presumably, clicking is done simply by tapping on the trackpad itself, as on Apple's recent MacBook designs.
Pineview background
The new Pineview Atoms will cost about 40 percent more than the parts they replace, but because separate northbridge chips are no longer required, the overall cost to manufacturers and their customers will wind up being about the same, he notes. Intel's N450 is designed to replace Intel's N270 — the "chip that launched a thousand netbooks." The D410 and D510, meanwhile, are designed to replace the Atom 230 and Atom 330, respectively.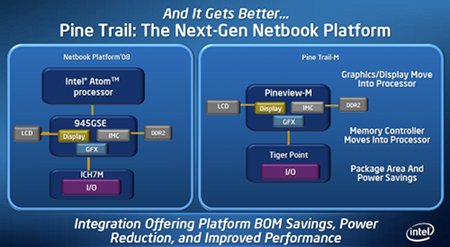 Intel's upcoming Pine Trail chipset
Source: Intel
(Click to enlarge)
According to Intel's Al-Khaledy, Pine Trail will bring the Atom's memory controller and graphics core on-die, as pictured above, improving performance and significantly reducing thermal output. While the Atom N450 itself provides northbridge functionality, I/O is handled by the relatively simple NM10.
Lower power consumption — and faster graphics?
Fudzilla reconfirmed a previous HKEPC Hardware report that the N450 will be the same size as the N270, with a BGA (ball grid array) size of 22 x 22mm. But the NM10 I/O controller will measure just 17 x 17mm, saving substantial board real estate.
Even more important, the Pine Trail platform will have a seven-Watt TDP and require an average of just two Watts, says HKEPC. Meanwhile, HKEPC has claimed that the Pine Trail platform will move from Intel's GMA950 integrated graphics to the chipmaker's somewhat-more-adept GMA500 IGP (integrated graphics processor), taking IGP clock speed from 133MHz to 200MHz. If true, this will make Atom-based netbooks capable of playing full HD video.
Abazovic, however, wrote that "Atom graphics are going to continue to suck," adding that the GPU (graphics processing unit) inside the D410 and D510 will be the GMA 3150, a slightly-faster version of Intel's venerable GMA 3100. Fortunately, the D410 and D510 will remain compatible with Nvidia's Ion, a companion chip that includes a GeForce 9400 GPU, he claimed.
Pine Trail will apparently use a 45nm production process throughout, unlike the earlier Diamondville platform, which uses 45nm for the CPU but 130nm for its supporting chips.

The FCC documents featuring the Lenovo FL5-B3 gave no indication of what operating system the device will run, but judging from Lenovo's previous example, we'd imagine it will be pre-installed with Windows 7. It appears that the device could easily run Linux, however, and since Lenovo has just announced a Linux-based "smartbook" (right) that, according to PCWorld, will be built around Qualcomm's Snapdragon chipset, we can only hope that Lenovo might give Linux another chance on its x86-based netbooks as well.
Lenovo first entered the latter-day netbook market last year with the Linux-ready IdeaPad S10. This device uses Intel's 1.6GHz Atom N270 processor, has a 10.2-inch screen, and offers 80GB or 160GB of hard disk storage.
Availability
To see the FCC documents disclosing Lenovo's FL5-B3, go here. Also see additional coverage on the Wireless Goodness website, here.
To review the various Fudzilla reports on Intel's Pine Trail products, see the Fudzilla website, here.
---
This article was originally published on LinuxDevices.com and has been donated to the open source community by QuinStreet Inc. Please visit LinuxToday.com for up-to-date news and articles about Linux and open source.