Nov 12, 2009 — by Eric Brown — from the LinuxDevices Archive — 5 views
At Qualcomm's annual analyst meeting today, the company demonstrated a Linux- and Qualcomm Snapdragon-based "smartbook" from Lenovo, say reports. Qualcomm also announced a new 1GHz MSM7x30 smartphone chipset family which incorporates the same superscalar Scorpion CPU technology as the Snapdragon, and is capable of 720p video at 30fps, says Qualcomm.
Qualcomm CEO Paul Jacobs showed off the nameless, red Lenovo smartbook during the company's annual analyst meeting in New York today, said a story in Forbes. The story describes the mini-netbook as being "slimmer than most smart phones and not much larger than [Jacobs'] hand."
Sporting a "full" keyboard and a screen big enough to simultaneously display "six active widgets", the device runs on Qualcomm's Snapdragon chipset, and offers 3G access designed to link to AT&T's network. The device is also said to offer "instant on" boot-ups. More information will follow at the Consumer Electronics Show (CES) in January, says the story.

According to a PCWorld story on the Lenovo smartbook (pictured at right courtesy of a brief Electronista report), the device is based on Linux. Jacobs' demonstration was said to have involved e-mail and Facebook widgets, as well as a Flash session running YouTube, the result of a Qualcomm collaboration with Adobe. Qualcomm also claimed the device will support HD video, although the resolution was not defined, PCWorld said.
Qualcomm's next-gen MSM7x30
Qualcomm also announced today that it is sampling a new MSM7x30 smartphone chipset family supporting "HD video recording and playback, exceptional graphics with dedicated 2D and 3D cores, and an overall chip design optimized for a highly responsive, immersive Web experience," says the company.
The MSM7x30 family of chipsets is said to include an MSM7230 chipset for HSPA+ networks, as well as an MSM7630 chipset for multi-mode HSPA+/EV-DO Rev. B and SV-DO devices. The first devices based on the MSM7x30 are expected to ship by the end of 2010.
The MSM7x30 incorporates the same Scorpion CPU used in the Snapdragon QSD8x50 chipset (see later in this story for details), and will clock from 800MHz to 1GHz, says Qualcomm.
Other touted features include:
720p video encode/decode at 30fps (frames per second)
Integrated 2D and 3D graphics GPUs with support for OpenGL ES 2.0 and OpenVG 1.1
Dedicated low-power audio subsystem supporting 5.1 surround
12-megapixel camera support
Integrated GPS
Support for leading mobile operating systems, including Android, Windows Mobile, Brew Mobile Platform, and Symbian
Support for package-on-package memory for reduced board space, optimized power consumption, and more responsive performance
Other components incorporated in the chipsets include the PM8058 power management integrated circuit (IC) and the QTR8600 RF subsystem with integrated Bluetooth and FM radio, says Qualcomm. In addition, the MSM7x30 chipsets will directly interface with Qualcomm's WCN1312 WLAN solution for 802.11 b/g/n, says the company.
The new chipsets may not be a performance upgrade over upcoming dual-core Snapdragons, and in fact are said to target the "mainstream smartphone tier," says the company.
According to a story on Silicon Investor back in March, the MSM7230 was originally announced last year as the QSC7230, and a similar CDMA version has now changed to the new MSM7630. Whereas the earlier chipset prototypes ran on ARM11, Qualcomm has now switched them to the Scorpion and dubbed them with new names.
The name change also reflects a repartitioning of the design, said the story. Qualcomm's QSC chips combine the baseband processor and RF chip in a single package, but like other MSM designs, the MSM7230 moves the RF chip out of the package, said Silicon Investor. The MSM7230 will use a PoP package to allow the memory to be placed on top, thus maintaining a similar footprint as the QSC approach, the story added.
Qualcomm's Snapdragon and other smartbook SoCs
The Forbes story on the Lenovo smartbook interviewed Glen Burchers, director of segment marketing for Freescale, the other major semiconductor vendor to adopt the "smartbook" concept that Qualcomm announced in June. Disputing Qualcomm's claim that the Lenovo device is the first ARM smartbook on the market, Burchers notes that Japanese consumer electronics maker Sharp launched the Freescale i.MX515-based NetWalker PC-Z1 Mobile Internet Tool in September, and that it has been selling well.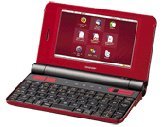 Based on Ubuntu Linux, the UMPC-like NetWalker (pictured at right) features a five-inch touchscreen and 10 hours of battery life while weighing less than one pound. According to the story, Burchers predicts that eight to 12 smartbooks will hit stores in the first quarter of 2010.
Like the popular Texas Instruments OMAP3x line of processors, the i.MX515 is based on the ARM Cortex-A8 core. Clockable from 500MHz to 1GHz, the Cortex-A8 is notable for additional performance enhancements based on its superscalar technology, which means that the core enables instruction-level parallelism within a single processor.
Technically, the Qualcomm Snapdragon is not a Cortex-A8, but it is similarly based on the ARMv7 instruction set and similar superscalar technology, and according to some observers, is essentially a Cortex-A8 chipset. In fact, it is arguably the most powerful such chipset available, due in part to its ability to clock to 1GHz. Samsung, however, is expected to start sampling 1GHz Cortex-A8-based S5PC110 and S5PV210 SoCs next month.
The currently available Snapdragon is the QSD8250, which is built around an ARM-based 1GHz "Scorpion" microprocessor with 128-bit SIMD (single instruction multiple data) capability, plus a 600MHz low-power, "low-leakage" DSP. The chipset includes a "universal modem" claimed to support "all 2G and 3G mobile broadband standards," and can receive broadcasts in MediaFLO, SDMB, ISDB-T, TDMB, and DVB-H formats.
Last month, Acer announced that its Android-based Acer Liquid is being built around a Snapdragon, and earlier this month Sony Ericsson announced an Android-based Xperia X10 smartphone, which is based on the Snapdragon, according to both CNET and PCWorld. HTC, meanwhile, has incorporated the Snapdragon in its new Windows Mobile-based HD2 phone, and there are rumors that a similar Android model called the HTC Dragon is on the way.
While Qualcomm did not mention which Snapdragon would be used in the Lenovo smartbook, it is likely the QSD8250. When Qualcomm announced the "smartbook" format in June, the company also announced a new Snapdragon QSD8650A chipset manufactured with 45-nanometer technology. Clocked at 1.3GHz, the SoC is said to be 30 percent faster than the QSD8250 and is touted as consuming less than 10 millwatts in standby mode. The QSD8650A was set to start sampling this fall.
According to the PCWorld story, Qualcomm is also working on a dual-core 45nm QSD8672 chipset, which offers dual CPUs clocked at 1.5GHz. Expected to start sampling by the end of the year, the chipset is expected to support up to 1440 x 900 resolution, 1080p video playback and record, and faster mobile broadband using HSPA+ (High-Speed Packet Access).
Lenovo apparently abandoned sales of Linux-based x86netbooks this year, after an early experiment with offering Linpus Linux on its IdeaPad S10 (pictured below) back in August 2008. Although a Lenovo executive recently went out of his way to dump on Linux netbooks, the company apparently believes the operating system has a better chance for success on a lower-powered ARM platform.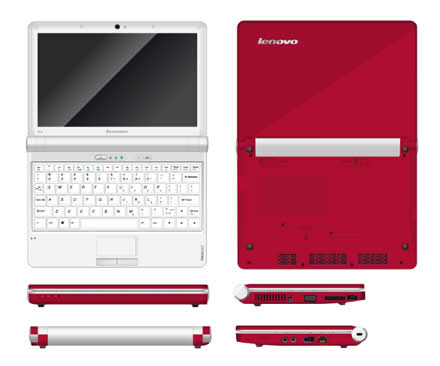 Lenovo's Linux-ready IdeaPad S10 netbook
Qualcomm, meanwhile, recently opened a Qualcomm Innovation Center, Inc. (QUIC) subsidiary dedicated to optimize open source software with Qualcomm technology. Supported platforms are said to include Linux, Webkit, Android, Chrome, and Symbian.
Availability
More information on the Lenovo smartbook based on the Qualcomm Snapdragon will be disclosed at CES in January, and should eventually show up on Lenovo's site, here.
Qualcomm has begun sampling the MSM7x30 chipset family, with devices incorporating the chipsets expected to ship in 4Q 2010. More information may eventually be found at Qualcomm's website, here.
The Forbes story on the Lenovo smartbook may be found here, the Electronista story should be here, and the PCWorld story should be here.
The Silicon Investor story from last March may be found here.
---
This article was originally published on LinuxDevices.com and has been donated to the open source community by QuinStreet Inc. Please visit LinuxToday.com for up-to-date news and articles about Linux and open source.