Oct 16, 2009 — by LinuxDevices Staff — from the LinuxDevices Archive — 1 views
Intel will launch its new generation of Atom processors, code-named "Pineview," on Jan. 3, according to reports by the Fudzilla website. The CPUs — known as the Atom N450, D410, and D510 — will extend netbook battery life and may allow HD video playback, among other previously cited advantages.
Intel's Pineview CPUs have been expected for some time, as we have previously reported. Noury Al-Khaledy, Intel's GM for netbooks and nettops, provided initial details in a May conference call that was mostly devoted to announcing the chipmaker's Moblin 2.0 operating system. Since then, further details have been leaked by Taiwanese hardware vendors, and in a report from September's Intel Developer Forum (IDF), Intel official Jeff DeMuth was quoted as saying Pineview chips would ship to manufacturers in the fourth quarter.
Now, alluding to "Intel [web] pages," Fudzilla writer Fuad Abazovic claims the Pineview launch will take place on Jan. 3. The new Atoms will cost about 40 percent more than the parts they replace, but because separate northbridge chips are no longer required, the overall cost to manufacturers and their customers will wind up being about the same, he adds.
According to Intel, its overall "Pine Trail" platform shrinks the number of chips required to develop an Atom-based device down to two: the "Pineview" CPU package, plus an I/O controller called "Tiger Point." The chipmaker hasn't released names for the products, but Fudzilla, confirming previous reports by Digitimes and HKEPC Hardware, says the Pineview processors will include the 1.66GHz Atom N450, a single-core offering for netbooks, plus the 1.66GHz Atom D410 and Atom D510, nettop processors with single and dual cores, respectively. Tiger Point, designed to accompany them all, will be marketed as the NM10.
The N450 is designed to replace Intel's N270 — the "chip that launched a thousand netbooks." The D410 and D510, meanwhile, are designed to replace the Atom 230 and Atom 330, respectively.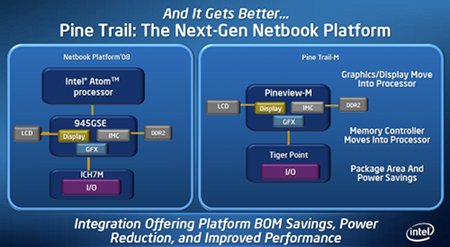 Intel's upcoming Pine Trail chipset
Source: Intel
(Click to enlarge)
According to Al-Khaledy, Pine Trail will bring the Atom's memory controller and graphics core on-die, as pictured above, improving performance and significantly reducing thermal output. While the Atom N450 itself provides northbridge functionality, I/O is handled by the relatively simple NM10.
Lower power consumption — and faster graphics?
Fduzilla reconfirms a previous HKEPC Hardware report that the N450 will be the same size as the N270, with a BGA (ball grid array) size of 22 x 22mm. But the NM10 I/O controller will measure just 17 x 17mm, saving substantial board real estate.
Even more important, the Pine Trail platform will have a seven-Watt TDP and require an average of just two Watts, says HKEPC. Comparing these numbers to the N270's "Diamondville" platform — for which it cites slightly higher power requirements than we quote below — the website says that Pine Trail offers at least 50 percent lower power consumption. As a result, forthcoming netbooks should be able to offer significantly better battery life.
HKEPC didn't offer power consumption figures for the N450's nettop cousins, the D410 and D510, but Fudzilla's Abazovic now says the dual-core D510 will have a 13 Watt TDP. "This sounds like a lot," he says, noting that the old dual-core Atom 330 had an eight-Watt TDP, but adds that since a separate northbridge is no longer required, overall power consumption will actually be about the same.
Meanwhile, HKEPC has claimed that the Pine Trail platform will move from Intel's GMA950 integrated graphics to the chipmaker's somewhat-more-adept GMA500 IGP (integrated graphics processor), taking IGP clock speed from 133MHz to 200MHz. If true, this could make Atom-based netbooks capable of playing full HD video. The GMA500, based on Imagination Technologies' Powervr SGX535, is already featured in Intel's recently announced Atom SoC, the CE4100, where it's claimed to handle 1080p video streams with ease.
Abazovic, however, writes that "Atom graphics are going to continue to suck," adding that the GPU (graphics processing unit) inside the D410 and D510 will be the GMA 3150, a slightly-faster version of Intel's venerable GMA 3100. Fortunately, the D410 and D510 will remain compatible with Nvidia's Ion, a companion chip that includes a GeForce 9400 GPU, he claims.
Power-stingy though it might be, Pine Trail pales beside Intel's forthcoming "Moorestown" platform, which was first promised in a Sep. 2007 Intel Developer Forum keynote, and is claimed to offer an idle power consumption just 1/10th of today's Atoms. According to Intel, Moorestown will go on sale in 2010, targeting smartphones and MIDs, where it will apparently replace the original Z5xx CPUs.
Availability
According to Fudzilla, Intel's Atom D410 and D510 will be announced on Jan. 3, priced at $43 and $64, respectively. At that point, the previous Atom 230 will be offered for $29, while the Atom 330 will cost $43, the site adds.
Fudzilla claims the 1.66GHz Atom N450 will be priced at $64, compared to the $44 that will be asked for its 1.6GHz N270 successor. A 1.86GHz version, the N470, is scheduled to launch in March for $75, the website adds.
For further information, see the Fudzilla website, here.
---
This article was originally published on LinuxDevices.com and has been donated to the open source community by QuinStreet Inc. Please visit LinuxToday.com for up-to-date news and articles about Linux and open source.