Jun 15, 2011 — by Eric Brown — from the LinuxDevices Archive — 1 views
Imagination Technologies announced it is licensing a new version of its Meta core IP for Linux- and Android-based mobile devices. The Metaflow family of processors combines the Linux-ready Meta Series2 processor IP with the company's Ensigma UCCP IP for Wi-Fi, mobile TV, and analog and digital TV and radio, says the company.
Known primarily for its Powervr graphics processor intellectual property (IP), Imagination Technologies has been steadily advancing its long-time, Linux-ready, programmable RISC Meta core IP. In November 2009, the U.K.-based firm announced it had begun licensing a Meta Series2 core IP, adding digital signal processor (DSP) functions, support for hardware multi-threaded execution, and hard real-time capabilities.
Series2 also extended support to Android, as well as Linux and the company's own MeOS real-time operating system (RTOS).

As we noted in our coverage at the time, Imagination Technologies had been licensing the Meta Series2 technology to a few select partners since 2005, but decided in 2009 to open up its licensing program. Already shipping at the time was a Frontier Silicon Chorus 2 multimedia system-on-chip (SoC), which was used in a Linux-based Sensia Internet radio (pictured) offered by Imagination's "Pure" subsidiary.
The Chorus 2 also integrated Imagination's communications core, the Ensigma UCCP IP. The Ensigma is said to enable Wi-Fi, analog and digital TV, mobile TV, and digital and analog radio playback.
Now, with the Metaflow IP, Imagination Technologies is integrating Meta Series2 and Ensigma UCCP at the core level, thereby adding "always-available connectivity" to Meta-based devices, according to the company. The Metaflow IP is said to support Linux, Android, and MeOS devices in home automation, security, entertainment, toys, and healthcare, as well as consumer electronics, mobile media, and automotive systems.
Metaflow is designed to support Imagination's "FlowWorld" configurable cloud portal technology, announced last month. FlowWorld is said to enable an end-to-end cloud solution for delivery of services and content between service providers and end-users. Because FlowWorld is supported by Metaflow at the core IP level, Metaflow customers can gain a much higher degree of efficiency, consistency, and utility when delivering real-time, always-connected cloud services, claims Imagination.
Metaflow and FlowWorld form the foundation for Imagination's Flow Technology, a set of APIs designed to connect devices to cloud services using both the Internet, as well as broadcast channels, says the company. The combined technologies are said to let customers centrally control and manage service configurations for any Metaflow-based product.
Meta Series2 background
In addition to adding DSP functionality, hardware multithreading, and hard real-time support, the Meta Series2 IP supports Linux or Android applications processor platforms "with fully coherent caches and MMUs," according to Imagination Technologies. The cores provide up to 1GHz operation using a 40nm process, and can deliver 2.4 DMIPS per MHz, claims the company.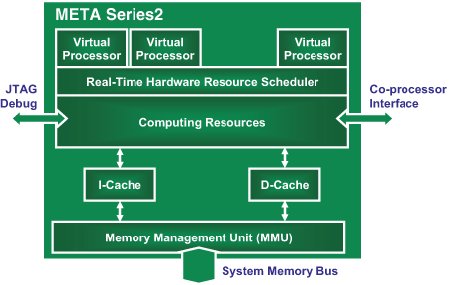 Imagination Technologies' Meta Series2 block diagram
Using Meta Series2's hardware multi-threading, SoC designers can create multiple virtual processors, thereby consolidating the various processing nodes used throughout the SoC under one consistent processor architecture, says Imagination. In addition, Meta Series2 is the only processor architecture able to support multiple OSes without the need for any virtualization layer, claims the company.
Three system-on-chip processor designs are available based on the Series2, although it's unclear whether the Metaflow processors will be similarly delineated. The high-end Meta HTP design is billed as an alternative to traditional multi-processor approaches, while the mid-level Meta MTP design is designed for high-speed communications applications that require DSP-intensive algorithms like advanced audio, says the company.
The Meta LTP design, meanwhile, is said to target tiny, single-threaded, 32-bit cores with a minimal footprint. (For more information see our previous Meta Series2 coverage, as well as the links at the end of the story.)
Ensigma UCCP background
The Ensigma UCCP communications IP, which is now integrated with Series2 cores on the Metaflow IP, supports a wide range of analog and digital TV, mobile TV, and digital and analog radio broadcast standards, says Imagination Technologies. In addition it enables Wi-Fi, as well as "future other connectivity standards," says the company.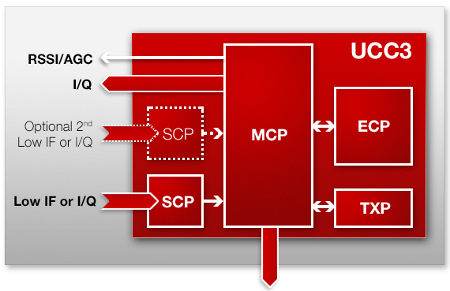 Ensigma UCCP block diagram
The Universal Communications Core (UCC) Series3 engine at the heart of Ensigma UCCP enables both transmit and receive capabilities, says Imagination. In addition, it is said to support diversity, as well as multiple concurrent algorithm execution and multiple Signal Conditioning Processor (SCP) inputs. UCC is claimed to be fully programmable, enabling the user to load only the standards they need.
Ensigma UCCP is said to integrate four main engines:
SCP (Signal Conditioning Processor) — enables wide range of IF, low IF, and zero IF tuners to be connected
MCP (Modulation Control Processor) — A programmable, complex vector processor with multiple parallel execution units, enabling 802.11a/b/g, and eventually other connectivity standards
TXP (Transmission Processor) — multi-mode hardware engine that adds forward error correction data and performs IQ mapping of transmit data
ECP (Error Correction Processor) — error correction and coding engines, including hardware viterbi and Reed Solomon
Stated Tony King-Smith, VP marketing, Imagination Technologies, "The increasingly broad array of highly portable applications platforms such as Linux, Android and sophisticated RTOS means that our partners are now re-evaluating how best to create the next wave of connected embedded products."
Availability
Metaflow IP platform technology is available for licensing now, says Imagination Technologies, which did not list pricing. More information should eventually appear on its Meta page.
---
This article was originally published on LinuxDevices.com and has been donated to the open source community by QuinStreet Inc. Please visit LinuxToday.com for up-to-date news and articles about Linux and open source.