Jun 11, 2010 — by LinuxDevices Staff — from the LinuxDevices Archive — 2 views
Imagination Technologies announced a graphics core that will bring DirectX 9 to smartphones and embedded devices, and can also support stereoscopic 3D displays. The Powervr SGX544 IP for GPUs (graphics processing units) can be implemented as a single core, or in multiprocessor configurations from two to 16 cores, the company says.
Imagination Technologies' Powervr SGX544 is a new version of the company's Powervr SGX Series5XT IP, first announced in January. Citing "growing demand for DirectX 9 capabilities … as embedded and desktop application platforms continue to converge," Imagination says the SGX544 core will provide full support for DirectX 9 Feature Level 3.
Providing "maximum hardware acceleration," SGX544 also supports desktop OpenGL 2.1 (including X11 integration with DRI2, EXA and DRM support), OpenGL ES 1.1 & 2.0, OpenVG 1.1 and OpenCL 1.1 Embedded Profile, Imagination Technologies says. Potential implementations can be either a four-pipe single core, or multiprocessor configurations ranging from two to 16 cores (eight to 64 pipes), the company adds.
Imagination Technologies further claims its Powervr SGX graphics acceleration cores are "ideally suited" for stereoscopic 3D (S3D), with resolutions up to full 1080p. Supporting commonly used S3D formats such as frame sequential, side-by-side, top-bottom, interlaced, they'll make it possible to "quickly upgrade existing 3D content to deliver S3D," the company says.
Background
Imagination Technologies' Series5XT SGX IP is based on a second-generation Universal Scalable Shader Engine (USSE2), delivering "significantly better throughput" than the earlier Series5 USSE shader engine. It's said the architecture scales from 100MHz to 400MHz "and beyond," delivering performance of 35 million polygons per second and a pixel fill rate of one gigapixel per second when running at a mid-range 200MHz.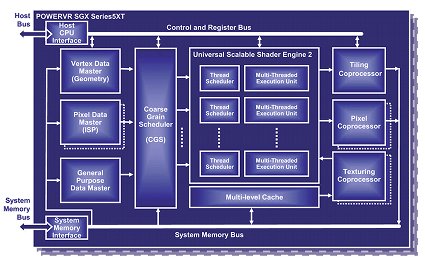 A block diagram of Imagination Technologies' Series5XT SGX IP
(Click to enlarge)
Backwards-compatible with the earlier Powervr MBX and SGX Series5, the Series5XT SGX IP supports "all industry standard mobile and desktop graphics APIs and operating sytems," according to Imagination Technologies. For example, it's said compatibility extends not only to Windows CE, Vista, and XP, but also to Linux, Android, and Symbian.
Prior to this week's announcement of the SGX544, Powervr SGX Series5XT implementations included the two-core, four-pipeline SGX543, along with the 16-core, 64-pipeline SGX543MP2-16.
Commenting on the latter, Rik Myslewski wrote in a March article for The Register, "That's one hell of a lot of concurrent pixel and vertex shading." Because all data/pipeline/thread management is done in hardware, applications will be able to utilize any and all cores on a Series5XT SGX-based device without modification, he added.
Customers
Imagination Technologies — whose investors famously include both Apple and Intel — has seen its IP used in a bevy of x86 and ARM processors. In March, the company announced that more than 250 million devices had shipped with Powervr technology, including many in the mobile phone, media player, and embedded markets.
Citing a "multi-use license agreement" with TI, Imagination Technologies announced in May that the chipmaker will deploy the Powervr SGX Series5XT IP in future OMAP SoCs. Renesas, too, will "will deploy the technology in future SoC designs for the mobile market," Imagination Technologies says.
Existing ARM processors that include Powervr graphics IP are said to include:
Apple's A4
Freescale's i.MX31
Marvell's PXA310/312
NEC's EMMA 3TL, EMMA Mobile/EV2
Renesas' SH-Mobile 3, 3A, G1, G2, G3, Navi1, Navi2G
Samsung's S3C2460, S5L8900, S5PC100, S5PC110, S5PC510
SiRF's SiRFprima
TI's AM3517, OMAP2420, OMAP2430, OMAP2530, OMAP3420, OMAP3430, OMAP3440, OMAP3450, OMAP3515, OMAP3530, OMAP3620, OMAP3621, OMAP3630, OMAP3640, OMAP4430, OMAP440
Intel, meanwhile, has used Powervr graphics IP in its Pentium-based SoCs, the CE3100, CE4100, CE4130, and CE4150. The Imagination Technologies core is also employed in the SCH US15W northbridge/southbridge, notable for accompanying the chipmaker's very first Atom processors (the Z5xx "Silverthorne" chips).
Availability
More information on Imagination Technologies' Powervr SGX Series5XT cores may be found here. Rik Myslewski's March article for The Register may be found here.
---
This article was originally published on LinuxDevices.com and has been donated to the open source community by QuinStreet Inc. Please visit LinuxToday.com for up-to-date news and articles about Linux and open source.