May 27, 2008 — by Eric Brown — from the LinuxDevices Archive — 3 views

Slacker Inc. says its Linux-based personal music player (PMP) can now connect itself automatically to "hundreds of thousands" of WiFi hotspots. The Slacker Portable's new capabilities come thanks to the addition of DeviceScape Connect, a login client and service designed to connect browser-less devices to wireless networks… that require authentication.
The Slacker Portable offers a mobile version of Slacker's Web-based Slacker Personal Radio browser, which the company claims enables users to personalize over 100 professionally programmed stations, says Slacker. When the Slacker Portable shipped last summer, it included a WiFi connection, but no way to easily log on to public WiFi services to update the device's music supply on the road.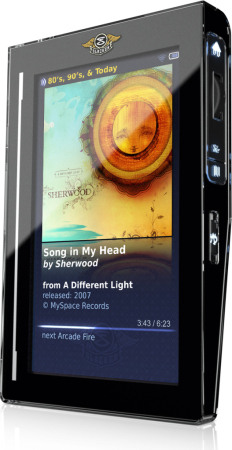 Slacker Portable
(Click to enlarge)
As with the desktop player, which is available in Windows and Mac versions, the Slacker Portable automatically refreshes music collections with the latest selections based upon the listener's tastes, says the company. The software fine-tunes the personalized radio station programming based on what songs the user skips or listens to. Users can also store Internet radio music and listen to it when the device is not connected to the Internet, and there's also a separate MP3 player.
The DeviceScape Connect firmware enables preconfigured connections to hotspot services without forcing users to remember numerous passwords or work through log-in scripts, says Devicescape. "Our software finds the network, detects it, and logs in," said Devicescape Chief Architect John Gordon in an interview. "If they're adding a new station, the device calls us, and we do a test, look up the credentials on our server, and then send back the information over a secure link. The device can then go ahead with the synchronization. It's a browserless approach, which is nice, because there are flaws with installing browsers in a device. Browsers add to the bill of materials, and require a large amount of space."
The firmware works on more than 100 different devices running on 10 different operating systems (OSes), and supports over 1000 public networks, says the company. It is also said to support over 100 university networks added by some of Devicescape's claimed "hundreds of thousands of members" in 176 countries.
The Slacker Portable runs Linux on an undisclosed processor. Available with 2-6GB of flash storage, it is equipped with a four-inch 480 x 272 color display, an add-to-favorites button shaped like a heart, as well as a button for deleting songs. The PMP can refresh music via WiFi or the built-in USB port.
Slacker offers an ad-supported Basic Radio service said to have 1-2 ads per hour. It also offers a commercial-free Premium Radio service with touted features that include unlimited song skipping and favorites-saving, and the ability to mix MP3s and saved radio tracks on the same playlists.
Hardware specs for the Slacker Portable include:
Display — 4-inch color 480 x 272 TFT-LCD (16 x 9 aspect ratio)
Storage — 2GB, 4GB, or 8GB flash storage, depending on model
Number of stations — 15, 25, or 40, depending on model
Audio formats — MP3, WMA
Connectivity — 1 x USB port; WiFi (802.11b/g)
Battery — Li-Polymer, up to 10 hours (about three-hour charge time)
Dimensions — 2.7 x .7 x 4.2 inches (70 x 16.5 x 109 mm)
Weight — 4.6 oz (130g)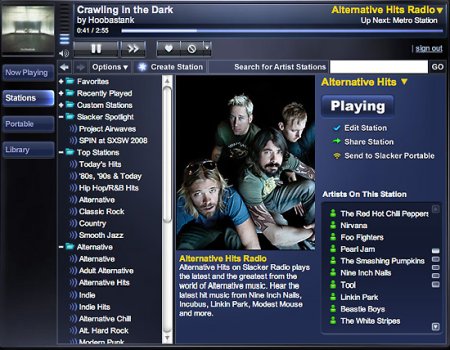 Slacker Portable Premium screen
(Click to enlarge)
Devicescape everywhere?
Introduced in January 2007, Devicescape Connect is both a WiFi client software and an associated Web service that automates WLAN logins. Switching between networks requires knowledge of the new network's SSID (service set identifier), along with login credentials such as a WEP (wireless encryption protocol) key. In the case of commercial access points, users may have to enter a user name, password, or credit card number.
Devicescape Connect aggregates and integrates all this fast-changing information, so once a name and password are entered and stored on Devicescape's secure servers, users can connect to any supported network within range, the company says. The latest 2.0 revision, announced in November, added the ability to share a home network securely with friends.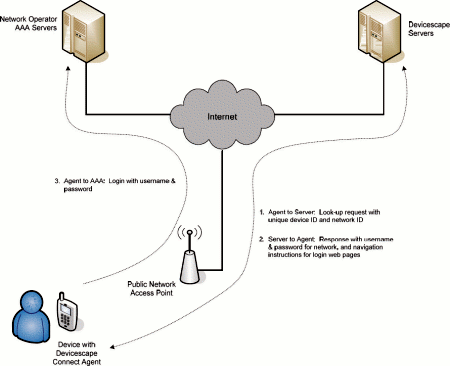 Devicescape Connect in action
(Click to enlarge)
The Devicescape client runs on a variety of Linux devices, including Nokia N800/N810 and 770 web tablets, the Linksys WIP 300, and other Linux-based VoIP phones. Clients are also available for Apple's iPhone and iPod Touch; Nokia Eseries and Nseries phones; and, for Windows Mobile 5 and 6 smartphones and PDAs.
According to Devicescape's Gordon, it took Devicescape and Slacker developers six weeks to create a version of Connect for the Slacker Portable using the Linux version of the Devicescape software developers kit (SDK). Devicescape, which also offers SDKs for Windows, Mac OS X, and a special one for the Linux-based Nokia tablets, provides a developer community section on its site, complete with a forum, and the ability to try out a trial version.
Meanwhile, Gordon expects that Connect will appear in other WiFi-enabled PMPs and game players in the future. "The Slacker Portable is our first pure-play embedded device win," he said. "It indicates a trend of more and more of these non-handset WiFi devices coming out."
Stated Jonathan Sasse, VP of Marketing for Slacker, "The Slacker Portable ensures that Slacker Radio can be played anywhere."
Availability
The Slacker Portable with enhanced WiFi support is available now for $200 (2GB, 15 stations, 1,500 songs), $250 (4GB, 25 stations, 2,500 songs), and $300 (8GB, 40 stations, 4,000 songs). The basic package is free (with advertising) and the premium package is available in 3-month, 6-month or 1-year subscription, with the latter going for $7.50 a month.
Owners of previous versions of the Slacker Portable Player can receive a free firmware update for Devicescape Connect. More information on Devicescape's developers community is available here.
---

This article was originally published on LinuxDevices.com and has been donated to the open source community by QuinStreet Inc. Please visit LinuxToday.com for up-to-date news and articles about Linux and open source.