Jun 1, 2009 — by Eric Brown — from the LinuxDevices Archive — 2 views

MontaVista Software announced a Market Specific Distribution (MSD) of MontaVista Linux 6 based on the Linux-based, Intel-backed Moblin v2 stack (pictured). The MSD will support development of embedded applications using Moblin on a variety of Intel Atom-based devices, says the company.
(Click for larger view of Moblin v2 beta's new toolbar)
Since alpha versions of Moblin v2 started appearing earlier this year, culminating with the recent, well-received beta release of the open source, Atom-targeted stack, the software has been variously referred to as Moblin v2 for Netbooks and Nettops, Moblin v2 for Netbooks, and just plain Moblin v2. MontaVista uses the latter term, and from the quotes below, suggests that it plans to address a broader market than netbooks, including mobile Internet devices (MIDs), IP phones, and automotive infotainment systems.
In February, the company, which is the leading embedded Linux tools vendor along with rival Wind River, announced a version of MontaVista Linux for MIDs called Montabello. The first version was said to support the Texas Instruments (TI) OMAP3x platform. In March, however, MontaVista announced that it had joined Moblin, suggesting that an Atom version of Montabello might be in the works.
Last month, the company announced a major new version 6 of MontaVista Linux that reengineers its embedded Linux development platform. With the upgraded development platform, expected to ship later this summer, separate versions of the software are offered for a variety of processors, including the Intel Atom.
This latest announcement ties all this together by way of announcing a specific Moblin v2 MSD, but offers no further details. MontaVista Linux 6 also provides MSDs for Freescale and TI SoCs, adds a new "MontaVista Integration Platform" build engine and related content server, and upgrades the company's DevRocket integrated development environment (IDE). (For more information, see our previous in-depth coverage, here.)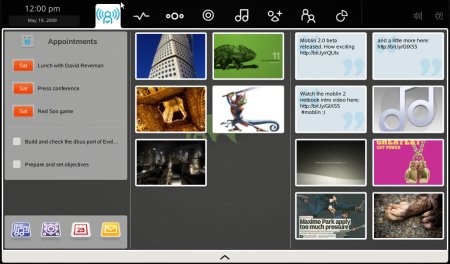 Novell-sponsored OpenSUSE beta incorporating Moblin v2, showing customized version of m-zone interface
(Click to enlarge)
Moblin v2 is notable for its fast booting technology, which is said to load the desktop in as little as seven seconds. Starting with the beta release, Moblin added a new user interface (UI), developed using the Clutter animation framework, that is optimized for netbooks and nettops. Moblin's new top-line toolbar appears only when the cursor exposes it, thereby saving screen space. The toolbar is divided into time and date, a selection of icon-like "panels," and system information. The panels include features such as status, people (contacts), Internet, media, pasteboard, applications, and zones.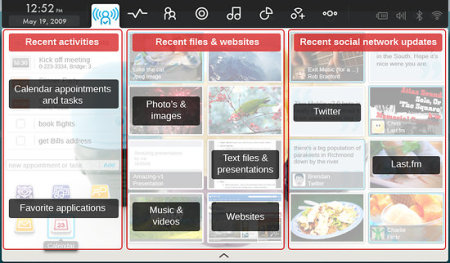 Main m-zone home screen
(Click to enlarge)
In addition to new top-of-screen toolbars, the key addition is the m_zone, which acts as a home screen for at-a-glance access to various activities. These include synchronized calendar items, tasks, appointments, recently used files, and real-time updates from social networking sites, says Moblin.org. The display is divided into recent activities, recent files and websites, and recent social network updates.
Other highlights of the Moblin v2.0 beta release are said to include an an optimized Mozilla-based web browser revised into a Clutter shell, plus a zoomable media player. There is also an updated connection manager (ConnMan), and support for a variety of Linux desktop applications via Gnome Mobile technologies.
In early April, Intel formally handed over control of its Linux-based, Moblin mobile device stack to the nonprofit Linux Foundation (LF), yet it still seems to be the clear leader in the initiative. There has been some speculation that the nonprofit LF may encourage expansion of the Intel Atom-focused stack to support other platforms where Google's Android might otherwise take hold.
Stated Joerg Bertholdt, VP of Marketing at MontaVista, "By delivering MontaVista Linux 6 Market Specific Distributions based on Moblin, device manufacturers can bring commercial devices to market quickly and cost-effectively."
Stated Doug Fisher, VP of Intel's Software and Services Group and GM of the System Software Division, "Moblin v2, combined with MontaVista Linux 6 MSDs, will help bring compelling Intel Atom processor-based platforms to the broader embedded market, enabling exciting new markets like the Media Phone and In Vehicle Infotainment (IVI)."
Availability
MontaVista did not provide details on the pricing or availability of its MontaVista Linux 6 MSD for Moblin v2. More information about MontaVista Linux 6 may be found here.
Moblin may be downloaded here. More information, tours, videos, etc. may be found here.
---

This article was originally published on LinuxDevices.com and has been donated to the open source community by QuinStreet Inc. Please visit LinuxToday.com for up-to-date news and articles about Linux and open source.