Dec 17, 2008 — by Eric Brown — from the LinuxDevices Archive — 30 views

Sun Microsystems is shipping an UltraSPARC T2 Reference Design Kit (RDK) for developing and testing embedded systems designs using the UltraSPARC T2 multicore processor. The RDK is available now for Solaris, with a Wind River Linux version due in early 2009, says Sun.
(Click for larger view of the UltraSPARC T2 RDK)
Wind River and Sun announced the Wind River UltraSPARC T2 support back in April, saying at the time that multiple independent Linux vendors would support the chip. For the new reference design kit, however, the only supported Linux platform announced was Wind River's Platform for Network Equipment (PNE).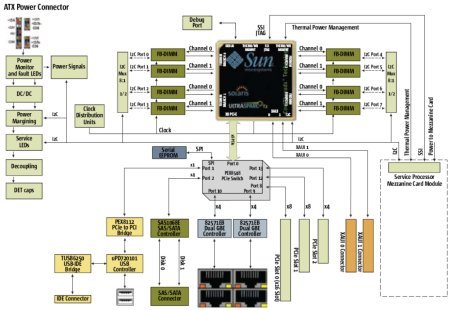 UltraSPARC T2 RDK block diagram
(Click to enlarge)
The UltraSPARC T2 RDK is aimed at letting tools systems designers design, test, and verify UltraSPARC T2-based designs, says Sun. The eATX form-factor motherboard is equipped with an UltraSPARC T2, memory, PCIe and XAUI slots, and four gigabit Ethernet ports, along with other connectivity.
Specifications for the UltraSPARC T2 RDK include:
Processor — UltraSPARC T2 1.2GHz processor; eight cores, each at 1.17 GHz, with 64 threads per CPU
Memory — 8 x FB-DIMM ("fully buffered" DIMM) slots (min. four populated)
Storage — 2 x SAS/SATA connectors; 1 x IDE DVD drive connector
Expansion — 3 x PCIe slots (x16, x8, x4 configuration); 2 x XAUI slots
Networking — 4 x gigabit Ethernet ports
USB — 2 x USB 2.0 ports
Serial — 1 x serial POSIC port
Power — 650 Watt power supply
Dimensions — 12 x 13 inches (eATX form-factor motherboard)
Remote management — via service processor module
Firmware — OpenBoot, Hypervisor, POST, Integrated Lights Out Manager (ILOM)
Other software — board level design database; CMT development tools
Operating system — Solaris 10 and Wind River Linux boot options

Sun's Netra CP3260
ATCA Blade Server
(Click for details)
Wind River PNE will first appear on Sun's Netra Carrier Grade rack servers and ATCA blade CMT systems, according to Wind River. The latter includes the recently announced Sun Netra CP3260 ATCA Blade Server (pictured). Both are based on the eight-core, 64-thread UltraSPARC T2, which Sun introduced in August 2007. Wind River completed an evaluation port of its CGL stack to Sun's 64-bit multicore, multi-threaded UltraSPARC T1 in November 2006. Earlier that year, Sun released the processor design for the T1 under the GNU GPL open source license.
The eight-core UltraSPARC T2 uses Sun's chip-multithreading (CMT) processor technology to help triple performance on network-based processor designs, claims Sun. The processor is also touted for lowering processor parts counts by a third or more and reducing power and heat emissions. The eight cores are clocked at 900 MHz to 1.4GHz, yet require less than 95 watts (nominal) overall, and less than two watts per thread, claims Sun. The T2 also is also said to offer integrated multithreading of 10Gb Ethernet networking, as well as integrated PCI Express I/O expansion, and floating point and cryptographic processing units.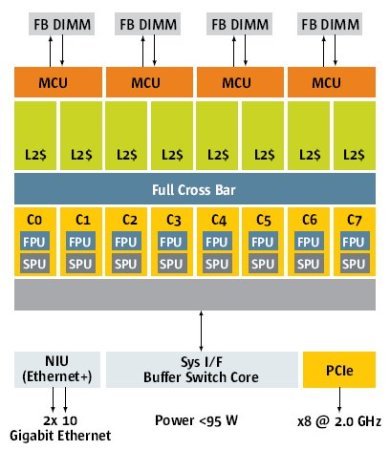 UltraSPARC T2 block diagram
According to Sun, the Wind River support "vastly increases Sun's potential market for CMT processors in the embedded systems industry, and lets embedded systems designers leverage their existing tools and application expertise."
Stated Glenn Seiler, senior director of market development at Wind River, "Increasingly, equipment providers want to take advantage of the benefits of open source while also taking advantage of the performance and cost of high performance multicore processors."
Availability
The Solaris version of the UltraSPARC T2 Reference Design Kit is now available for order, here, where more information should also be available. A T2 port of Wind River's Platform for Network Equipment, Linux Edition, will be available in early 2009, says Sun.
---

This article was originally published on LinuxDevices.com and has been donated to the open source community by QuinStreet Inc. Please visit LinuxToday.com for up-to-date news and articles about Linux and open source.