Aug 31, 2004 — by LinuxDevices Staff — from the LinuxDevices Archive — 4 views
[Updated Sep. 2, 2004] — The latest embedded market research data from Venture Development Corp. shows that Linux is now firmly in first place as the operating system of choice for smart gadgets and embedded systems. VDC's latest data indicates that Linux now accounts for 15.5 percent of embedded projects, beating out Microsoft's WinCE/WinCE.Net (2.7 + 3.3 = 6 percent) and XPe (5 percent), and… Wind River's VxWorks (10.3 percent).
The figures come from a Web-based survey sent to 27,000 developers, with 523 responding to the question about what embedded OS they are using for their current project.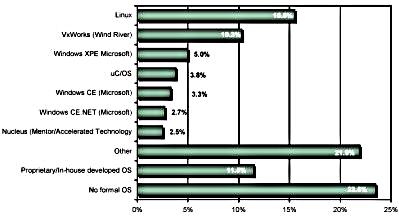 Type of operating system used for current project
Source: Venture Development Corp. © 2004
(Click to enlarge)
"Linux in embedded systems has transcended the fad stage to become a market reality," VDC says, in a research bulletin released today entitled "Embedded Linux Goes Mainstream." The bulletin notes that Linux has fundamentally changed the embedded marketplace, where it will likely remain in use for the foreseeable future. "Linux has been one of the major market forces, [bringing changes] not just in technology, but in business models that have been associated with the embedded software market for years," the VDC bulletin states. "Despite criticisms leveled by traditional market players towards Linux, and a lack of stability amongst the Linux suppliers, Linux is not going away. In fact, all of a sudden it's pretty much mainstream."
The bulletin notes that exploding Linux popularity has hardly guaranteed success for commercial companies marketing embedded Linux. "Increasing interest in Linux by developers caught the attention of companies looking to enter the market and commercialize their Linux solutions. However, low barriers of entry and interest [have] not necessarily translated [into] success or longevity."
Traditional RTOS (real-time operating system) vendors have campaigned against Linux, suggesting Linux lacks real-time capabilities, has too large a footprint, lacks good development tools, and has hidden costs and a dangerous license, the report notes. However, "The technological trend toward faster and cheaper silicon architectures, lower cost and higher-density memory, improved responsiveness, and pervasive connectivity favor a Linux solution," VDC says.
And, the bulletin says, fears over the "viral" nature of the GPL and the potential for copyright lawsuits against Linux users have not slowed Linux uptake. "The license does not appear to be limiting use to any great degree, and the SCO lawsuit has had negligible impact on the adoption of Linux in the embedded market," the report states.
The bulletin concludes, "Today we find leading suppliers within the embedded industry spanning hardware, silicon, and software suppliers responding to the way developers are working by assimilating Linux as part of their strategy. For some, the change in strategy was likely a long and anguished process. For others, the opportunity was quickly recognized as a means to sell hardware by leveraging Linux. Either way, it is seen as acknowledgment of the open source movement as a legitimate alternative to commercial and in-house development, and [is] likely driven by customers working with mixed platform environments.
Today's research bulletin was issued in support of VDC's Embedded Software Strategic Market Intelligence Program. VDC has been providing embedded systems market intelligence for 20 years.
---
Other related stories
---

This article was originally published on LinuxDevices.com and has been donated to the open source community by QuinStreet Inc. Please visit LinuxToday.com for up-to-date news and articles about Linux and open source.