Dec 11, 2007 — by LinuxDevices Staff — from the LinuxDevices Archive — 2 views
Access has announced a potentially enormous win in Japan for its Linux-based software stack for phones and other mobile devices. The deal could see the Access Linux Platform (ALP) serving as a common OS platform for NEC, Panasonic, and Esteemo phones sold by NTT DoCoMo and other mobile carriers.
As background, Japan's top mobile provider DoCoMo announced in 2003 that it would adopt Linux as the OS for its 3G mobile phones. It had fallen behind competitor KDDI in the 3G market, and felt that standardizing on a single OS might help it catch up.
In response, NEC and Panasonic decided in 2004 to collaborate on a Linux OS. Built on a MontaVista kernel, and running an application stack dubbed "MOAP" (Mobile Oriented Application Platform), the stack went on to power five generations and counting of Linux phones that are sold mainly for use with DoCoMo's "FOMA" (Freedom of Mobile Information Anywhere) 3G Internet services.






Five generations of Linux-based MOAP phones from Japan's top carrier
Clockwise: NEC N900iL, Panasonic P901iTV, NEC N902iX, NEC N903i, Panasonic P904i.
(Click any phone for details)
The agreement worked so well that in 2006, Panasonic Mobile Communications and NEC decided to formalize the partnership through a joint venture called Esteemo. Initially capitalized at 100 million Yen (then about $845,000, but now closer to $900,000), the venture would be tasked with creating a common hardware and software platform for mobile handsets, the companies said at the time.
Access, meanwhile, established itself in Japan's mobile phone software market mainly by supplying its NetFront browser for use in the MOAP stack. It subsequently was able in 2005 to acquire PalmSource for some $324 million, outbidding the likes of Motorola. At the time, the U.S. based Palm spinout was attempting to transition to Linux, an effort that Access continued to support, while also launching work on ALP. The ALP stack shipped exactly one year later.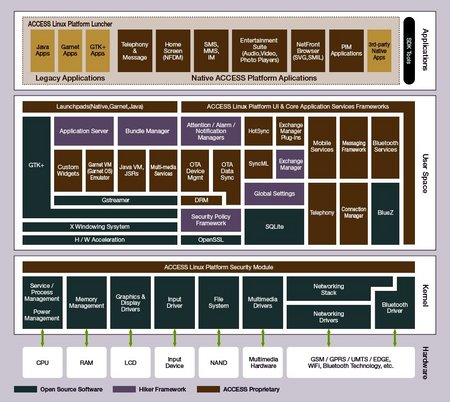 Access Linux Platform diagram
(Click to enlarge)
Now, it appears that Esteemo and its parent companies, along with DoCoMo, have agreed to evaluate ALP as a possible replacement for the old NEC/Panasonic Linux implementation. They today announced plans to "study the use of [ALP] as the basis for developing a shared Linux platform for mobile phones."


ALP 1.0 screenshots
(Click for details)
Apparently, Access has agreed to lead development of the prospective shared platform. The platform will comply with specifications from the LiMO Foundation, Access said, and will provide technologies aimed at rapidly supporting new mobile phone hardware.
Additionally, Access will take charge of creating an "operator pack" comprised of the MOAP stack and other software components required by DoCoMo. Presumably, additional packs for other carriers could help NEC, Panasonic, and Esteemo deliver phones to other carriers both inside and outside Japan in the future.
Access CEO Toru Arakawa stated, "Linux-based mobile phones are attracting attention at home and abroad. A shared Linux-based platform and operator pack will contribute to the efficient development and prompt release of next-generation handsets by providing the type of user-friendly interface that is only possible with Linux."
NTT DoCoMo's managing director of products and services, Kiyohito Nagata, stated, "In January this year, NTT DoCoMo established the LiMo Foundation, together with key companies worldwide. The conclusion of this memorandum will substantially expedite the development of a shared platform based on LiMo Foundation specifications, as well as promote consideration of an operator pack by the five participating companies. In this way, the memorandum will contribute to the dissemination and growth of the Linux platform and the creation of an associated ecosystem. We expect it to enable the development of products that are even more attractive to NTT DoCoMo."
---

This article was originally published on LinuxDevices.com and has been donated to the open source community by QuinStreet Inc. Please visit LinuxToday.com for up-to-date news and articles about Linux and open source.