Aug 6, 2007 — by LinuxDevices Staff — from the LinuxDevices Archive — 4 views

The LiMo (Linux Mobile) Foundation, an industry group building a common software stack for Linux-based mobile phones, today announced a dozen new members. The organization also disclosed that rival Symbian's longtime Senior VP of Sales and Professional Services, Morgan Gillis, will soon become its Executive Director.
New LiMo Foundation members reportedly include Korean handset powerhouse LG, and Linux software stack and tools rivals MontaVista and Wind River.
Gillis, who will assume the role of LiMo Executive Director in September, comes to LiMo from Linux's chief rival in the mobile phone market, Symbian. Speaking with LinuxDevices, Gillis commented, "I joined the LiMo Foundation to have the chance to work with industry leaders to roll out a platform that will be widely adopted, and not just by a faction within the market."
"It's also very exciting for me to work through the early part of a new venture," he added.
Gillis joined Symbian in 2000, two years after it was founded. He served as Executive VP of Sales and Professional Services there for seven years, taking responsibility for Symbian's training and service partner ecosystems, and helping the company expand into Japan. Gillis holds an honors degree in math and computer science from the University of Sussex, U.K.
About LiMo
The LiMo Foundation was launched in January of 2007 by Motorola, NEC, NTT DoCoMo, Panasonic Mobile Communications, Samsung Electronics, and Vodafone — arguably many of the companies that, to date, have achieved the most success with Linux mobile phones. It aims to collaboratively develop an open, royalty free Linux-based software reference design, essentially, on top of which handset vendors, silicon and reference board vendors, phone software stack providers, independent software vendors (ISVs), and mobile and enterprise network operators can build differentiated products.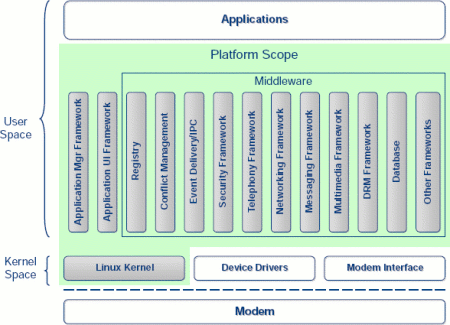 LiMo Platform architecture
(Click to enlarge)
Gillis explained, "These companies are collaborating because they can see clear business logic in doing so. The technology in LiMo is technology that has to be placed in all handsets, and therefore sits below the value line. There is a very natural and easy agreement today about where the value line sits."
"What LiMo is doing is creating the common technology that can be used across handsets," he emphasized. "It will move through a series of releases [that will fill] out what's below the value line."
Gillis noted, "I firmly believe that the business logic underlying LiMo's value proposition is very strong, in that the technology is available royalty free, and members can get involved in spec'ing out the platform. It was those ingredients that made it a compelling opportunity [for me to join as director]."
He continued, "Some of the technology included in the LiMo platform originated in commercial designs, such as [NEC/Panasonic/DoCoMo's] MOAP, and Motorola's Linux phones. However, as it's been transferred into the LiMo platform, it is brought under the LiMo licensing model, so it's not encumbered. It's available either under the LiMo Public License (story) or one of the open source licenses. The software is then available on a royalty-free basis."
In other words, operators and handset vendors could commercially license the LiMo Platform for use in consumer products. Lower in the supply chain, silicon vendors, GUI stack vendors, and ISVs could distribute the Platform with their reference designs. Gillis commented, "We anticipate that companies will make available their own differentiating technologies integrated with LiMo Platform releases, and pre-integrated with hardware platforms as well. Today, we have two semiconductor vendors [including Broadcom and NXP]. But broadly one would expect all semiconductor vendors to see this as an opportunity to round out their offerings. We also see an important role for integrators and distributors to work between hardware manufacturers and operators. That is likely to happen up towards the top end of the software stack, where the real differentiation takes place."
According to Gillis, the initial "R1" LiMo Platform release is on track for release by year's end. The Foundation expects to publish documentation about R1 soon; meanwhile, Gillis said only that R1 will be based on a 2.6-series Linux kernel, and will include middleware for software lifecycle management, firmware updates, and so on.
New members and planned milestones
Newly announced LiMo Foundation members include:
Core members (includes board representation)

Aplix, a Japanese Java and middleware provider
Celunite, an India-based Linux mobile phone stack vendor and development services company
LG, fifth-largest handset vendor, with a rising marketshare in Q1, 2007, according to Strategy Analytics
McAfee, a provider of anti-virus and other security-oriented software
Wind River, an embedded Linux vendor

Associate members (have access to specifications and royalty-free platform releases)

ARM, silicon IP (intellectual property) provider
Broadcom, a leading semiconductor vendor
Ericsson, a global TEM (telecommunications equipment manufacturer)
Innopath, a device management software specialist
KTF, a large Korean mobile operator
MontaVista Software, an embedded Linux provider
NXP B.V., (formerly Philips Semiconductors)
Gillis called today's news of a dozen new members "The first in a succession of announcements" from LiMo over the coming six months. Other looming milestones include:
Two weeks — publication of documentation detailing the first LiMo Platform Release, also known as "R1"
Release of the full R1 specification by year's end
R2 roadmap details revealed this fall
Additionally, a common C/C++ toolchain is likely to emerge "very soon," Gillis said. Asked if such the toolchain would be based on Eclipse, OpenEmbedded, or a similar vendor-neutral technology, Gillis replied, "The likelihood that it will be something vendor-neutral is extremely high. Within the existing membership pipeline, we have a number of vendor-neutral tools companies [that could] introduce a vendor-neutral toolset specifically for the LiMo platform. It's up to the companies themselves to make the announcement, though."
He added, "If you're a tools vendor, you're going to look at [the Foundation] and see a clear channel to market, and a way to participate actively in defining a transparent specification." Presumably, all the ISVs, silicon vendors, and integrators would need collaborative tools with which to collaboratively participate in building LiMo Platforms.
In a statement, LiMo Chairman Kiyohito Nagata of NTT DoCoMo stated, "By joining the LiMo Foundation, members will be able to help guide the development of an open mobile terminal platform based on Linux that will speed up the delivery of handsets and further enhance the consumer experience."
Christy Wyatt, VP of market development at Motorola, commented, "There are fantastic opportunities for new members to create a true mass-market platform and surrounding ecosystem."
LiPS, another group of handset vendors and operators working to define a common Linux platform, released its first specification earlier this year.
---

This article was originally published on LinuxDevices.com and has been donated to the open source community by QuinStreet Inc. Please visit LinuxToday.com for up-to-date news and articles about Linux and open source.