Jan 5, 2006 — by LinuxDevices Staff — from the LinuxDevices Archive — 6 views

Taiwanese ODM (original design manufacturer) Wistron NeWeb Corp. (WNC) is reportedly demonstrating a dual-mode cellular/VoIP phone that appears to be based on Linux and a branded version of Trolltech's Qtopia Phone Edition (QPE), at the Consumer Electronics Show (CES) in Las Vegas this week.
(Click for slightly larger view of the WNC GW1)

Trolltech did not confirm by press time that WNC's "GW1" phone uses QPE (the QPE "launcher" is pictured in the screenshot at right). However, a source claiming to be close to Trolltech did confirm the phone to be based on a modified, branded version of QPE 2.2, a November release of the mobile phone software stack that added VoIP capabilities.
The GW1
CES attendees report that the GW1 supports seamless roaming between cellular and 802.11b VoWiFi (VoIP-over-WiFi) networks. WNC lists supported VoIP protocols that include SIP, SDP, RTP, RTCP, WEP 64, and 128 bit WPA2, and supported voice codecs as G711/G723.1/G726/G729A/B.
Other advanced features reportedly include POP3 email, Web browsing, MP3 playback, up to 40 downloadable polyphonic ringtones, and even some IPTV capabilities. The phone also includes Zi Corp's predictive text entry software, according to WNC.
The GW1 has a 220 x 176 pixel TFT display supporting 262K colors. It measures 4.2 x 1.7 x 0.75 inches (106 x 44 x 19mm), and weighs 3.4 ounces (95 grams), including the battery. Claimed battery life under GSM is 5 hours of talk time and 200 hours of standby time. Claimed battery life under WiFi is 7 hours of talk time, and 50 hours of standby time.
Two other dual-mode phones
Additionally, WNC's website lists two other "dual mode/net" phones, including one that could potentially reach the US market.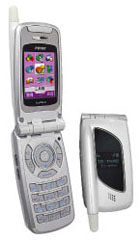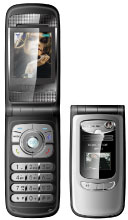 The PS3 (left) is a clamshell, tri-band, dual-mode GSM phone that supports GSM900, as well as the DCS1800 and PHS1900 bands. DCS, or "digital cellular system," is a variation of GSM used in Europe, Africa, Asia, and South America, while PHS, or "personal handyphone system," is used in Japan
The G51 (right) is a clamshell, tri-band GSM phone with a 1.3-megapixel camera, the G51 is listed as supporting GSM900, DCS1800, PHS1900, and PCS1900. PCS, or "personal communication system," is a digital cellular frequency band licensed by the FCC in the US.
A public records search suggests that WNC has not yet submitted the G51 to the FCC for certification. However, depending on how far along the design is, a WNC customer may have done so under another brand. WNC did not respond by press time to enquiries about possible US customers.
It is not known whether the PS3 and G51 are based on Linux/Qtopia, which appears to be the software platform used in the GW1.
Availability
The PS3 and G51 seem to be unfinished designs. The GW1, on the other hand, has reached the prototype stage, and is being demonstrated at CES this week. More details about the GW1 are available in a brief Engadget report that includes a larger photo, here.
Thanks to Eugenia Loli-Queru for calling this story to our attention
---

This article was originally published on LinuxDevices.com and has been donated to the open source community by QuinStreet Inc. Please visit LinuxToday.com for up-to-date news and articles about Linux and open source.